The ad Andover SFCL 41 RENOVATED ! low bed semi-trailer has been sold and is not included in the search!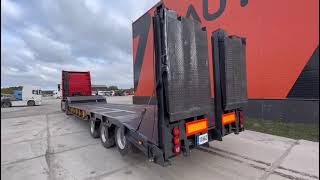 1/25
Model
SFCL 41 RENOVATED !
Type
low bed semi-trailer
First registration
1997-06-01
Location
Estonia
Rummu
Placed on
more than 1 month
Seller stock ID
226450524
Description
Overall dimensions
length - 13.5 m, width - 2.55 m
Additional information : Brand: ANDOVER. Model: SFCL 41. Structure: lowbed ( platform L=9800 mm ). Year: 1997. Suspension: air. Brakes: drum. Dimensions: L/W: 13500 mm / 2550 mm. Masses: full/empty: 41000 kg / 8640 kg. = More information =. Drive: Wheel. Please contact Stanislav Hmeljov, Aigar Aasmann or Georgina Balboa Paco for more information
Antrieb: Rad
Drivanordning: Hjul
Propulsión: Rueda. Póngase en contacto con Georgina Balboa Paco para obtener más información.
Commande: Roue
Aandrijving: Wiel
Napęd: Koło
Condução: Roda. Contacte Georgina Balboa Paco para obter mais informações
Привод: Колесо. Свяжитесь с Stanislav Hmeljov для получения дополнительной информации