You may find interesting
Close
New MAX Trailer MAX510-Z-2A-6.00-RM(Forst)-U
€117,600
New KASSBOHRER LB2
€106,000
New EMTECH SERIA NNP model 3.NNP-S-1N (NH2) - Prosta
€44,500
New EMTECH SERIA NNP model 3.NNP-S-1N (NA) - Prosta
€40,800
New EMTECH SERIA NNZ model 1.NNZ-S-OW - Zagłębiana
€36,400
New EMTECH SERIA NNZ-R model 3.NNZ-1R-1N (NA, ZO) Zagłębiana, Rozciągana
€60,500
New EMTECH SERIA NNT model 3.NNT-1R-3H (2B, OS) - Odpinana Gęsia Szyja low bed semi-trailer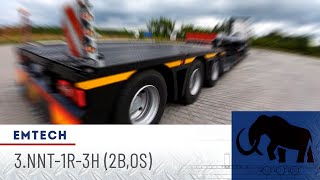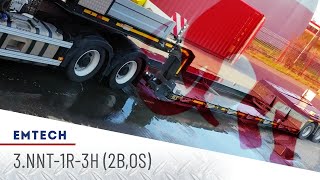 1/22
Model
SERIA NNT model 3.NNT-1R-3H (2B, OS) - Odpinana Gęsia Szyja
Type
low bed semi-trailer
Location
Poland
Szczerców
Placed on
more than 1 month
3 osiowa naczepa niskopodwoziowa, 1 krotnie rozciągana, dwubelkowa, z osiami skrętnymi hydraulicznie, odpinaną szyją.
CENA OD: 499 900 zł netto (zależna od ostatecznej specyfikacji / wyposażenia)
Masy techniczne:
DMC : 50 000 kg
Masa własna : 14 500 kg
Ładowność : 35 500 kg
Podwozie
Rama dwu-belkowa: wykonana z wysokogatunkowej stali w technologii spawanej z wykorzystaniem stali typu QL 690
Jednokrotnie rozciągana
3 szt. Osi SAF / GIGANT / SMB 17,5''
Wszystkie osie skrętne hydraulicznie
Sterowanie hydrauliczne TRIDEC HF-E.
Zawieszenie pneumatyczne (opcjonalnie za dopłatą hydrauliczne DLS)
Odpinana szyja obsługiwana hydraulicznie.
Poszerzenie platformy załadunkowej
Centralne smarowanie
Ogumienie i Felgi
8 sztuk kół z ogumieniem 245/70 R17,5 - marki Premium
Felgi stalowe w kolorze srebro - szarym
UKŁAD HAMULCOWY BĘBNOWY
KNORR / HALDEX / WABCO
INSTALACJA ELEKTRYCZNA 24V W TECHNOLOGI LED
LAKIEROWANIE
Podwozie lakierowane w dowolnym kolorze z palety RAL do uzgodnienia
Możliwe wyposażenie za dopłatą:
Info Centre, WABCO SMART BOAR, TIM TG2
Podkład cynkowy
Felgi aluminiowe
System monitorowania ciśnienia i temperatury w oponach
Koła zapasowe
Zawieszenie hydrauliczne (DLS)
Odpinany wózek osiowy
Dostawki przedłużające pokład załadunkowy.
Telematyka
Mobilna opieka serwisowa
Inne indywidualne dodatkowe ustalenia
NINIEJSZA OFERTA HANDLOWA JEST ZAPROSZENIEM DO NEGOCJACJI I NIE STANOWI OFERTY HANDLOWEJ W ROZUMIENIU KODEKSU CYWILNEGO
W celach otrzymania szczegółowej specyfikacja / informacji na temat produktu i finansowania prosimy o kontakt telefoniczny bądź mailowy.
GSM 1 :
show contacts
GSM 2 :
show contacts
GSM 3 :
show contacts
Telefon :
show contacts
e-mail 1:
show contacts
e-mail 2:
show contacts
Important
This offer is for guidance only. Please request more precise information from the seller.
Safety tips
Seller's contacts
Tomasz Biliński – Sales Representative
Languages:
English, Russian, Polish
Jarosław Baszura
Languages:
English, Polish
Poland, Lodzinskie, 97-420, Szczerców, ul. Grudna 41a
Seller's local time: 01:28 (CEST)
Selling machinery or vehicles?
You can do it with us!