New EMTECH SERIA NNP TYP: 4.NNP-S-1N (NA, NH2) low bed semi-trailer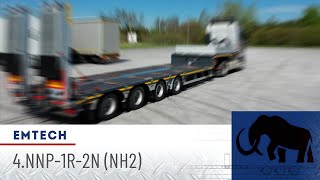 1/19
Model
SERIA NNP TYP: 4.NNP-S-1N (NA, NH2)
Type
low bed semi-trailer
Location
Poland
Szczerców
Placed on
more than 1 month
Buy by leasing
Get an offer to buy a vehicle by leasing
Need delivery?
Calculate the cost of delivery
OPIS TECHNICZNY

Podwozie
• Rama: wykonana z wysokogatunkowej stali w technologii spawanej
• Fazowane rogi z przodu dla zachowania maksymalnego promienia skrętu ciągnika
• Fazowana tylna część szyi z dodatkowo połączonym (profilem U)
• Fazowana tylna część pokładu załadunkowego dla zmniejszenia kąta wjazdu.
• Układ jezdny: 4 osie 17,5'' marki GIGANT LUB SAF o nośności technicznej minimum 10 000 kg każda
• Płyta sprzęgu 15 mm z 2 calowym sworzniem królewskim
• Jedna (pierwsza) oś podnoszona (automatycznie lub manualnie)
• Dwie osie: 3 (trzecia) i 4 (czwarta) samoskrętne (nadążne, oporowe)
• Osie nadążne blokowane pneumatycznie w trakcie cofania, zarówno automatycznie poprzez podłączenie do świateł wstecznych jak również manualnie za pomocą przycisku zwalniającego
• Poszerzenia pokładu załadunkowego do 3,0 metrów z wysuwanymi stalowymi podporami (cynkowanymi) Drewno na poszerzenia pokładu z blokadami na przesuwanie (składowane na szyi)
• Dwie dwuzakresowe nogi podporowe o nośności 12 ton - każda.
• Ogumienie bezdętkowe 235/75 R17,5' 16 sztuk (marka Premium) wraz z felgami stalowymi.
• Wspornik na dwa zapasy na przodzie
• Koło zapasowe 235/75 R17,5'' na feldze stalowej [x1]

Układ hamulcowy (bębnowy)

Zawieszenie pneumatyczne

Układ elektryczny w pełni diodowy

Powłoka antykorozyjna

• Powierzchnie stalowe śrutowane i zabezpieczone antykorozyjnie.
• Góra pokładu ładunkowego za szyją pokryta warstwą antypoślizgową ("ARMOR")
• Profile aluminiowe na balkonie anodowane lub Malowane
• Najazdy, skrzynka na szyi - cynkowane ogniowo.

Dokumenty i rejestracja:
• COC (Homologacja) + odstępstow od warumków technicznych


Dostępne Opcje i akcesoria dodatkowe

OPCJE PODWOZIA
Ogumienie w rozmiarze 245/70 R17,5'' – kpl.
Ogumienie w rozmiarze 205/65 R17,5" - kpl. – zastosowanie ogumienia, w tym rozmiarze powoduje zmianę wysokosci platformy ładunkowej na 780 mm
Felgi aluminiowe
Skrzynka na drewno do poszerzeń pod pokładem ładunkowym

OPCJE NADWOZIA
Para nowych najazdów aluminiowych dokładanych 2 500 mm o nośności minimum 32 tony
Zawory sterujące do najazdów schowane w aluminiowo / nierdzewnej skrzynce
Nogi podporowe tylne hydrauliczne (sterowane manualnie z rozdzielacza)
Para elektro-hydraulicznych 2 częściowych najazdów cynkowanych o szerokości 800 mm,
Hydraulicznie podnoszone / opuszczane, hydraulicznie zwęrzane do pozycji bez wolnej przestrzeni pomiędzy / poszerzane do 3 000 mm. DREWNO EGZOTYCZNE 45 mm jako wypełnienie.
Zasilane najzdów do uzgodnienia

OPCJE PNEUMATYKI I ZAWIESZENIA

Zbiorniki powietrza aluminiowe
Tonażer (SMART BOARD, TIM TG2
Zawory sterujące pneumatyczne schowane w aluminiowo / nierdzewnej skrzynce
Załącze / gniazdo pneumatyczne DUOMATIC

OPCJE UKŁADU ELEKTRYCZNEGO
Dodatkowe oświetlenie robocze LED kolor BIAŁY

OPCJE WYPOSAŻENIA DODATKOWEGO
Wkłady / zamki Bevola do mocowania kontenera
1 x podpora / stół wyrównujący wysokość pokładu ładunkowego z szyją + 2 dolne wkłady
Wyciągarka elektryczna 10 tonowa wraz z liną stalową mocowaną za szyją
Wyciągarka elektryczna 10 tonowa wraz z liną stalową mocowaną w skrzynce na szyi
Kamera cofania bezprzewodowa

OPCJE POWŁOKI LAKIERNICZEJ
Podkład cynkowy przed lakierowaniem
Pełna metalizacja HRM
Important
This offer is for guidance only. Please request more precise information from the seller.
Safety tips
Seller's contacts
Jarosław Baszura
Languages:
English, Polish
Poland, Lodzinskie, 97-420, Szczerców, ul. Grudna 41a
Seller's local time: 08:59 (CEST)
Selling machinery or vehicles?
You can do it with us!