New EMTECH SERIA NNZ-R, MODEL: 3.NNZ-1R-1N (NA, NH2) low bed semi-trailer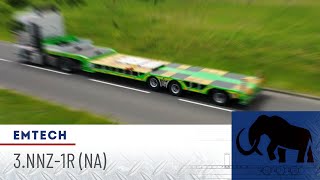 1/16
Model
SERIA NNZ-R, MODEL: 3.NNZ-1R-1N (NA, NH2)
Type
low bed semi-trailer
Location
Poland
Szczerców
Buy by leasing
Get an offer to buy a vehicle by leasing
Need delivery?
Calculate the cost of delivery
OPIS TECHNICZNY

Podwozie

• Rama: wykonana z wysokogatunkowej stali typu QL 690 w technologii spawanej oraz profilu hutniczego.
• Układ jezdny: 3 osie 17,5'' SAF
• Płyta sprzęgu z 2 calowym sworzniem królewskim Tylna część szyi fazowana z dodatkowo połączonym (profilem U) dla zamontowania najazdów na balkon (bez najazdów)
• Pierwsza oś podnoszona
• Ostatnia oś (trzecia) skrętne (nadążna)
• Oś nadążna blokowana pneumatycznie w trakcie cofania, zarówno automatycznie poprzez podłączenie do świateł wstecznych jak również manualnie za pomocą przycisku zwalniającego
• Rama jednokrotnie rozciągana + 1 750 mm
• Belka rozciągana blokowana poprzez zamki pneumatyczne
• Naczepa rozciągana w sekcjach co około 350 mm
• Poszerzenia pokładu załadunkowego do 3,0 metrów z wysuwanymi stalowymi podporami (cynkowanymi)
• Drewno egzotyczne na poszerzenia pokładu z blokadami na przesuwanie.
• Dwie dwuzakresowe nogi podporowe o nośności 12 ton - każda.
• Ogumienie bezdętkowe klasy Premium 245/70 R17,5 13 sztuk (12 + zapas) wraz z felgami stalowymi –1 koło zapasowe mocowane na ścianie przedniej (mocowania na dwa)

Nadwozie

• Podłoga z stalowej blachy stalowej i drewna twardego egzotycznego 45 mm
• Uchwyty do mocowania ładunków w pokładzie, plus dodatkowe w obrzeżach
• Skrzynka narzędziowa na szyi z fazowaniami (drzwiczki: góra i boki)
• Profile aluminiowe z słupkami na szyi 400 mm (wsuwane - demontowane) – anodowane
• Zagłębienie konstrukcyjne pokładu na całej szrokości od szyi do 1 osi. Wysokość załadunkowa do jazdy 600 mm. Część stała za szyją przed rozciągiem 1 250 mm, rozciąg 1 750 mm.
• Dodatkowe zagłębienie miedzy drugą , a trzecia osią
• Na fazowaniach (zjazd z pokładu osiowego na załadunkow i skos tylni) profile stalowe antypoślizgowe.
• Profil U z tyłu naczepy pod pod mocowanie najazdów alu z górnym zębem.
• Nogi podporowe tylne zrzutowe lub Wahliwe
• 4 szt. dodatkowych gniazd bevola/laxo na częścio osiowej. Do późniejszego zamontowania kobyłek
• 2 szt. z tyłu przed skosem / fzowaniem i 2 szt. przy 1 osi. BEZ STOŁÓW i bez wkładów.
• Przednia ściana uchylna

Układ hamulcowy (bębnowy)

Zawieszenie pneumatyczne

Układ elektryczny w pełni diodowy

Powłoka antykorozyjna
• Powierzchnie stalowe śrutowane i zabezpieczone antykorozyjnie.
• Góra pokładu ładunkowego za szyją pokryta warstwą antypoślizgową ("ARMOR")
• Profile aluminiowe na balkonie anodowane lub Malowane
• Najazdy, skrzynka na szyi - cynkowane ogniowo.

Dokumenty i rejestracja:
• COC (Homologacja)
Important
This offer is for guidance only. Please request more precise information from the seller.
Safety tips
Seller's contacts
Jarosław Baszura
Languages:
English, Polish
Poland, Lodzinskie, 97-420, Szczerców, ul. Grudna 41a
Seller's local time: 03:04 (CEST)
Selling machinery or vehicles?
You can do it with us!