New EMTECH SERIA NNZ-R MODEL: 4.NNZ-1R-2N (NA) low bed semi-trailer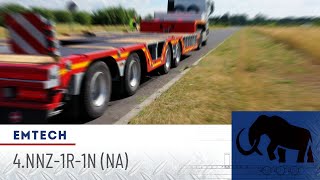 1/18
Model
SERIA NNZ-R MODEL: 4.NNZ-1R-2N (NA)
Type
low bed semi-trailer
Location
Poland
Nysa
Placed on
more than 1 month
Description
Fifth wheel height
1250 mm
Need delivery?
Calculate the cost of delivery
Documents
OPIS TECHNICZNY
Podwozie
• Rama: wykonana z wysokogatunkowej stali w technologii spawanej
o Dodatkowe zagłębienia obrzeży od szyi do 1 osi, oraz pomiędzy 2 a 3 osią. Ze specjalnymi wypełnieniami zgłębień w wersji modułowej.
• Układ jezdny: 4 osie 17,5'' marki GIGANT o nośności technicznej 12 000 kg każda
• Płyta sprzęgu z 2 calowym sworzniem królewskim
• Jedna (pierwsza) oś podnoszona (automatycznie lub manualnie)
• Dwie osie: 3 i 4 (trzecia i czwarta) samoskrętne (nadążne, oporowo)
• Osie nadążne blokowane pneumatycznie w trakcie cofania, zarówno automatycznie poprzez podłączenie do świateł wstecznych jak również manualnie za pomocą przycisku zwalniającego
o Rama jedno-krotnie rozciągana 6 000 mm
o 1 szt. stołu wsporczego 450 mm
• Poszerzenia pokładu załadunkowego do 3,0 metrów z wysuwanymi stalowymi podporami (cynkowanymi)
• Dwie dwuzakresowe nogi podporowe o nośności 12 ton - każda.
• Ogumienie bezdętkowe 235/75 R17,5' 16 sztuk (marka Premium) wraz z felgami stalowymi.
• Wspornik na dwa zapasy na przodzie
• Koło zapasowe 235/75 R17,5'' na feldze stalowej [x1]

Nadwozie
• Podłoga z blachy stalowej i EGZOTYCZNEGO drewna twardego 45 mm.
• Skrzynka narzędziowa z przodu na szyi / balkonie (otwierana od góry i po bokach)
• Uchwyty do mocowania / zabezpieczania ładunków:
o 2 x 3 szt. po bokach na szyi (standardowe kieszeniowe 5,3 T)
o 2 x 6 szt. po bokach w pokładzie ładunkowym za rozciągiem (standardowe kieszeniowe 5,3 T)
o Otwory MULTILOCK (przy tubie)
o 2 x 4 szt. pręty z wypaloną fasolką przy zagłębieniach obrzeży
o 2 x 4 szt PIERŚCIEŃ (10 T model G80 / A26) po bokach tuby w pobliżu osi
o 2 x 1 szt. PIERŚCIEŃ (10 T model G80 / A26) po bokach przed rozciągiem przy szyi
• 2 szt. najazdy stalowe krótkie dokładane umożliwiające podjazd na balkon
• 2 x 3 szt. otworów / gniazd bevola pod montaż zamków kontenerowych (bez zamków i podpórek)
• Z tyłu profil U pod najazdy aluminiowe dokładane (poszerzenia z profilem do 3 000 mm)

Układ hamulcowy (bębnowy)

Zawieszenie pneumatyczne

Układ elektryczny w pełni diodowy

Powłoka antykorozyjna
• Rama lakierowana w kolorze (standard): RAL 3002
• Góra pokładu ładunkowego za szyją pokryta warstwą antypoślizgową ("ARMOR")
Important
This offer is for guidance only. Please request more precise information from the seller.
Safety tips
Seller's contacts
Jarosław Baszura
Languages:
English, Polish
Poland, Opolskie, Nysa, Marszałka Józefa Piłsudskiego, 55, 48-303
Seller's local time: 12:55 (CET)
Selling machinery or vehicles?
You can do it with us!