New KAH-TRAILER PN5 low bed semi-trailer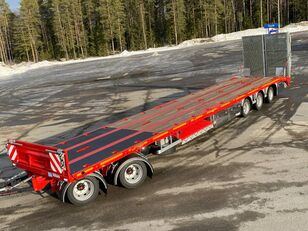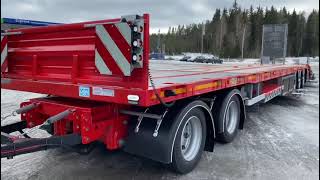 1/26
Location
Finland
Jalasjärvi
Need delivery?
Calculate the cost of delivery
korkeus maasta jaoilla: 550mm ja 650mm
Pintakäsittely: Teräs/ hiekkapuhallus + metallointi + pohjamaali + RAL3020
Laxo / Bevola lisävarustekiinnikkeet upotettuna ja hitsattuna lavaan konttilukkojaolla: 2x20ft sekä 1x40ft
hinta: On Request
5-akselinen varsinainen perävaunu
asfalttikoneille
TILAUKSESTA
Kuormatilan pituus 14 320mm
kok.lev. 2550mm
Kokonaispituus etuseinä-takasarana 14500mm
Kokonaispituus vetoaisa lyhyenä 16 300mm ja pitkänä 16 900mm
Vetoaisan pituus 1800mm+ 600mm jatko
silmä 50mm
Lastauskorkeus 960mm ajokorkeus 1060mm
Omamassa noin 13800kg
Tekn.kokonaismassa 42000/50000kg
Kantavuus 29000/37000kg
Materiaaleina suurlujuusrakenneteräkset
kannessa lankkupinta ajourilla
sivut U-profiilia
5kpl SAF R19,5 11ton levyjarruakselit
ilmajousitus
iskunvaimentimet
5.akseli kitka-ohjauksella
5. -akseli paineilmalla nostettava
Hydraulitoimiset 3800mm pitkät ja 1270mm leveät ajosillat
radio-ohjaus
10,5ast nousukulma
ajopinta galvanoitua vahvaa teräsverkkoa
Hydrauliyksikkö
käyttövirta perävaunun akuista ja lataus autosta
Renkaat 255/60 R19,5 Maxitrailer
21kpl sis vararengas
teräslevypyörät
hopea väri
Jousituksen säätöön manuaaliset nostoventtiilit 2kpl etu + taka
Duomatic liitin jarruletkussa
15-pin liitin sähköjohdossa
Paineilmajarrujärjestelmä Wabco EBS 4S/3M + ALB
Valojärjestelmä LED
RL 76 / 756 / EWG hyväksynnän mukainen
Tarvikelaatikko RST 4kpl sekä 2kpl pressukantinen pitkä lankkulaatikko
vas+oik identtinen
Sidontalenkit lavassa 33kpl vas+oik+keski. Kuormatilan ulkopuolella sivuilla lisäksi kevyemmät sidontapisteet
Teräs etuseinä
kork.600mm
pikairroitettava ja vaihdettava
Takana manuaalitoimiset lastaustukijalat. Suositellaan käytettäväksi aina rampeilta kuormattaessa
Akuilla seisontavalojärjerjestelmä + led -vilkut taka 4kpl
Ylileveysvalot
EU-mallit
etu+taka
Vararengas +teline lavan alla
Työvalot 4kpl LED etu+taka
Pyöräkiilat 2kpl
rengasavain ja varoituskolmio
Takuu 1 vuosi
varusteissa valmistajakohtaiset takuut
Important
This offer is for guidance only. Please request more precise information from the seller.
Safety tips
Seller's contacts
Matti Kauppila
Languages:
English, Finnish
Seller's local time: 20:07 (EET)
Selling machinery or vehicles?
You can do it with us!