The ad New KASSBOHRER LB 3E / Nowa Zarejestrowana low bed semi-trailer has been sold and is not included in the search!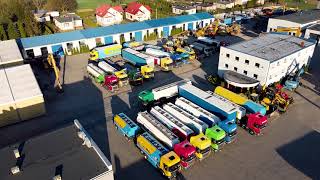 1/31
Model
LB 3E / Nowa Zarejestrowana
Type
low bed semi-trailer
Location
Poland
Frydrychowo
Description
Fifth wheel height
1.25 mm
Overall dimensions
13.2 m × 2.54 m × 30 m
We offer full assistance in purchasing the machine (transport).
The possibility of crediting, leasing - formalities on our side !!!

Chassis:

Two-axle SAF running gear with a load capacity of 3 x 10.000 kg
drum brakes
Three hydraulic steering axles
Radio axle steering
Frame

Welded construction, made of high quality S700 MC steel
External beams extendable by 5,550 mm
Coupling plate with 2 inch trailer coupling pin
Rings for securing loads with a strength of 10,000 / 13,000 kg
Brackets for side extensions
Swan neck

Detachable, hydraulically adjustable.

Tires:

12 x 245/70 R 17.5. Steel wheels
Braking system
EBS 4S / 3M system, conforming to EEC

Electrical installation:
2 multi-chamber rear lamps
Number plate, clearance, dimension and reflective lighting
Electrical connection: 2 7-pole sockets, one 15-pole socket

Accessories:
Retractable warning signs on the gooseneck and rear platform.
Warning light

It is possible to inspect the machine with your appraiser / service expert who will be able to confirm the condition and mileage of the machine. We have nothing to hide!

More information on the phone numbers:
604419-649
600058-175
602194-551
539523-349

This announcement is only commercial information and does not constitute an offer pursuant to Art. 66 § 1 of the Civil Code. The seller is not responsible for any errors or out-of-date advertising, and the data contained therein are for information purposes only and may be changed.
Wir bieten volle Unterstützung bei der Organisation von Land- und Seetransporten.
Möglichkeit der Anrechnung, Leasing - Formalitäten unsererseits !!!

Chassis:

Zweiachsiges SAF-Fahrwerk mit einer Tragfähigkeit von 3 x 10.000 kg
Trommelbremsen
Drei hydraulische Lenkachsen
Radio Achslenkung
Rahmen

Schweißkonstruktion aus hochwertigem S700 MC-Stahl
Außenträger ausziehbar um 5.550 mm
Kupplungsplatte mit 2 Zoll Anhängerkupplungsbolzen
Ringe zur Ladungssicherung mit einer Festigkeit von 10.000 / 13.000 kg
Halterungen für Seitenverlängerungen
Schwanenhals

Abnehmbar, hydraulisch verstellbar.

Reifen:

12 x 245/70 R 17,5. Stahl Räder
Bremssystem
EBS 4S / 3M-System, EWG-konform

Elektroinstallation:
2 Mehrkammer-Heckleuchten
Nummernschild, Abstand, Abmessungen und reflektierende Beleuchtung
Elektrischer Anschluss: 2 7-polige Steckdosen, eine 15-polige Steckdose

Zubehör:
Versenkbare Warnschilder an Schwanenhals und Heckplattform.
Warnlicht

Es ist möglich, die Maschine mit Ihrem Sachverständigen / Serviceexperten zu inspizieren, der den Zustand und die Laufleistung der Maschine bestätigen kann. Wir haben nichts zu verbergen!

Weitere Informationen zu den Telefonnummern:
604419-649
600058-175
602194-551
539523-349

Diese Bekanntmachung dient lediglich der kommerziellen Information und stellt kein Angebot im Sinne von Art. 66 Abs. 1 BGB dar. Der Verkäufer ist nicht verantwortlich für Fehler oder veraltete Werbung, und die darin enthaltenen Daten dienen nur zu Informationszwecken und können sich ändern.
Jako pierwsza firma w Polsce wprowadzamy innowacyjną możliwość!
Jeśli chcesz sprawdzić i przetestować maszynę przed zakupem, umożliwiamy dzierżawę sprzętu na okres 1-3 MIESIĘCY.

Jeśli zdecydują się Państwo na zakup, koszty dzierżawy zostaną odliczone od ceny zakupu, a Państwo będą posiadali gwarancję kupna sprawdzonej maszyny.

Oferujemy pełną pomoc w organizacji transportu lądowego i morskiego.
Możliwość kredytowania, leasingu - formalności po naszej stronie !!!

Podwozie:

Dwuosiowy układ jezdny BPW o nośności 3 x 10.000 kg
hamulce bębnowe
Trzy osie skrętne hydraulicznie
Radiowe sterowanie skrętem osi
Rama

Konstrukcja spawana, wykonana z wysokiej jakości stali S700 MC
Belki zewnętrzne rozsuwane o 5.550 mm
Płyta sprzęgu z 2-calowym sworzniem sprzęgu naczepy
Pierścienie do mocowania ładunku o wytrzymałości 10.000 / 13.000 kg
Wsporniki na poszerzenia boczne
Łabędzia szyja

Wypinana, regulowana hydraulicznie.

Ogumienie:

12 x 245/70 R 17,5. Felgi stalowe
Układ hamulcowy
Układ EBS 4S/3M, zgodny z EEC

Instalacja elektryczna:
2 lampy tylne wielokomorowe
Oświetlenie tablicy rejestracyjnej, obrysowe, gabarytowe i odblaskowe
Podłączenie elektryczne: 2 gniazda 7-polowe , jedno gniazdo 15-polowe

Akcesoria:
Wysuwane tablice ostrzegawcze na łabędziej szyi oraz platformie tylnej.
Światło ostrzegawcze
Uchwyty do Kontenera

Istnieje możliwość oględzin maszyny ze swoim rzeczoznawcą/ekspertem z serwisu, który będzie mógł potwierdzić stan i przebieg maszyny. Nie mamy nic do ukrycia!

Więcej informacji pod numerami telefonu:
+48 660 441 220 EN, PL, WhatsApp
+48 795 118 653 DE, PL, WhatsApp
604 419 649
600 058 175

Niniejsze ogłoszenie jest wyłącznie informacją handlową i nie stanowi oferty w myśl Art. 66. § 1. Kodeksu Cywilnego. Sprzedający nie odpowiada za ewentualne błędy lub nieaktualność ogłoszenia, a dane w nim zawarte mają jedynie charakter informacyjny i mogą ulec zmianie.
Предлагаем полную помощь в организации наземного и морского транспорта.

Двухосная ходовая часть BPW грузоподъемностью 3 x 10.000 кг.
барабанные тормоза
Три гидравлических управляемых оси
Радиоуправление осью
Рамка

Сварная конструкция из высококачественной стали S700 MC.
Расширение внешних балок на 5,550 мм
Соединительная пластина с 2-дюймовым пальцем сцепного устройства прицепа
Кольца для крепления грузов прочностью 10 000/13 000 кг.
Кронштейны для боковых надставок
Лебединая шея

Съемный, с гидравлической регулировкой.

Шины:

12 х 245/70 р 17,5. Стальные диски
Система торможения
Система EBS 4S / 3M в соответствии с EEC

Электрическая инсталяция:
2 задних многокамерных фонаря
Номерной знак, зазор, габариты и светоотражающая способность
Электрическое подключение: 2 7-полюсные розетки, одна 15-полюсная розетка

Аксессуары:
Выдвижные предупреждающие знаки на гусиной шее и задней платформе.
Предупреждающий свет

Можно осмотреть машину с вашим экспертом / специалистом по обслуживанию, который сможет подтвердить состояние и пробег машины. Нам нечего скрывать!

Подробная информация по телефонам:
604419-649
600058-175
602194-551
539523-349

Это объявление является исключительно коммерческой информацией и не является предложением в соответствии со статьей 66 § 1 Гражданского кодекса. Продавец не несет ответственности за какие-либо ошибки или устаревшую рекламу, а данные, содержащиеся в них, предназначены только для информационных целей и могут изменяться.