New MEGA Trailers Tieflader 3 Achsen, Hydraulik Rampen & POWER PACK SOFOR low bed semi-trailer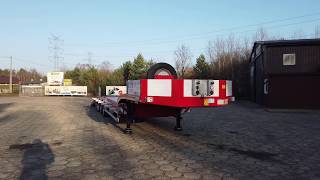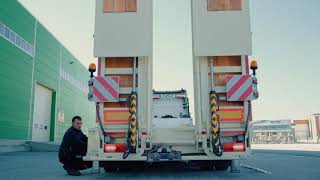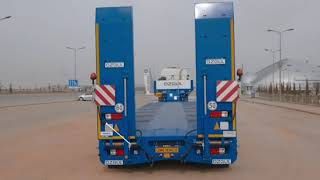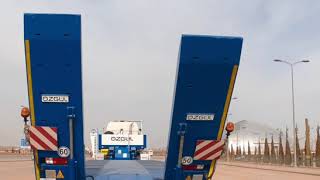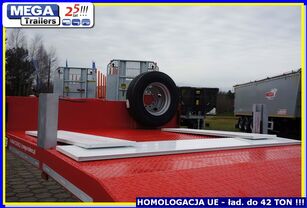 1/96
Model
Trailers Tieflader 3 Achsen, Hydraulik Rampen & POWER PACK SOFOR
Type
low bed semi-trailer
First registration
2022-01-18
Location
Poland
Bełchatów
Description
Fifth wheel height
1150 mm
Overall dimensions
13.6 m × 2.55 m × 1.6 m
Truck body
Body dimensions
9.1 m × 3.05 m × 0.91 m
Axles
Tyre size
245/70 R 17,5 GOODYEAR
Need delivery?
Calculate the cost of delivery
Condition
Technical inspection valid till
2022
Dealer form Bełchatów city as a Vehicle Plant and Steel Structures Seller MEGA Trailers Sp. z o.o. in 2019, join a net of the company OZGUL Treiler, the world leader in the construction of semi-trailers with steel frame and box.
In production they use the highest quality systems, like below:

SAF/BPW/TRAX axles, with integrated suspension and Air system - 5 years GUARANTEE !!!
large ventilated disc brakes 430 mm,
the latest generation hydraulic cylinder HIDROmas GOLD - 2 years GUARANTEE !!
tires 385/55/R22,5 PREMIUM class (BRIDGESTONE, CONTINENTAL, PIRELLI)
the latest generation ADR systemme for all EU countries !!
pneumatic system from WABCO, with 1st and 2nd lifted axle, EBS and ASR.
lighting Europoint III with additional halogen LED backlight.
high-grade steel HARDOX 450 supplied by the company SSAB / RUUKKI
resisting steel sheets and profiles.

All vehicles are covered by factory approval in accordance with European Union standards, which guarantees trouble-free registration in the territory of the Member States - Certicate Of Conformity (COC).
Our company maintains a stock of 10 to 20 pcs. of semi-trailers, what guarantees delivery of each vehicle in a very short time (up to 7 days).

We also provide a "door to door" service, which allows you to purchase a delivery directly to your company.

Price offer, please contact the sales department, because prices of vehicles may be different and depend on the equipment.
Take advantage !!After all, the motto of our company is:

With MEGA Trailers - .... always better !!!
Handler aus Belchatow Fahrzeugproduktionswerk und Stahlkonstruktionen MEGA Trailers Sp. z o.o. im 2019 trat er in die Unternehmen OZGUL Treiler weltweit führend in der Konstruktion des Stahlrahmens und -kasten.Als Ergebnis können wir Ihnen die besten auf dem Markt Auflieger verfügbar bieten, für landwirtschaftliche Erzeugnisse, sondern auch gut für den Transport von Aggregaten, Biokraftstoffe, Müll und Kohle und Koks bewiesen !!!

In der Produktion verwenden wir Systemen von höchster Qualität ausgestattet, wie:

SAF/ BPW / TRAX Achsen, Integrierte Federung mit Air System - 5 Jahre GARANTIE !!!
großer Bremsscheibe 430 mm belüftet,
Reifen 385/55/R22,5 der PREMIUM-Klasse (BRIDGESTONE, CONTINENTAL, PIRELLI)
die neueste Generation des ADR Systemme fur ganze EU Lander,
Wabco -Pneumatiksystem mit 1. und 2. Liftachse, EBS, ASR und RSS.
Europoint III Beleuchtung mit Halogen-LED-Hintergrundbeleuchtung.
Edelstahl HARDOX 450 von der Firma SSAB / RUUKI geliefert.
Verschleißfeste Profile und Blechen.
die neueste Generation des HIDRO Mass "GOLD" Hydraulikzylinder - 2 Jahre GARANTIE

Alle Fahrzeuge werden von einem Werk genehmigt in Übereinstimmung mit EU-Standards abgedeckt, die eine problemlose Fahrzeugzulassung im Hoheitsgebiet der Mitgliedstaaten garantiert - Certicate Of Conformity (COC).

Unser Unternehmen verfügt über ein Lager von 10 bis 20 Auflieger, das garantiert die Auslieferung jedes Fahrzeugs in sehr kurzer Zeit (bis zu 7 Tagen).

Wir bieten auch einen Service "von Tür zu Tür", die Sie mit der Lieferung direkt an Ihre Unternehmen zu kaufen erlaubt.

Das Preisangebot wenden Sie sich bitte an unsere Verkaufsabteilung weil die Preise für Fahrzeuge können je nach Ausstattung unterscheiden werden.
Nutzen sie !! Schließlich lautet das Motto unseres Firma:

Mit MEGA Trailers - … immer besser !!!
!! NOWE NACZEPY "MEGA Trailers" objęte są 5-LETNIĄ GWARANCJĄ KONSTRUKCYJNĄ !!

Pojazdy wydajemy z dowodem rejestracyjnym lub homologacją UE wg. życzenia klienta - PŁACISZ I JEŹDZISZ NIE CZEKASZ NA DOKUMENTY !!!

Naczepa LOZ-W3 HYDRO do odbioru ze stock'u fabrycznego w następującej konfiguracji:

Długość pokładu dolnego 9.100 mm + balkon 4.000 mm.
Ładowność - 35.100 kg - Maksymalna ładownośc - 41.100 kg,
DMC 46.000 kg, - Maksymalne DMC - 52.000 kg,
Masa: 10.900 kg,
Pokład dolny wyłożony drewnem twardym egzotycznym gr. 50 mm. - szer.2.550 mm.
Poszerzenia boczne na teleskopach ocynkowanych 300 mm na stronę,
8 uchwytów HEAVY - 16 TON do ładunków ciężkich.
Najazdy hydrauliczne, łamane dł. 4.000 mm (2.500 + 1.500 mm),
Power Pack do sterowania najazdami zasilany z ciągnika siodłowego 24V.
3 osie TRAX (12 tonowe) - 3 lata GWARANCJI !!
1-sza oś podnoszona automatycznie,
3-cia oś skrętna samo zabiegowa, z blokadą pneumatyczną,
Hamulce bębnowe 2 komorowe T30/30,
Pneumatyka WABCO z układem EBS, RSS - Roll Stability System
BRIDBESTONE opony 245/70 R 17,5 – felgi stalowe ET "0"
Pełne oświetlenie z lampami obrysowymi LED – VAROC.

W ofercie inne pojazdy typu Low-bed i Tiefbed, z 4, 5 i 6 osiami, podłogą zaniżaną i rozciąganą do 18 m., - szczegółowa informacje na maila.

SERWIS I GWARANCJE REALIZOWANE W NASZEJ FIRMIE LUB MOBILNIE !!!
ATRAKCYJNE WARUNKI LEASINGU:

1-sza wpłata tylko 1,0 % :.
okres finansowanie od 3 do 7 lat.
formalności uproszczone do okazania dowodu osobistego
finansowanie nowych firm z wpłatą od 10%
umowy podpisujemy w siedzibie klienta
specjalne rabaty w cenie naczep przy leasingu fabrycznym
Oprocentowanie roczne już od 2,59 % rocznie, rata od 1.490,- zł.

Zachęcamy do kontaktu z naszymi handlowcami by uzgodnić warunki dostawy i najkorzystniejsze raty leasingu oraz interesującą Cię wpłatę własną tel. + 48 / 502 406 801 lub + 48 / 502 406 803.

SPRZEDAŻ W CENIE BRUTTO PRZY WDT.
Продавец из города Белхатув по производству транспортныx средства и стальныx конструкции МЕГА Трейлерc ООО в 2019 году стала частью сети продажи компании OZGUL Trailer, мирового лидера в производстве самосвалов с алюминиевой рамой и кузовом.
В результате, мы можем предложить вам лучшие на рынке полуприцепы, предназначенные для сельскохозяйственной продукции, но также хорошо подходящие для перевозки агрегатов, биотоплива, мусора, угля и кокса !!!

В производстве мы используем системы высшего качества, такие как:

оси SAF/BPW/TRAX, интегрированная подвеска Air Conect - 5 лет гарантии !!!
большой вентилируемый тормозной диск 430 мм,
шины класса ПРЕМИУМ (BRIDGESTONE, CONTINENTAL, FULDA)
гидроцилиндр последнее поколение HIDROmas GOLD - 2 года гарантии !!
пневматическая система от WABCO, c 1-ой подъемной осю, EBS и ASR,
светодиодное освещение Europoint III, с дополнительным cветодиодном фонаром заднего хода,
высококачественная сталь HARDOX 450, предоставленa через компанию SSAB / RUUKKI.
износостойкие профили и листы алюминиевые.

Все транспортные средства подлежат омологации в соответствии со стандартами Европейского Союза, что гарантирует беспроблемную регистрацию на территории государств-членов - Certicate Of Conformity (COC).
Наша компания имеет на складе oт 10 до 20 штук полуприцепов, что гарантирует доставку каждого транспортного средства в течение очень короткого срокиа (до 7 дней).

Мы также предоставляем услугу «от двери до двери», которaя дает возможность купить с доставкой прямо в вашу компанию.

По поводу ценового предложения, свяжитесь с отделом продажы потому что цены прицепов могут варьироваться в зависимости от оборудования.
Воспользуйтесь !! Ведь девиз нашей компании:

С МЕГА Трейлерc - .... всегда лучше !!!
Продавец из города Белхатув по производству транспортныx средства и стальныx конструкции МЕГА Трейлерc ООО в 2019 году стала частью сети продажи компании OZGUL Trailer, мирового лидера в производстве самосвалов с алюминиевой рамой и кузовом.
В результате, мы можем предложить вам лучшие на рынке полуприцепы, предназначенные для сельскохозяйственной продукции, но также хорошо подходящие для перевозки агрегатов, биотоплива, мусора, угля и кокса !!!

В производстве мы используем системы высшего качества, такие как:

оси SAF/BPW/TRAX, интегрированная подвеска Air Conect - 5 лет гарантии !!!
большой вентилируемый тормозной диск 430 мм,
шины класса ПРЕМИУМ (BRIDGESTONE, CONTINENTAL, FULDA)
гидроцилиндр последнее поколение HIDROmas GOLD - 2 года гарантии !!
пневматическая система от WABCO, c 1-ой подъемной осю, EBS и ASR,
светодиодное освещение Europoint III, с дополнительным cветодиодном фонаром заднего хода,
высококачественная сталь HARDOX 450, предоставленa через компанию SSAB / RUUKKI.
износостойкие профили и листы алюминиевые.

Все транспортные средства подлежат омологации в соответствии со стандартами Европейского Союза, что гарантирует беспроблемную регистрацию на территории государств-членов - Certicate Of Conformity (COC).
Наша компания имеет на складе oт 10 до 20 штук полуприцепов, что гарантирует доставку каждого транспортного средства в течение очень короткого срокиа (до 7 дней).

Мы также предоставляем услугу «от двери до двери», которaя дает возможность купить с доставкой прямо в вашу компанию.

По поводу ценового предложения, свяжитесь с отделом продажы потому что цены прицепов могут варьироваться в зависимости от оборудования.
Воспользуйтесь !! Ведь девиз нашей компании:

С МЕГА Трейлерc - .... всегда лучше !!!
Important
This offer is for guidance only. Please request more precise information from the seller.
Safety tips
Seller's contacts
Seweryn Kruczyński
Languages:
English, Russian, Polish, German
Poland, Lodzinskie, 97-400, Bełchatów, ul. Lipowa 155 (Trasa 74 Warszawa - Wrocław)
Seller's local time: 14:19 (CEST)
Selling machinery or vehicles?
You can do it with us!