The ad Nooteboom MCO 48-03V low bed semi-trailer has been sold and is not included in the search!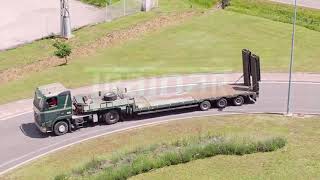 1/8
Type
low bed semi-trailer
Location
Spain
San Román de San Millán
Placed on
more than 1 month
Description
Fifth wheel height
1150 mm
Overall dimensions
9.1 m × 2.5 m × 3.8 m
Cama semi baja extensible de 3 ejes direccionales.

- 48 toneladas de masa total técnica.
- 32,7 toneladas de carga útil.
- Cama extensible de 9,1 a 15,1 metros, con 2,52 metros de anchura llegando hasta 3 metros gracias a los ensanchadores laterales.
- Amplias rampas hidráulicas de 5 metros de longitud y con desplazamiento lateral.
- Accionamiento de rampas mediante motor electro-hidráulico.
- Canal en "U" para rampas de aluminio en la parte trasera del cuello de cisne .
- Engrase automático.
- Cuello diseñado para altura óptima de enganche a tractora de 1.150 mm. Se recomienda el uso de tractora 4x2 ó 6x2.
- Sistema de frenos Wabco de 2 líneas con sistema ABS.
- Huecos para puntales.