New SCORPION TRAILER Naczepa Scorpion 3 osiowa, niskopodwoziowa low loader trailer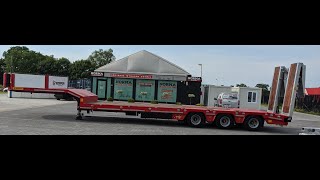 1/17
Model
Naczepa Scorpion 3 osiowa, niskopodwoziowa
Location
Poland
Teresin
Need delivery?
Calculate the cost of delivery
Vehicle Details:

CHASSIS: ST52 main frame in accordance with EU 53-62 Standards.

AXLE GROUP: 11 – tonner 3 pcs R:17,5" European Brand SAF or TRAX

SUSPENSION:Air Suspension.

TIRES AND RIMS: Tire options suitable for 17,5" rims.

ELECTRICAL SYSTEM:24 V Electrical system in accordance with European Standards.

BRAKE SYSTEM: EBS brake system (4S/3M) in conformity with 71 /320 / EWG or ECE R 13 Regulations. RAMPS: Hydraulic or manual operated ramps with appropriate dimensions according to the customers' preferences.

COUPLING EQUIPMENTS:SCORPION brand coupling device with 50mm – D190 KN eye in accordance with European Standards.

TURNTABLE:110 '' U'' type double ball casting DEKSAN brand turntable with a carrying capacity of 30 tons is used.

REAR STABILIZER BARS

GROSS WEIGHT:31.000 Kgs

NET WEIGHT:7.500 Kgs

LADEN MASS WEIGHT: 23.500 Kgs

PAINT & GALVANIZATION:

Painting or galvanizing options are available according to the customers' requests.


Net price: 32,000€


THIS OFFER IS AN INVITATION TO PURCHASE AND DOES NOT CONSTITUTE A COMMERCIAL OFFER WITHIN THE MEANING OF THE CIVIL CODE.
THE PRICE IN THE AD IS INDICATIVE. THE FINAL NET PRICE IN PLN IS DETERMINED BY THE EURO EXCHANGE RATE CALCULATED ON THE DAY THE ORDER IS PLACED.



Main chassis and entire vehicle will be painted in paint oven as Washing + Sandblasting + two coat epoxy primer + two coat acrylic paint.

Any information by phone.

Konstantyn – 692x395x000 I speak Polish / speak English / I speak Russian / I speak Ukrainian

Possibility of leasing, credit, and issuing a VAT invoice 23 %.

You're welcome to watch.

Topołowa 30, 96-515 Teresin

(40 km from Warsaw, 8 km from Sochaczew) on the Poznań route.

On site a larger selection of excavator-loaders , mini-excavators, excavators, telescopic loaders, mini-loaders and other equipment.
NACZEPA NISKOPODWOZIOWA, SCORPION HKM3, 3 osie, Hydraulika

HOMOLOGACJA UE,
Naczepy wydajemy z pełną dokumentacją do pierwszej rejestracji!
Masa własna: 10 300kg

Typ: Scorpion HKM3

• Rok produkcji 2022
• Długość całkowita: 13,6 m
• Szerokość: 2,53 m
• Szerokość po poszerzeniu 3,06 m
• Wysokość powierzchni ładunkowej: 0,9 m
• Długość najazdów: 4 m
• Najazdy rozkładane hydraulicznie, przesuwane na boki hydraulicznie
• Własna pompa hydrauliczna
• Powierzchnia załadunkowa dolna: dł. 9,52m
• Powierzchnia załadunkowa górna – balkon 4m
• Zdejmowane burty na balkonie
• Oświetlenie LED, światło ostrzegawcze
• 2x Skrzynia ładunkowa na balkonie
• Masa własna 10300 kg
• Ładowność do 41 700 kg, DMC 52 000 kg
• Dopuszczalny nacisk na oś wg. przepisów 10 000 kg
• 19 haków wzmocnionych do ciężkich załadunków
• ABS, EBS
• 3 osie, 1 tylna skrętna z auto blokowaniem przy cofaniu, przednia podnoszona,
• Opony: 12x 235/75 R17,5
• Zawieszenie pneumatyczne KNORR-BREMSE
• Układ hamulcowe WABCO
• Gwarancja 12 m-cy

Możliwość konfiguracji naczepy pod konkretne zapotrzebowanie - czas realizacji ok 2-3 miesiące.

Cena netto: 195 000pln

+23% VAT

NINIEJSZA OFERTA JEST ZAPROSZENIEM DO ZAKUPU I NIE STANOWI OFERTY HANDLOWEJ W ROZUMIENIU KODEKSU CYWILNEGO.

Pomagamy w finansowaniu.
Możliwość atrakcyjnego leasingu, kredytowania, pożyczek leasingowych.

Wszelkie informacje pod numerem tel.

Bartek - 692 x 391 x 000
Zapraszam do oglądania.

Wieś Topołowa 30, 96-515 Teresin

(40 km od Warszawy, 8 km od Sochaczewa) przy trasie poznańskiej.

Na miejscu większy wybór naczep niskopodwoziowych, przyczep oraz sprzętu budowlanego.
Important
This offer is for guidance only. Please request more precise information from the seller.
Safety tips
Seller's contacts
Poland, Mazoweckie, 96-516, Teresin, Topołowa 30
Seller's local time: 01:51 (CET)
Selling machinery or vehicles?
You can do it with us!