The ad New SCORPION TRAILER Przyczepa Scorpion 2 osiowa Tandem low loader trailer has been sold and is not included in the search!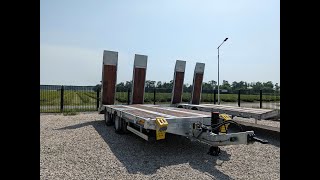 1/14
Model
Przyczepa Scorpion 2 osiowa Tandem
Location
Poland
Teresin
Vehicle Details:

CHASSIS:ST52 main frame in accordance with EU 53-62 Standards.

AXLE GROUP: 11 – tonner 2 pcs R:17,5" SAF or TRAX

SUSPENSION:Air Suspension.

TIRES AND RIMS: Tire options suitable for 17,5" rims

ELECTRICAL SYSTEM:24 V Electrical system in accordance with European Standards.

BRAKE SYSTEM: EBS brake system (2S/2M) in conformity with 71 /320 / EWG or ECE R 13 Regulations.

RAMPS: Hydraulic or manual operated ramps with appropriate dimensions according to the customers' preferences.

TANDEM: Made from ST52 reinforced steel, mounted to chassis and front wall, with 50mm eye and can be adjusted in mechanical system.

LANDING GEAR: 650 mm mechanical landing leg.

REAR STABILIZER BARS

GROSS WEIGHT: 23.000 Kgs

NET WEIGHT: 5.000 Kgs

LADEN MASS WEIGHT:18.000 Kgs



Net price: 26,000€



THIS OFFER IS AN INVITATION TO PURCHASE AND DOES NOT CONSTITUTE A COMMERCIAL OFFER WITHIN THE MEANING OF THE CIVIL CODE.
THE PRICE IN THE AD IS INDICATIVE. THE FINAL NET PRICE IN PLN IS DETERMINED BY THE EURO EXCHANGE RATE CALCULATED ON THE DAY THE ORDER IS PLACED.



Any information by phone.


Konstantyn – 692x395x000 I speak Polish / speak English / I speak Russian / I speak Ukrainian

Possibility of leasing, credit, and issuing a VAT invoice 23 %.

You're welcome to watch.

Topołowa 30, 96-515 Teresin

(40 km from Warsaw, 8 km from Sochaczew) on the Poznań route.

On site a larger selection of excavator-loaders , mini-excavators, excavators, telescopic loaders, mini-loaders and other equipment.
Przyczepa niskopodwoziowa SCORPION SCR2, Tandem


Szczegóły przyczepy:

Podwozie: zgodnie z normami EU.

Oś: 2 osie marki TRAX, 11 tonowy nacisk na każdą z osi ,

Zawieszenie: Pneumatyczne.

Opony i felgi: 245/70 R17,5″

Instalacja elektryczna: instalacja elektryczna 24 V zgodnie z normami europejskimi.

Układ hamulcowy: układ hamulcowy bębnowy, EBS

Najazdy: Długość 3m, Rozkładane ręcznie, wspomagane sprężynami, (na zamówienie mogą być hydrauliczne)

Tandem: wykonany ze stali wzmocnionej ST52,

Dyszel z oczkiem 50 mm z regulacją wysokości w systemie mechanicznym.



Waga DMC: 23.000 KG

Masa własna: 5.000 KG

Masa dopuszczalna ładunku: 18.000 KG

Farba:

Przyczepy są galwanizowane, opcje malowania są dostępne zgodnie z życzeniami klientów.



Cena netto: 143 000 PLN +23VAT




NINIEJSZA OFERTA JEST ZAPROSZENIEM DO ZAKUPU I NIE STANOWI OFERTY HANDLOWEJ W ROZUMIENIU KODEKSU CYWILNEGO.





Wszelkie informacje pod numerem tel.

Bartek – 692x391x000 – mówię po Polsku

Zapraszam do oglądania.

Wieś Topołowa 30, 96-515 Teresin

(40 km od Warszawy, 8 km od Sochaczewa) przy trasie poznańskiej.

Na miejscu większy wybór naczep i przyczep