The ad Mercedes-Benz ACTROS 1841 L milk tanker has been sold and is not included in the search!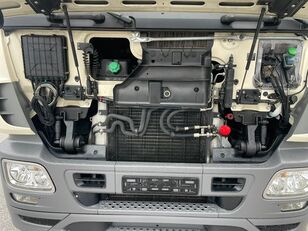 1/60
Year of manufacture
12/2013
Location
Greece
Trhίkala
Placed on
more than 1 month
Tank transport
Volume of tank compartments
5000 l, 2850 l, 5000 l
Αξεσουάρ: ABS, EURO 5, ΜΗΧΑΝΟΦΡΕΝΟ, ΟΡΟΦΗ, ΤΙΜΟΝΙ ΠΟΛΛΑΠΛΩΝ ΧΡΗΣΕΩΝ, ΒΑΣΗ ΤΗΛΕΦΩΝΟΥ .ΨΗΦΙΑΚΟ ΤΑΧΟΓΡΑΦΟ, ΚΑΘΙΣΜΑ ΟΔΗΓΟΥ ΑΕΡΟΣ ΚΑΙ ΘΕΡΜΑΙΝΟΜΕΝΟ.
ΛΑΣΤΙΧΑ 1ος + 2ος ΑΞΟΝΑΣ : 315/80R22.5
Ηλεκτρικός εξοπλισμός: ΗΛΕΚΤΡΙΚΑ ΚΑΙ ΘΕΡΜΑΙΝΟΜΕΝΑ ΠΑΡΑΘΥΡΑ
ΡΥΘΜΙΖΟΜΕΝΟΙ ΚΑΘΡΕΦΤΕΣ

ΜΕΤΑΞΟΝΙΟ: 4200 mm

Σημειώσεις:
ΒΥΤΙΟ SCHWARTE ΜΕ 3 ΧΩΡΙΣΜΑΤΑ

1ο ΧΩΡΙΣΜΑ 5.000 ΛΙΤΡΑ
2ο ΧΩΡΙΣΜΑ 2.850 ΛΙΤΡΑ
3ο ΧΩΡΙΣΜΑ 5.000 ΛΙΤΡΑ

ΧΩΡΗΤΙΚΟΤΗΤΑΣ 12.850 ΛΙΤΡΑ.

ΝΩΣΤΟΠΟΙΗΣΗ ΠΡΟΣ ΤΟΥΣ ΠΑΡΑΛΗΠΤΕΣ Αυτό το μήνυμα και τυχόν συνημμένα σε αυτό αρχεία είναι εμπιστευτικά και απευθύνονται μόνο στους σκοπούμενους παραλήπτες. Απαγορεύεται η μη εξουσιοδοτημένη χρήση ή διάδοση ή κοινοποίηση σε τρίτους. Τα μηνύματα ηλεκτρονικού ταχυδρομείου είναι δεκτικά αλλοίωσης. Η ΕΤΑΙΡΕΙΑ και οι εκπρόσωποί της δεν ευθύνονται σε περίπτωση αλλοίωσης των μηνυμάτων, ούτε υπέχουν ευθύνη ή εγγυώνται για οποιαδήποτε σφάλμα ή άλλη ζημία που θα υποστείτε από ενέργειες που σας ζητούνται από τρίτους, οφειλόμενες σε χρήση του ονόματος της και σε κάθε περίπτωση επιφυλάσσονται για την άσκηση παντός νομίμου δικαιώματος τους.