MGC CENTRUM SAMOCHODOW DOSTAWCZYCH
In stock: 55 ads
14 years at Autoline
27 years on the market
The ad VOLKSWAGEN Multivan , very good condition,Alcantara ,TV,DVD, minivan has been sold and is not included in the search!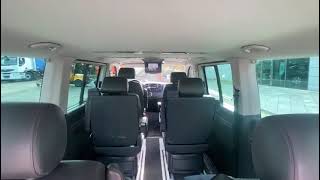 1/35
Model
Multivan , very good condition,Alcantara ,TV,DVD,
First registration
2010-11
Location
Poland
ŁAZISKA GÓRNE
Placed on
more than 1 month
Purchase on credit is possible
Purchase by installments is possible
Engine
Fuel consumption
8 l/100km
Cabin
Cruise control (tempomat)
Electrically operated mirrors
Condition
Technical inspection valid till
2023
More details
Colour
metallic, metallic
Beautiful, Real, Original MULTIVAN (no Caravella or bus).
Only 1 owner from Denmark.
A car with the best 179 HP engine for this version. and DSG gearbox.
While traveling with a full car to Sardinia and Switzerland, he burned an average of 8.8 L / 100KM with dynamic driving. For those who like to save, 7 L / 100KM should be enough.
The engine was replaced with a mileage of 220,000 km. (this is what we know from the previous owner).
Black leather seats with Alcantara inside.
Freely configurable and the possibility of making yourself couches as many as you place them opposite to each other.
Lots of fun for passengers with a DVD screen.
According to the brief, the 2.0 TDi 132kW engine! 180 km

Equipment:
-ABS, ESP
- Front and rear parking sensors
-Heated front seats
-Electric mirrors
-Touchscreen
-On-board computer
- DVD screen with four Bluetooth headphones
-Bluetooth interface
-Multifunction steering wheel
-Automatic DSG gearbox
-Tempomat
- Automatically sliding side doors
-Automatic air conditioning
-Webasto
-Tinted rear windows
-Adjustable seats
_
Inspection report:
All sheet metal elements in the factory parameters, except the tailgate and the left fender with the door, where the values ​​are increased. Up to about 250 microns (second painted - no putty)
-
Tires: 235/55 R17 Bridgestone summer for driving
Windows: all original VW except passenger windshield (Saint Gobain - but vintage fits).
Mileage confirmed in the service book (see photos) + extract from Danish Cepik.
-
Dear Customer!
If you want to buy a decent car, WELCOME TO US.
If YOU ONLY GUIDE YOURSELF BY THE PRICE, and parameters such as: ACTUAL COURSE OR ACCIDENTITY are SECONDARY VALUES for you, then in our humble opinion, a DAMAGE to your and our TIME.
-
MULTIVAN جميل ، حقيقي ، أصلي (لا يوجد كارافيلا أو حافلة).
مالك واحد فقط من الدنمارك.
السيارة ذات المحرك الأفضل لهذا الإصدار 179 حصان. وعلبة تروس DSG.
خلال الرحلة بسيارة كاملة إلى سردينيا وسويسرا ، استهلكت في المتوسط ​​8.8 لتر / 100 كيلومتر مع القيادة الديناميكية. بالنسبة لأولئك الذين يحبون الادخار ، يجب أن تكون 7 لترات / 100 كيلومتر كافية.
تم استبدال المحرك فيه على مسافة 220.000 كم. (هذه هي المعلومات التي لدينا من المالك السابق).
مقاعد جلدية سوداء مع ألكانتارا بالداخل.
قابل للتكوين بحرية والقدرة على صنع أريكة في الخلف حيث يتم وضعهما مقابل بعضهما البعض.
متعة كبيرة للركاب مع شاشة DVD.
وفقًا للموجز ، محرك 2.0 TDi 132kW! 180 كم.

معدات:
-ABS ، ESP
- حساسات ركن أمامية وخلفية
- مقاعد أمامية ساخنة
-مرايا كهربائية
-شاشة اللمس
-حاسوب على متن
-شاشة دي في دي مع أربع سماعات بلوتوث
-واجهة بلوتوث
-مقود متعدد الوظائف
ناقل حركة أوتوماتيكي DSG
-مثبت السرعة
- الباب الجانبي ينزلق تلقائيا
- تكييف أتوماتيكي
- ويبستو
- زجاج خلفي ملون
- مقاعد قابلة للتعديل
_
تقرير التفتيش:
جميع عناصر الصفائح المعدنية في معايير المصنع باستثناء الفتحة الخلفية والرفرف الأيسر مع الباب حيث يتم زيادة القيم. ما يصل إلى حوالي 250 ميكرون (طلاء مرة ثانية - بدون معجون)
-
الإطارات: 235/55 R17 بريجستون للقيادة الصيفية
النوافذ: جميع فولكس فاجن الأصلي باستثناء الزجاج الأمامي للركاب (سانت جوبان - لكن يناسب العام).
تم تأكيد الأميال في كتاب الخدمة (انظر الصور) + مقتطفات من Cepik الدنماركية.
-
عزيزي الزبون!
إذا كنت ترغب في شراء سيارة DECENT CAR ، يرجى المجيء إلينا.
إذا تم اقتراحك فقط حسب السعر ، وكانت المعلمات مثل: الأميال الفعلية أو حرية الحوادث هي قيم ثانوية بالنسبة لك ، ففي رأينا المتواضع ، إنها مضيعة لوقتك ووقتنا.
Krásný, skutečný, originální MULTIVAN (žádná Caravella nebo autobus).
Pouze 1 majitel z Dánska.
Auto s nejlepším motorem pro tuto verzi, 179 koní. a převodovka DSG.
Během cesty s plným vozem na Sardinii a do Švýcarska spotřeboval při dynamické jízdě průměrně 8,8 L/100KM. Kdo rád šetří, 7 L/100KM by mělo stačit.
Motor v něm byl vyměněn při nájezdu 220 000 km. (toto jsou informace, které máme od předchozího majitele).
Černá kožená sedadla s Alcantarou uvnitř.
Volně konfigurovatelné a možnost vyrobit gauč v zadní části, protože jsou umístěny naproti sobě.
Skvělá zábava pro cestující s obrazovkou DVD.
Podle briefu motor 2.0 TDi 132kW! 180 KM.

Zařízení:
- ABS, ESP
- Přední a zadní parkovací senzory
- Vyhřívaná přední sedadla
- Elektrická zrcátka
-Dotyková obrazovka
-Palubní počítač
-DVD obrazovka se čtyřmi sluchátky Bluetooth
-Bluetooth rozhraní
-Multifunkční volant
- automatická převodovka DSG
- Tempomat
- Boční dveře automaticky posuvné
-Automatická klimatizace
- Webasto
-Zatmavená zadní okna
- Nastavitelná sedadla
_
Inspekční zpráva:
Všechny plechové prvky v továrních parametrech kromě zadního poklopu a levého blatníku s dveřmi, kde jsou hodnoty zvýšené. Až asi 250 mikronů (druhé lakování - bez tmelu)
-
Pneumatiky: 235/55 R17 Bridgestone letní jízda
Okna: vše originál VW kromě čelního skla spolujezdce (Saint Gobain - ale rok sedí).
Stav kilometrů potvrzený v servisní knížce (viz fotky) + výpis z dánského Cepiku.
-
Vážený zákazníku!
Pokud si chcete koupit SLUŠNÉ AUTO, PŘIJĎTE K NÁM.
Pokud VÁS NAVRHUJE POUZE CENA a parametry jako: SKUTEČNÝ NÁJEZD NEBO SVOBODA NEHODY jsou pro vás DRUHÉ HODNOTY, pak je to podle našeho skromného názoru ztráta vašeho i našeho ČASU.
Schöner, echter, originaler MULTIVAN (kein Caravella oder Bus).
Nur 1 Besitzer aus Dänemark.
Das Auto mit dem besten Motor für diese Version, 179 PS. und DSG-Getriebe.
Während der Fahrt mit einem vollen Auto nach Sardinien und in die Schweiz verbrauchte es bei dynamischer Fahrweise durchschnittlich 8,8 L/100KM. Wer gerne spart, sollte mit 7 L/100KM auskommen.
Der Motor wurde darin bei einer Laufleistung von 220.000 km ausgetauscht. (Dies sind die Informationen, die wir vom Vorbesitzer haben).
Schwarze Ledersitze mit Alcantara innen.
Frei konfigurierbar und die Möglichkeit, eine Couch im Rücken zu machen, da sie einander gegenüber stehen.
Ein großer Spaß für die Passagiere mit einem DVD-Bildschirm.
Laut Briefing der 2.0 TDi 132kW Motor! 180 KM.

Ausrüstung:
-ABS,ESP
- Parksensoren vorne und hinten
- Beheizbare Vordersitze
-Elektrische Spiegel
-Berührungsempfindlicher Bildschirm
-Bordcomputer
-DVD-Bildschirm mit vier Bluetooth-Kopfhörern
-Bluetooth-Schnittstelle
-Multifunktionales Lenkrad
-DSG-Automatikgetriebe
-Tempomat
- Seitentür automatisch verschiebbar
-Automatische Klimaanlage
-Webasto
-Getönte Heckscheiben
-Verstellbare Sitze
_
Inspektionsbericht:
Alle Blechelemente in Werksparametern außer der Heckklappe und dem linken Kotflügel mit der Tür, wo die Werte erhöht sind. Bis zu etwa 250 Mikron (zweites Mal lackiert - kein Kitt)
-
Reifen: 235/55 R17 Bridgestone für Sommerfahrten
Fenster: alle original VW außer Beifahrer-Windschutzscheibe (Saint Gobain - aber Baujahr passt).
Kilometerstand bestätigt im Serviceheft ( siehe Fotos ) + Auszug aus dem dänischen Cepik .
-
Lieber Kunde!
Wenn Sie ein anständiges Auto kaufen möchten, kommen Sie bitte zu uns.
Wenn SIE NUR DURCH DEN PREIS EMPFOHLEN HABEN und Parameter wie: TATSÄCHLICHE KILOMETERSTAND ODER UNFALLFREIHEIT für Sie NEBENWERTE sind, dann ist es unserer bescheidenen Meinung nach eine VERSCHWENDUNG Ihrer und unserer ZEIT.
Όμορφο, πραγματικό, πρωτότυπο MULTIVAN (χωρίς Caravella ή λεωφορείο).
Μόνο 1 ιδιοκτήτης από τη Δανία.
Το αυτοκίνητο με τον καλύτερο κινητήρα για αυτή την έκδοση, 179 ίππους. και κιβώτιο ταχυτήτων DSG.
Κατά τη διάρκεια του ταξιδιού με ένα γεμάτο αυτοκίνητο στη Σαρδηνία και την Ελβετία, κατανάλωσε κατά μέσο όρο 8,8 L/100KM με δυναμική οδήγηση. Για όσους θέλουν να κάνουν οικονομία, 7 L/100KM θα πρέπει να είναι αρκετά.
Ο κινητήρας αντικαταστάθηκε σε αυτό στα 220.000 χιλιόμετρα. (αυτές είναι οι πληροφορίες που έχουμε από τον προηγούμενο ιδιοκτήτη).
Μαύρα δερμάτινα καθίσματα με Alcantara εσωτερικά.
Ελεύθερα διαμορφώσιμο και δυνατότητα δημιουργίας καναπέ στο πίσω μέρος καθώς είναι τοποθετημένα το ένα απέναντι από το άλλο.
Μεγάλη διασκέδαση για τους επιβάτες με οθόνη DVD.
Σύμφωνα με το brief, ο κινητήρας 2.0 TDi 132kW! 180 χλμ.

Εξοπλισμός:
-ABS, ESP
- Εμπρός και πίσω αισθητήρες στάθμευσης
- Θερμαινόμενα μπροστινά καθίσματα
- Ηλεκτρικοί καθρέφτες
-Οθόνη αφής
-Υπολογιστής οχήματος
-Οθόνη DVD με τέσσερα ακουστικά Bluetooth
-Διασύνδεση Bluetooth
-Τιμόνι πολλαπλών λειτουργιών
-Αυτόματο κιβώτιο ταχυτήτων DSG
-Cruise control
- Πλαϊνή πόρτα συρόμενη αυτόματα
- Αυτόματος κλιματισμός
- Webasto
- Φιμέ πίσω τζάμια
- Ρυθμιζόμενα καθίσματα
_
Έκθεση επιθεώρησης:
Όλα τα λαμαρίνα σε εργοστασιακές παραμέτρους εκτός από την πίσω καταπακτή και το αριστερό φτερό με την πόρτα όπου οι τιμές είναι αυξημένες. Έως περίπου 250 μικρά (δεύτερη φορά βαμμένο - χωρίς στόκο)
-
Ελαστικά: 235/55 R17 Bridgestone καλοκαιρινή οδήγηση
Παράθυρα: όλα τα αυθεντικά VW εκτός από το παρμπρίζ του συνοδηγού (Saint Gobain - αλλά η χρονιά ταιριάζει).
Χιλιόμετρα επιβεβαιωμένα στο βιβλίο σέρβις (δείτε φωτογραφίες) + απόσπασμα από το Δανέζικο Cepik.
-
Αγαπητέ πελάτη!
Αν θέλετε να αγοράσετε ένα αξιοπρεπές αυτοκίνητο, ΕΛΑΤΕ ΣΕ ΜΑΣ.
Αν ΣΑΣ ΠΡΟΤΕΙΝΕΙ ΜΟΝΟ ΑΠΟ ΤΗΝ ΤΙΜΗ, και παράμετροι όπως: ΠΡΑΓΜΑΤΙΚΗ ΧΙΛΙΟΜΕΤΡΑ Ή ΕΛΕΥΘΕΡΙΑ ΑΤΥΧΗΜΑΤΟΣ είναι ΔΕΥΤΕΡΕΥΤΕΡΕΣ ΑΞΙΕΣ για εσάς, τότε κατά την ταπεινή μας γνώμη είναι ΧΑΜΑ ΤΟΥ ΧΡΟΝΟΥ σας και μας.
Hermosa, Real, Original MULTIVAN (sin Caravella ni bus).
Solo 1 propietario de Dinamarca.
El coche con mejor motor para esta versión, 179 CV. y caja de cambios DSG.
Durante el viaje con coche completo a Cerdeña y Suiza, consumió una media de 8,8 L/100KM con conducción dinámica. Para aquellos a los que les gusta ahorrar, 7 L/100KM deberían ser suficientes.
El motor se reemplazó en él con un kilometraje de 220 000 km. (esta es la información que tenemos del dueño anterior).
Asientos de cuero negro con Alcantara en el interior.
De libre configuración y posibilidad de hacer un sofá en la parte trasera ya que se colocan uno frente al otro.
Gran diversión para los pasajeros con una pantalla de DVD.
Según el escrito, el motor 2.0 TDi 132kW! 180 KM.

Equipo:
-ABS, ESP
- Sensores de aparcamiento delanteros y traseros
- Asientos delanteros con calefacción
-Espejos electricos
-Pantalla táctil
-Ordenador de a bordo
-Pantalla de DVD con cuatro auriculares Bluetooth
-Interfaz Bluetooth
-Volante multifuncional
-Transmisión automática DSG
-Control de crucero
- Puerta lateral deslizante automáticamente
-Aire acondicionado automático
-Webasto
-Lunas traseras tintadas
-Asientos ajustables
_
Reporte de inspección:
Todos los elementos de chapa en parámetros de fábrica excepto el portón trasero y el guardabarros izquierdo con la puerta donde se aumentan los valores. Hasta unas 250 micras (segunda vez pintada - sin masilla)
-
Neumáticos: 235/55 R17 Bridgestone conducción de verano
Ventanas: todo VW original, excepto el parabrisas del pasajero (Saint Gobain, pero se ajusta al año).
Kilometraje confirmado en el libro de revisiones ( ver fotos ) + extracto del Cepik danés .
-
¡Estimado cliente!
Si desea comprar un AUTO DECENTE, POR FAVOR VENGA A NOSOTROS.
Si USTED SÓLO LO SUGERIÓ POR EL PRECIO, y parámetros tales como: KILOMETRAJE REAL O LIBERTAD DE ACCIDENTES son VALORES SECUNDARIOS para usted, entonces en nuestra humilde opinión es una PÉRDIDA de su TIEMPO y el nuestro.
Beau, vrai, original MULTIVAN (pas de Caravella ni de bus).
Un seul propriétaire danois.
La voiture avec le meilleur moteur pour cette version, 179 ch. et boîte de vitesses DSG.
Lors du trajet avec une voiture pleine en Sardaigne et en Suisse, elle a consommé en moyenne 8,8 L/100KM en conduite dynamique. Pour ceux qui aiment économiser, 7 L/100KM devraient suffire.
Le moteur y a été remplacé au kilométrage de 220 000 km. (ce sont les informations que nous avons de l'ancien propriétaire).
Sièges en cuir noir avec Alcantara à l'intérieur.
Librement configurable et possibilité de faire un canapé à l'arrière car ils sont placés l'un en face de l'autre.
Très amusant pour les passagers avec un écran DVD.
D'après le brief, le moteur 2.0 TDi 132kW ! 180 KM.

Équipement:
-ABS, ESP
- Capteurs de stationnement avant et arrière
- Sièges avant chauffants
- Rétroviseurs électriques
-Écran tactile
-Ordinateur de bord
-Écran DVD avec quatre écouteurs Bluetooth
-Interface Bluetooth
-Volant multifonctionnel
-boite automatique DSG
-Régulateur de vitesse
- Porte latérale coulissante automatiquement
-Climatisation automatique
- Webasto
- Vitres arrière teintées
-Sièges réglables
_
Rapport d'inspection:
Tous les éléments en tôle dans les paramètres d'usine à l'exception du hayon arrière et de l'aile gauche avec la porte où les valeurs sont augmentées. Jusqu'à environ 250 microns (deuxième fois peint - pas de mastic)
-
Pneus : 235/55 R17 Bridgestone été conduite
Vitres : toutes d'origine VW sauf pare-brise passager (Saint Gobain - mais compatible avec l'année).
Kilométrage confirmé dans le carnet d'entretien (voir photos) + extrait du Cepik danois.
-
Cher client!
Si vous voulez acheter une VOITURE DÉCENTE, VEUILLEZ VENIR À NOUS.
Si VOUS N'AVEZ SUGGÉRÉ QUE PAR LE PRIX, et que des paramètres tels que : KILOMÉTRAGE RÉEL OU ABSENCE D'ACCIDENTS sont des VALEURS SECONDAIRES pour vous, alors à notre humble avis, c'est une GASPILLE de TEMPS pour vous et pour nous.
MULTIVAN Bello, Vero, Originale (no Caravella o autobus).
Solo 1 proprietario dalla Danimarca.
L'auto con il miglior motore per questa versione, 179 cv. e cambio DSG.
Durante il viaggio con vettura piena in Sardegna e Svizzera ha consumato in media 8,8 L/100KM con guida dinamica. Per chi ama risparmiare, dovrebbero bastare 7 L/100KM.
Il motore è stato sostituito al chilometraggio di 220.000 km. (queste sono le informazioni che abbiamo dal precedente proprietario).
Sedili in pelle nera con interni in Alcantara.
Liberamente configurabili e possibilità di realizzare un divano nella parte posteriore in quanto posizionati uno di fronte all'altro.
Grande divertimento per i passeggeri con uno schermo DVD.
Secondo il brief, il motore 2.0 TDi 132kW! 180 KM.

Attrezzatura:
-ABS, ESP
- Sensori di parcheggio anteriori e posteriori
- Sedili anteriori riscaldati
-Specchi elettrici
-Touch screen
-Computer di bordo
-Schermo DVD con quattro cuffie Bluetooth
-Interfaccia Bluetooth
-Volante multifunzione
- Cambio automatico DSG
-Regolazione automatica della velocità
- Porta laterale scorrevole automaticamente
-Aria condizionata automatica
- Webasto
- Finestrini posteriori oscurati
-Sedili regolabili
_
Rapporto di ispezione:
Tutti gli elementi in lamiera nei parametri di fabbrica ad eccezione del portellone posteriore e del parafango sinistro con lo sportello dove i valori sono maggiorati. Fino a circa 250 micron (seconda verniciatura - senza stucco)
-
Pneumatici: 235/55 R17 Bridgestone guida estiva
Finestrini: tutti originali VW tranne il parabrezza del passeggero (Saint Gobain - ma compatibile con l'anno).
Chilometraggio confermato nel libretto dei tagliandi (vedi foto) + estratto dal Cepik danese.
-
Caro cliente!
Se vuoi acquistare un'AUTO DECENTE, VIENI DA NOI.
Se SEI CONSIGLIATO SOLO DAL PREZZO, e parametri come: PERCORSO EFFETTIVO O LIBERTÀ DA INCIDENTE sono per te VALORI SECONDARI, allora a nostro modesto avviso è una PERDITA del tuo e nostro TEMPO.
Piękny ,Prawdziwy, Oryginalny MULTIVAN (żadna Caravella czy bus ).
Tylko po 1 właścicielu z Danii.
Auto z najlepszym dla tej wersji silnikiem 179 KM. i skrzynią DSG.
Podczas podróży przy pełnym aucie do Sardynii i Szwajcarii spalił nam średnio 8,8 L/100KM przy dynamicznej jeździe . Dla lubiących oszczędzać powinno 7 L/100KM starczyć.
Silnik został w nim wymieniony przy przebiegu 220 tys.km. ( taką mamy informację od poprzedniego właściciela ).
Fotele z czarną skórą , a w środku Alcantara .
Dowolnie konfigurowane i możliwość zrobienia sobie leżanki z tylu jak ustawi się je naprzeciwko siebie .
Duża frajda dla pasażerów z ekranem DVD .
Według briefu silnik 2.0 TDi 132kW! 180KM.

Wyposażenie:
-ABS, ESP
-Czujniki parkowania przod i tyl
-Podgrzewane fotele przednie
-Elektryczne lusterka
-Ekran dotykowy
-Komputer pokładowy
-Ekran DVD z czterema słuchawkami Bluetooth
-Interfejs Bluetooth
-Wielofunkcyjna kierownica
-Automatyczna skrzynia biegów DSG
-Tempomat
-Drzwi boczne automatycznie przesuwne
-Automatyczna klimatyzacja
-Webasto
-Przyciemniane tylne szyby
-Regulowane siedzenia
_
Raport z oględzin :
Wszelkie elementy blacharskie w parametrach fabrycznych oprócz tylnej klapy i lewego błotnika z drzwiami gdzie są podwyższone wartości. Do około 250 mikronów ( drugi raz malowane -bez kitu )
-
Opony : 235/55 R17 Bridgestone letnie do jazdy
Szyby : wszystkie oryginalne Vw oprócz szyby przedniej pasażera ( Saint Gobain -lecz rocznik pasuje ) .
Przebieg potwierdzony w książce serwisowej ( patrz zdjęcia ) + wyciąg z duńskiego Cepiku .
-
Szanowny Kliencie!
Jeśli pragniesz zakupić PORZĄDNE AUTO, TO ZAPRASZAMY DO NAS.
Jeśli TYLKO SUGERUJESZ SIĘ CENĄ, a takie parametry jak: RZECZYWISTY PRZEBIEG CZY BEZWYPADKOWOŚĆ to dla Ciebie WARTOŚCI DRUGORZĘDNE, to naszym skromnym zdaniem SZKODA Twojego i naszego CZASU.
-
NINIEJSZE OGŁOSZENIE MA CHARAKTER JEDYNIE INFORMACYJNY I NIE STANOWI OFERTY W MYŚL ART. 66, § 1. KODEKSU CYWILNEGO. NASZA FIRMA NIE PONOSI ODPOWIEDZIALNOŚCI ZA DROBNE BŁĘDY ORAZ ZAWARTE W OGŁOSZENIU NIEKOMPLETNE INFORMACJE LUB NIEAKTUALNOŚĆ OGŁOSZENIA.
Frumos, Real, Original MULTIVAN (fără Caravella sau autobuz).
Doar 1 proprietar din Danemarca.
Mașina cu cel mai bun motor pentru această versiune, 179 CP. si cutie de viteze DSG.
În timpul călătoriei cu mașina plină în Sardinia și Elveția, a consumat în medie 8,8 L/100KM cu condus dinamic. Pentru cei cărora le place să economisească, 7 L/100KM ar trebui să fie de ajuns.
Motorul a fost înlocuit în el la kilometrajul de 220.000 km. (aceasta este informația pe care o avem de la proprietarul anterior).
Scaune din piele neagră cu Alcantara în interior.
Configurabile liber și posibilitatea de a face o canapea în spate, deoarece sunt plasate unul vizavi de celălalt.
Mare distracție pentru pasagerii cu un ecran DVD.
Potrivit briefului, motorul 2.0 TDi 132kW! 180 KM.

Echipament:
-ABS, ESP
- Senzori de parcare fata si spate
- Scaune fata incalzite
-Oglinzi electrice
-Touch screen
-Computer de bord
-Ecran DVD cu patru căști Bluetooth
-Interfata Bluetooth
- Volan multifunctional
-Transmisie automata DSG
- Control de croazieră
- Usa laterala culisante automat
-Aer conditionat automat
- Webasto
- Geamuri spate colorate
-Scaune reglabile
_
Raport de inspectie:
Toate elementele din tablă în parametrii din fabrică, cu excepția trapei spate și a aripii stângi cu ușă unde valorile sunt crescute. Până la aproximativ 250 de microni (vopsit a doua oară - fără chit)
-
Anvelope: 235/55 R17 Bridgestone vara condus
Geamuri: toate VW originale, cu excepția parbrizului pasagerului (Saint Gobain - dar se potrivește anul).
Kilometraj confirmat în cartea de service ( vezi fotografii ) + extras din Cepik danez .
-
Dragă client!
Dacă doriți să cumpărați o MAȘINĂ DECENTĂ, VA RUGĂM VENITI LA NOI.
Dacă TU AȚI SUGERAT NUMAI DUPĂ PREȚ, iar parametri precum: KILOMETRAJUL REAL SAU LIBERTATEA DE ACCIDENT sunt VALORI SECUNDARE pentru tine, atunci în umila noastră părere este o PIDERIE de TIMPUL tău și al nostru.
Красивый, Настоящий, Оригинальный МУЛЬТИВАН (без Каравеллы и автобуса).
Только 1 владелец из Дании.
Автомобиль с лучшим двигателем для этой версии, 179 л.с. и коробка DSG.
Во время поездки с полным автомобилем на Сардинию и в Швейцарию он потреблял в среднем 8,8 л/100 км при динамичной езде. Для тех, кто любит экономить, должно хватить 7 л/100 км.
В ней был заменен двигатель при пробеге 220 000 км. (это информация от предыдущего владельца).
Черные кожаные сиденья с алькантарой внутри.
Свободно настраиваемые и возможность сделать диван сзади, так как они размещены друг напротив друга.
Большое удовольствие для пассажиров с экраном DVD.
Согласно брифу двигатель 2.0 TDi 132кВт! 180 км.

Оборудование:
-АБС, ЕСП
- Передние и задние датчики парковки
- Подогрев передних сидений
-Электро зеркала
-Сенсорный экран
- Бортовой компьютер
-DVD-экран с четырьмя наушниками Bluetooth
-Bluetooth-интерфейс
-Многофункциональное рулевое колесо
- АКПП ДСГ
-Круиз-контроль
- Боковая дверь автоматически сдвигается
- Автоматический кондиционер
- Вебасто
-Тонировка задних стекол
-Регулируемые сиденья
_
Отчет о проверке:
Все элементы из листового металла в заводских параметрах, кроме заднего люка и левого крыла с дверью, где значения увеличены. Примерно до 250 микрон (вторая покраска - без шпаклевки)
-
Шины: 235/55 R17 Bridgestone летняя езда
Окна: все оригинальные VW, кроме пассажирского лобового стекла (Saint Gobain - но год подходит).
Пробег подтвержден в сервисной книжке (см. фото) + выписка из датского цепика.
-
Уважаемый клиент!
Если вы хотите купить ДОСТОЙНЫЙ АВТОМОБИЛЬ, ПРИЕЗЖАЙТЕ К НАМ.
Если ВАМ ТОЛЬКО ПРЕДЛАГАЕТСЯ ПО ЦЕНЕ, а такие параметры как: РЕАЛЬНЫЙ ПРОБЕГ ИЛИ БЕЗОПАСНОСТЬ для Вас ВТОРИЧНЫЕ ЦЕННОСТИ, то по нашему скромному мнению это ПОТЕРЯ Вашего и нашего ВРЕМЕНИ.
Гарний, Справжній, Оригінальний MULTIVAN (без Каравелли чи автобуса).
Тільки 1 власник з Данії.
Машина з найкращим двигуном для цієї версії, 179 к.с. і коробка передач DSG.
Під час поїздки з повним автомобілем до Сардинії та Швейцарії він споживав у середньому 8,8 л/100 км при динамічній їзді. Для тих, хто любить економити, 7 л/100 км цілком вистачить.
В ньому був замінений двигун на пробігу 220 000 км. (це інформація у нас від попереднього власника).
Чорні шкіряні сидіння з алькантарою всередині.
Вільна конфігурація та можливість зробити диван ззаду, оскільки вони розміщені один навпроти одного.
Чудова розвага для пасажирів з екраном DVD.
По брифу двигун 2.0 TDi 132kW! 180 км.

Обладнання:
- ABS, ESP
- Передні та задні датчики паркування
- Підігрів передніх сидінь
- Електро дзеркала
-Сенсорний екран
-Бортовий комп'ютер
-DVD екран з чотирма навушниками Bluetooth
-Інтерфейс Bluetooth
- Багатофункціональне кермо
- АКПП DSG
-Круіз контроль
- Бічні двері автоматично розсувні
- Автоматичний кондиціонер
- Вебасто
-Тоновані задні стекла
-Регульовані сидіння
_
Звіт про перевірку:
Всі елементи з листового металу в заводських параметрах, крім заднього люка і лівого крила з дверима, де значення збільшені. Приблизно до 250 мікрон (друге фарбування - без шпаклівки)
-
Шини: 235/55 R17 Bridgestone літні ходові
Склопакети: всі оригінальні VW крім пасажирського лобового (Saint Gobain - але рік підходить).
Пробіг підтверджений в сервісній книжці ( див. фото ) + виписка з датського Cepik .
-
Дорогий клієнт!
Хочете купити ГІДНИЙ АВТО, БУДЬ ЛАСКА ДО НАС.
Якщо ВИ ЗАПРОПОНУВАЛИ ЛИШЕ ЦІНУ, а такі параметри, як: ФАКТИЧНИЙ ПРОБІГ АБО БЕЗПЕЧНІСТЬ ДТП, є для Вас ДРУГОДОРОДНИМ, то, на нашу скромну думку, це ВТРАТА вашого та нашого ЧАСУ.