FORD DUNCAN 495 motorhome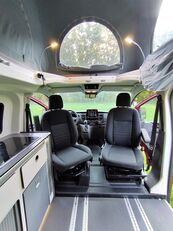 1/36
Year of manufacture
06/2022
Location
Poland
Siechnice
Placed on
more than 1 month
Description
Number of sleeping places
4
Overall dimensions
4973 m × 2080 m × 1775 m
Cabin
Electrically operated mirrors
Need delivery?
Calculate the cost of delivery
We invite you to purchase a mobile Van Ford DUNCAN 495 motorhome
Model from 2022 - used, with only 5,450 miles - available in the yard
2.0 D engine, 170 HP with automatic gearbox
DMC 3.5T - it is enough to have a category B driving license
Adapted to travel for 5 people and 4 to sleep. Richly equipped, with a fridge, an outdoor shower and much more, which allows you to travel comfortably.
Details below:
Ford with engine 2.0 170 HP Particulate filter EURO 6 D Temp
Vehicle paint color (Race Red)
Permissible total weight: 3000/3200 kg
Weight in running order: 2498kg
Permissible trailer weight: 2500 kg
Total length: 4973 mm
Overall width: 2080mm
Total height: 2080mm
Interior height: 1775 mm
Wheelbase: 2933mm
Fuel tank 70l
Ad Blue Techn 24l Central locking with remote control Cruise control Air conditioning in the driver's cabin Electric windows
Electrically adjustable folding exterior mirrors
Rain and twilight sensor
Heated windshield
16" alloy wheels
Tire pressure sensors
Rear parking sensor
Fog lights
Driver airbag
Passenger airbag
Leather steering wheel cover
Ford Custom multimedia package with DAB
Seats in the driver's cab in the same color as the upholstery
Heated driver and front passenger seats
Sliding 3-seat rear bench seat convertible into a bed POP-UP pop-up roof
2-burner stove with lid
A sink with a lid
Fridge 42 liters
Pressurized water pump
Outdoor shower
Heating Truma Combi D2
Driving places: 5
Number of sleeping places: 4
Rear bed: 2000 x 1200 mm
Upper bed: 1870 x 1140 mm
CEE 230 V external connection with automatic switch-off
3x 230V sockets, 4x 12V sockets, 4x USB sockets
Clean water tank: 50 l
Gray water tank: 30 l
Spaces for gas cylinders: 1 x 2.75 kg
The given amount is the net price. Full VAT invoice
Gross price PLN 295,000.00
We offer very favorable terms of leasing (Santander Leasing, PKO Leasing, Alior Leasing, CA EFL) and insurance.
On request, we can send more photos of a specific copy.
PLEASE CONTACT US
For more information, please contact us.
- e-mail: c4r(at)car4rest.com
- mobile:
show contacts
- website:
show contacts
Wir laden Sie ein, ein mobiles Wohnmobil Van Ford DUNCAN 495 zu kaufen
Modell aus 2022 - gebraucht, mit nur 5.450 Meilen - ab Hof verfügbar
2.0 D Motor, 170 PS mit Automatikgetriebe
DMC 3.5T - es reicht der Führerschein der Klasse B
Angepasst an Reisen für 5 Personen und 4 zum Schlafen. Reichhaltig ausgestattet, mit Kühlschrank, Außendusche und vielem mehr, was Ihnen ein komfortables Reisen ermöglicht.
Details unten:
Ford mit Motor 2.0 170 PS Rußpartikelfilter EURO 6 D Temp
Fahrzeugfarbe (Race Red)
Zulässiges Gesamtgewicht: 3000/3200 kg
Gewicht in fahrbereitem Zustand: 2498 kg
Zulässiges Anhängegewicht: 2500 kg
Gesamtlänge: 4973 mm
Gesamtbreite: 2080 mm
Gesamthöhe: 2080 mm
Innenhöhe: 1775 mm
Radstand: 2933 mm
Kraftstofftank 70l
Ad Blue Techn 24l Zentralverriegelung mit Fernbedienung Tempomat Klimaanlage im Fahrerhaus Elektrische Fensterheber
Elektrisch verstellbare anklappbare Außenspiegel
Regen- und Dämmerungssensor
Beheizbare Frontscheibe
16-Zoll-Leichtmetallfelgen
Reifendrucksensoren
Parksensor hinten
Nebellichter
Fahrer-Airbag
Beifahrer Airbag
Lenkradabdeckung aus Leder
Ford Custom Multimediapaket mit DAB
Sitze im Fahrerhaus in Polsterfarbe
Beheizbarer Fahrer- und Beifahrersitz
Verschiebbare 3er-Rücksitzbank, umwandelbar in ein Bett POP-UP-Aufstelldach
2-Flammen-Kocher mit Deckel
Ein Waschbecken mit Deckel
Kühlschrank 42 Liter
Druckwasserpumpe
Außendusche
Heizung Truma Combi D2
Fahrplätze: 5
Anzahl Schlafplätze: 4
Heckbett: 2000 x 1200 mm
Oberbett: 1870 x 1140 mm
CEE 230 V Außenanschluss mit Abschaltautomatik
3x 230V Steckdosen, 4x 12V Steckdosen, 4x USB Steckdosen
Frischwassertank: 50 l
Grauwassertank: 30 l
Stellplätze für Gasflaschen: 1 x 2,75 kg
Der angegebene Betrag ist der Nettopreis. Vollständige Rechnung mit ausgewiesener Mehrwertsteuer
Bruttopreis 295.000,00 PLN
Wir bieten sehr günstige Konditionen für Leasing (Santander Leasing, PKO Leasing, Alior Leasing, CA EFL) und Versicherungen.
Auf Anfrage können wir weitere Fotos eines bestimmten Exemplars zusenden.
BITTE KONTAKTIEREN SIE UNS
Für weitere Informationen kontaktieren Sie uns bitte.
- E-Mail: c4r(at)car4rest.com
- Mobiltelefon:
show contacts
- Website:
show contacts
Zapraszamy do zakupu mobilnego Kamper Van Ford DUNCAN 495
Model z 2022 – używany, z przebiegiem tylko 5.450 - dostępny na placu
Silnik 2.0 D, 170KM z automatyczną skrzynia biegów
DMC 3,5T–wystarczy posiadanie prawa jazdy kategorii B
Przystosowany do podróżowania dla 5 osób i 4 do spania. Bogato wyposażony, z lodówką, zewnętrznym prysznicem i dużo więcej co pozwala komfortowo podróżować.
Szczegóły poniżej:
Ford z silnikiem 2,0 170KM Filtr cząstek stałych EURO 6 D Temp
Kolor lakieru pojazdu (Race Red)
Dopuszczalna masa całkowita: 3000/3200 kg
Masa w stanie gotowym do jazdy: 2498kg
Dopuszczalna masa przyczepy: 2500 kg
Długość całkowita: 4973 mm
Całkowita szerokość: 2080 mm
Całkowita wysokość: 2080 mm
Wysokość wnętrza: 1775 mm
Rozstaw osi: 2933 mm
Zbiornik paliwa 70l
Ad Blue Techn 24l Centralny zamek z pilotem Tempomat Klimatyzacja w kabinie kierowcy Elektryczne sterowanie szyby
Elektrycznie regulowane składane lusterka zewnętrzne
Czujnik deszczu i zmierzchu
Ogrzewana przednia szyba
Felgi aluminiowe 16"
Czujniki ciśnienia w oponach
Czujnik parkowania tył
Światła przeciwmgielne
Poduszka powietrzna kierowcy
Poduszka powietrzna pasażera
Skórzany pokrowiec na kierownicę
Pakiet multimedialny Ford Custom wraz z DAB
Siedzenia w kabinie kierowcy w tym samym kolorze co tapicerka
Ogrzewanie foteli kierowcy i pasażera z przodu
Przesuwna 3-osobowa kanapa tylna z przebudową w łóżko Podnoszony dach POP-UP
Kuchenka 2-palnikowa z pokrywką
Zlewozmywak z pokrywą
Lodówka 42 l
Ciśnieniowa pompa wodna
Prysznic zewnętrzny
Ogrzewanie Truma Combi D2
Miejsca do jazdy: 5
Liczba miejsc do spania: 4
Łóżko tylne: 2000 x 1200 mm
Łóżko górne: 1870 x 1140 mm
Przyłącze zewnętrzne CEE 230 V z automatycznym wyłącznikiem
3x gniazdka 230V, 4x gniazda 12V, 4x gniazda USB
Zbiornik czystej wody: 50 l
Zbiornik szarej wody: 30 l
Miejsca na butle gazowe: 1 x 2,75 kg
Podana kwota jest ceną netto. Pełna faktura VAT
Cena brutto 295.000,00 PLN
Oferujemy bardzo korzystne warunki leasing (Santander Leasing, PKO Leasing, Alior Leasing, CA EFL) i ubezpieczenia.
Na życzenie możemy przesłać więcej zdjęć konkretnego egzemplarza.
ZAPRASZAMY DO KONTAKTU
W celu uzyskanie większej ilości informacji zapraszamy do kontaktu.
- mail: c4r(at)car4rest.com
- mobile:
show contacts
- web:
show contacts
Запрошуємо Вас придбати мобільний будинок на колесах Van Ford DUNCAN 495
Модель 2022 року - вживана, лише 5450 миль - в наявності на дворі
Двигун 2.0 D, 170 кінських сил з автоматичною коробкою передач
DMC 3.5T - достатньо водійського посвідчення категорії В
Пристосований для подорожі для 5 осіб і 4 для сну. Багато обладнаний, з холодильником, вуличним душем та багато іншого, що дозволяє комфортно подорожувати.
Подробиці нижче:
Ford з двигуном 2.0 170 HP Сажовий фільтр EURO 6 D Temp
Колір фарби автомобіля (Race Red)
Допустима загальна вага: 3000/3200 кг
Вага в спорядженому стані: 2498 кг
Допустима маса причепа: 2500 кг
Загальна довжина: 4973 мм
Загальна ширина: 2080 мм
Загальна висота: 2080 мм
Внутрішня висота: 1775 мм
Колісна база: 2933 мм
Паливний бак 70л
Ad Blue Techn 24l Центральний замок з дистанційним керуванням Круїз контроль Кондиціонер в кабіні водія Електричні склопідйомники
Зовнішні дзеркала, що складаються з електрорегулюванням
Датчик дощу і сутінок
Підігрів лобового скла
16" легкосплавні диски
Датчики тиску в шинах
Задній датчик паркування
Протитуманні фари
Водійська подушка безпеки
Подушка безпеки пасажира
Шкіряний чохол на кермо
Мультимедійний пакет Ford Custom з DAB
Сидіння в кабіні водія такого ж кольору, як і оббивка
Сидіння водія та переднього пасажира з підігрівом
Розсувне 3-місне заднє багатомісне сидіння, яке перетворюється на ліжко POP-UP, що висувається на даху
Плита 2 конфорки з кришкою
Мийка з кришкою
Холодильник 42л
Водяний насос під тиском
Зовнішній душ
Опалення Truma Combi D2
Водійських місць: 5
Кількість спальних місць: 4
Заднє ліжко: 2000 x 1200 мм
Верхнє ліжко: 1870 х 1140 мм
Зовнішнє підключення CEE 230 В з автоматичним відключенням
3 розетки 230 В, 4 розетки 12 В, 4 розетки USB
Ємність чистої води: 50 л
Резервуар для сірої води: 30 л
Місця для газових балонів: 1 х 2,75 кг
Зазначена сума є ціною нетто. Повна накладна з ПДВ
Ціна з ПДВ 295 000,00 зл
Ми пропонуємо дуже вигідні умови лізингу (Santander Leasing, PKO Leasing, Alior Leasing, CA EFL) та страхування.
За запитом можемо надіслати більше фото конкретного екземпляра.
БУДЬ ЛАСКА, ЗВ'ЯЖІТЬСЯ З НАМИ
Для отримання додаткової інформації, будь ласка, зв'яжіться з нами.
- електронна пошта: c4r(at)car4rest.com
- моб.:
show contacts
- сайт:
show contacts
Important
This offer is for guidance only. Please request more precise information from the seller.
Seller's contacts
Languages:
English, Polish
Poland, Lower Silesian, 55-010, Siechnice, OPOLSKA 46
Seller's local time: 11:06 (CET)
Selling machinery or vehicles?
You can do it with us!