You may find interesting
Close
IVECO Morelo Palace 90G Trend
€273,721
FIAT Ducato Weinsberg Limited Edition Winter Version
€43,700
New MERCEDES-BENZ Sprinter 316 / BP Camper / Yachting Line
€79,000
New CARADO I 338
€62,010
CARADO I447
price on request
New MAN TGE 3.180 KAMPER
€78,890
New IVECO Hammer 4*4 motorhome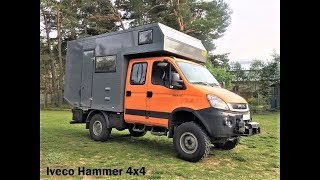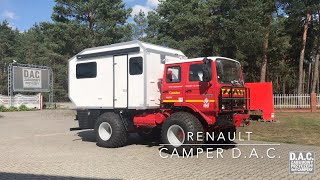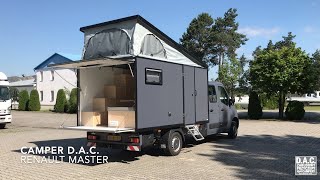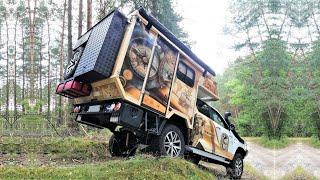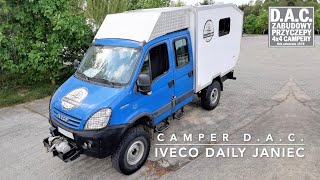 1/54
The offer and price does NOT apply to the CAR
The offer and price are for a brand new Camper body
without equipment - internal (furniture, household appliances, etc.)
Possibility to make internal equipment according to individual customer specifications - additionally payable
A motorhome ideal for 4-5 people, lovers of off road and independent tourism, with a full range of equipment.
The structure is strong and durable, designed on a self-supporting container frame, walls with a thickness of 50 mm, the highest quality insulator for extreme conditions.
Equipment of the camper with modular furniture, which allows you to achieve a truly impressive space when unfolded
to sleep.
Fold-out upper bed for two people.
Water tank with a lockable external connection, connection to an external shower, water heating, waste water tank, gas stove, sink, independent heating, refrigerator.
LED lighting, also in the part with a fold-out upper bed, and outside under an awning for evening dining.
Sockets for charging a phone, laptop, convenient storage in furniture, a table with a folding leg, a drawer refrigerator or a refrigerator with classic shelves, a wide range of interior fittings.
External sun protection awning.
The use of a solar panel system in conjunction with batteries gives independence in access to electricity, for starting and maintaining the operation of electrical devices in the vehicle, e.g. when parking in a parking lot.
STANDARD DESCRIPTION OF THE BODYWORK
dim. outside (L * W * H) 3.10 / 4.60 * 2.10 * 1.92 m
1. IZOTERMA - Side walls - ultra-light multi-layer self-supporting structure
Sandwich thermally insulated with hardened polyurethane foam (without thermal bridges) with sheathing:
LAMINATE / LAMINATE - additionally with 6mm thick waterproof plywood insert.
2. Thickness of walls, roof + floor 50mm.
3. Fixed roof
4. Thermally insulated floor, double-sided laminate + interior lining - wood-like
5. Reinforcements in the walls of buildings according to D.A.C.
6. Building entrance door 1 pc clear width 800 mm. on the RIGHT wall, closed with a cassette with
opening from the outside and inside the building - location and size according to the attached technical drawing.
7. Flap - one-piece 1 pc - closure: cassette - located according to the drawing on the right side.
8. Cassettes, hinges - POMMIER - external strips - ALU fittings
9. Superstructure above the car cabin - acc. drawing
10. Sleeping couch with pull-out part for 2 people
11. A ladder to facilitate entry at the door
12. Indoor lighting 4 LED 12 V / 24 V points
13. 230V sockets - 4 pcs + 12 V - 2 pcs + fuses + protection against electric shock
14. Window pc 2 left and right side
OPTIONAL EQUIPMENT:
- buildings - special - photo camper
IT IS POSSIBLE TO MAKE THE BODYWORK ACCORDING TO THE CUSTOMER'S INDIVIDUAL DETERMINATIONS
ADDITIONAL INFORMATION:
- Warranty for the body - 24 months
- Delivery time: about 8 weeks from order (possible express)
- 23% VAT should be added to the given prices. (does not apply to ex port inside the EU).
- Preferential transport in Poland and Europe
WE ARE LOOKING FOR DISTRIBUTORS OF OUR PRODUCTS THROUGHOUT POLAND AND EUROPE
* This announcement is only commercial information and does not constitute an offer pursuant to Art. 66, § 1.
Of the Civil Code. The presented illustrative photos may differ from the presented version
equipment.
Tel.
show contacts
Wojtek - 693 473 386
Anna - 695 632 797 English
Aleksandra - 603 822 999 - English
Oferta i cena NIE dotyczy AUTA
Oferta i cena dotyczy wyłącznie fabrycznie nowego nadwozia typu Camper
bez wyposażenia - wewnętrznego ( meble, AGD,itd.)
Możliwość wykonania wyposażenia wewnętrznego według indywidualnych wyznaczników klienta - dodatkowo płatna
Camper idealny dla 4-5 osób, miłośników off roadu, turystyki niezależnej, z pełną gamą wyposażenia.
Konstrukcja wytrzymałą i trwała, zaprojektowana na samonośnej ramie kontenera, ściany grubości 50 mm, izolator najwyższej jakości do ekstremalnych warunków.
Wyposażenie campera w meble modułowe, umożliwiające po rozłożeniu osiągnąć naprawdę imponującą przestrzeń
do spania.
Rozkładane górne łóżko dla dwóch osób.
Zbiornik na wodę z zewnętrznym przyłączem zamykane na kluczyk, przyłącze do zewnętrznego prysznica, podgrzewanie wody, zbiornik na brudną wodę, kuchenka gazowa, zlewozmywak, ogrzewanie niezależne, lodówka.
Oświetlenie ledowe, również w części z rozkładanym górnym łóżkiem, oraz na zewnątrz pod markizą do wieczornego biesiadowania.
Gniazda do ładowania telefonu, laptopa, wygodne schowki w meblach, stolik ze składaną nogą, lodówka szufladowa lub z klasycznymi półkami, szeroki asortyment wyposażenia wewnętrznego.
Zewnętrzna markiza chroniąca przed słońcem.
Zastosowanie systemu paneli słonecznych w połączeniu z akumulatorami, daje niezależność w dostępie do energii elektrycznej, dla rozruchu i podtrzymania pracy urządzeń elektrycznych w pojeździe np. w czasie postoju na parkingu.
OPIS STANDARDOWY NADWOZIA
wym. zewn. ( dł*szer.*wys.) 3,10/4,60*2,10*1,92 m
1. IZOTERMA - Ściany boczne - ultralekka wielowarstwowa konstrukcja samonośna typu
Sandwich izolowana termicznie utwardzaną pianą poliuretanową (bez mostków cieplnych) z poszyciami :
LAMINAT / LAMINAT - dodatkowo z wkładem ze sklejki wodoodpornej o grubości 6mm.
2. Grubość ścian, dachu + podłoga 50mm.
3. Dach stały
4. Podłoga izolowana termicznie ,laminat dwustronnie+ wykładzina wewnętrzna - drewnopodobna
5. Wzmocnienia w ścianach zabudowy wg. Technologi D.A.C.
6. Drzwi wejściowe zabudowy 1 szt szerokość w świetle 800 mm. na ścianie PRAWEJ ,zamykane na kasetkę z
otwieraniem z zewnątrz i od środka zabudowy - umiejscowienie i rozmiar wg załączonego rysunku technicznego.
7. Klapka – jednoczęściowa 1 szt - zamknięcie: kasetka – umiejscowiona wg rysunku strona prawa.
8. Kasety, zawiasy – POMMIER - listwy zewnętrzne – okucia ALU
9. Nadbudówka nad kabiną auta – wg. rysunku
10. Leżanka do spania z wysuwana częścią 2 osoby
11. Drabinka ułatwiająca wejście przy drzwiach
12. Oświetlenie wewnętrzne 4 punkty LED 12 V / 24 V
13. Gniazda 230V - 4 szt. + 12 V- 2 szt + bezpieczniki + zabezpieczenie przeciw porażeniu
14. Okno szt 2 strona lewa i prawa
WYPOSAŻENIE OPCJONALNE :
- zabudowy - specjalne - foto camper
ISTNIEJE MOŻLIWOŚĆ WYKONANIA NADWOZIA WEDŁUG INDYWIDUALNYCH WYZNACZNIKÓW KLIENTA
INFORMACJE DODATKOWE:
- Gwarancja na nadwozie – 24 miesiące
- Czas realizacji: około 8 tygodni od zamówienia ( możliwy expres )
- Do podanych cen należy doliczyć 23 % VAT. (nie dotyczy ex portu wewnątrz UE).
- Transport preferencyjny na terenie Polski i Europy
POSZUKUJEMY DYSTRYBUTORÓW NASZYCH PRODUKTÓW W CAŁEJ POLSCE i EUROPIE
* Niniejsze ogłoszenie jest wyłącznie informacją handlową i nie stanowi oferty w myśl art. 66, § 1.
Kodeksu Cywilnego. Przedstawione zdjęcia poglądowe mogą się różnić od prezentowanej wersji
wyposażenia.
Tel.
show contacts
Wojtek - 693 473 386
Anna - 695 632 797 English
Aleksandra - 603 822 999 - English
Important
This offer is for guidance only. Please request more precise information from the seller.
Safety tips
Seller's contacts
Anna Długosz-Jach
Languages:
English, Polish
Poland, Swietokrzyskie, 26-021, Daleszyce, Suków - Papiernia 249a
Seller's local time: 07:48 (CEST)
Selling machinery or vehicles?
You can do it with us!