You may find interesting
Close
New MERCEDES-BENZ Sprinter 519 CDI Left Hand Drive Tourism Minibus ( Right Hand Dr
$88,000
New MERCEDES-BENZ SPRİNTER 516
€68,000
New MERCEDES-BENZ Sprinter 519
€78,500
New MERCEDES-BENZ Sprinter 519 VIP
€85,000
New MERCEDES-BENZ Torusimo
€240,500
New MERCEDES-BENZ Sprinter 519
€74,000
New MERCEDES-BENZ Sprinter 516 Cdi 163 Hp. ( GCC Standard, 4X4 WD ALSO AVAİLABLE passenger van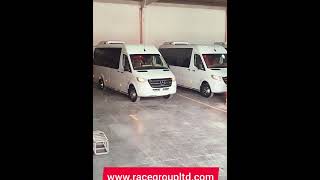 1/21
Year of manufacture
04/2021
Location
Turkey
BURSA
Placed on
more than 1 month
Seller stock ID
Sipariş Üzerine/On Order/На заka
Description
Overall dimensions
7367 m × 2175 m × 2900 m
Cabin
Cruise control (tempomat)
Mercedes Benz Sprinter 516 163 BG GCC Standard Engine
11+1Seater

• Panoramic windows
• AC Valeo
• High corridor
• Electrical front door
• Deep luggage compartment
• Passenger saloon and luggage compartment partition
• Leather & Alcantara covering interior design and seats
• Dashboard and external painting
• Leather and mahogany covering the steering wheel
• RGB LED lightning
• Refrigerator
• TV
• Double
• AMP sound system
• Microphone
• USB slots

Etc...
Mercedes Benz Sprinter 516 163 BG GCC Standart
11+1 Koltuklu
Beyaz renk, isteğe göre değiştirebilir

• Panoramik camlar
• AC Valeo
• Yüksek koridor
• Elektrikli otomatik ön kapı
• Derin bagaj
• Yolcu bölümü ile bagaj ara bölme
• Araç içi deri ve alcantara kaplama
• Hakiki deri kaplı, elektronik yatarlı koltuklar
• Ön torpido ve dış boyama
• Direksiyon deri kaplama ve maunlama
• Araç içi RGB led aydınlatma
• Buzdolabı
• TV
• Double
• Amfi ses sistemi
• Mikrofon
• Şarj için USB slotları
• Bardaklıklar

vb...
Important
This offer is for guidance only. Please request more precise information from the seller.
Safety tips
Seller's contacts
Celal BAYER
Languages:
English, Farsi, Turkish, Russian, Arabic
Turkey, BURSA, KÜÇÜKBALIKLI MAH. KÜÇÜKBALIKLI CAD. 122 C OSMANGAZİ
Seller's local time: 08:51 (+03)
Selling machinery or vehicles?
You can do it with us!