You may find interesting
Close
New MERCEDES-BENZ Sprinter 519 319 CDI First Class
€185,000
New MERCEDES-BENZ Sprinter 519 319 CDI Luxury Mobility First Class
€180,672.27
New MERCEDES-BENZ SPRINTER 519 524 First Class Executive BUNKER
€184,873.95
New MERCEDES-BENZ Sprinter 319 519 | 4xMAYBACH Sitze | 10% Rabatt
€214,453.78
New MERCEDES-BENZ Sprinter 519 Luxus
€205,882.35
New MERCEDES-BENZ Sprinter 519 319 VIP Luxury Mobility First Class
€165,000
New MERCEDES-BENZ Sprinter 519 319 CDI Business VIP First Class passenger van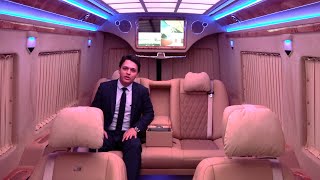 1/32
Location
Germany
Minden
Placed on
more than 1 month
Seller stock ID
MSD_1339_PKW
Cabin
Cruise control (tempomat)
Besuchen Sie uns auf: *
show contacts
Tel:
show contacts
a/c: automatic a/c
location: 1
consumption inner: 8,0
consumption outer: 7,0
emission: 196
delivery period: 60
interior color: beige
interior type: leather
airbag: front airbags
country-version: DE
energy_efficiency_class: C
number of doors: 4
цвет: dunkelblau (cavansitblau)
год выпуска: 0000
MERCEDES
BENZ Sprinter 519 CDI VIP Business First Class
Seit der Firmengründung von KLASSEN®
im Jahr 2000
haben wir es uns zur Aufgabe gemacht
Ihre Träume wahr werden zu lassen
Wir bieten Ihnen handgefertigte
luxuriöse Innenausstattungen. Aus feinstem Leder
hochwertigen Stoffen
Echtholzfurnierungen
High-End Multimediasystemen
sowie aus neuester Technik
kreieren wir Ihnen Ihr individuelles
VIP-Traum-Auto
Frei nach dem Motto Geht nicht
gibt s nicht!
denn dank unserer 20-jährigen Erfahrung und unserem jungen
dynamischen und motivierten Team
beginnt unsere Arbeit da
wo andere an ihre Grenzen stoßen
* Luxuriöse Mercedes-Benz SPRINTER VIP
die sämtlichen Ansprüchen gerecht werden
speziell für Sie ausgebaut
Machen Sie sich ein persönliches Bild unserer Arbeit! Wir haben jederzeit 20 Lagerfahrzeuge in unserem Showroom für Sie ausgestellt
Exakt auf Ihre Wünsche und Bedürfnisse angepasste Ausstattungen und Farbgestaltungen möglich. Sprechen Sie uns an unsere erfahrenen Mitarbeiter erstellen Ihnen gerne ein individuelles Angebot!
MADE IN GERMANY
Wir geben Tipps worauf Sie achten sollten
wenn Sie einen VIP VAN kaufen und wie Sie unseriöse Händler entlarven
Luxury handmade Conversion has a build time of 2-3 months
You don`t want to wait?
Check our limited models!
*
show contacts
These unique beauties are ready to ship
Bei dem hier angebotenen Fahrzeug handelt es sich um ein Bestellfahrzeug
Dieses kann nach Kundenwunsch konfiguriert werden
Diese Umbauvariante bekommen Sie schon ab 125.000
netto
DE
Wir aktualisieren täglich unser breites Angebot an Neu- und Gebrauchtwagen
Gerne stellen wir Ihnen Ihr individuelles Traumauto zusammen
Weltweiter Export möglich
EN
We update our wide range of new- and used cars daily
We are pleased to prepare your individual dream car
Worldwide export possible
Visit us on
show contacts
KLASSEN Highlights
Original Mercedes-Benz Luxus MAYBACH Einzelsitzanlage
elektrische Rückenlehnenverstellung
elektrische Bedienung nach vorne & hinten
sehr komfortabler Luxus-Maybach-Einzelsitz
Dreipunkt-Sicherheitsgurte
Geprüft nach gesetzlichen Bestimmungen gemäß EG-Norm
Auswahl von drei Heizintervallen
für Rückenlehne und Sitzkissen
Sitzbelüftung
Installation von Ventilatoren zur Belüftung
perforiertes Leder
Massagefunktion
Kissen für die Kopfstützen
Fußstütze
Speziell angepasste Formkonstruktion und -herstellung
optimaler Sitzkomfort dank individuell ausziehbarer Fußstütze
sehr bequeme Luxus-Sitzbank
verstellt sich elektrisch vorwärts & rückwärts
installiert
farblich auf das Gesamtdesign abgestimmt
zwei Glashalter am Deckel
speziell gefertigte Trennwand zum Anheben und Absenken des Fernsehgeräts
Deckenkonstruktion
speziell entwickelter Dachhimmel im KLASSEN®-Design
mit LED-Lichtleiste
Deckenkonstruktion mit Alcantara bezogen
Tageslichtdecke
ausgewogene Beleuchtung für den Fahrgastraum
mit LED-Lichtleiste
Ambientebeleuchtung
exquisite direkte und indirekte Beleuchtung des Fahrzeuginnenraums im KLASSEN®-Design
Seitenwände
Konstruktion der rechten und linken Seitenwand im KLASSEN®-Design
elektrischer Klapptisch
integriert in der Seitenwand
Schalter in der C-Säule eingebaut
feiner Holzrahmen
feine Holzeinfassung für den Fernseher
mit eingebauter KLASSEN® Uhr
43-Zoll-LED-Fernseher
integriert in der Trennwand
el. Betätigung
Mobile Media Station
Steuereinheit für Multimedia-Geräte im VIP-Bereich
DVD-Wiedergabe
22-Zoll-Monitor
Frontkamera
Rückfahrkamera
PlayStation 4
Apple TV
Apple Dock Station für iPad
mit Stromanschluss der iPad-Halterung
Mobiles Internet LTE
Hotspot für den mobilen Internetzugang
Interkom
Freisprecheinrichtung für die interne Kommunikation
Hochglanzbilder im XXL-Format
fahrzeugspezifische Videos & detaillierte Beschreibungen finden Sie hier
*
show contacts
Kontakt
Samuel Klassen
Paul Klassen
Tel.:
show contacts
(WhatsApp
Viber
WeChat
Telegram)
Unser Team steht Ihnen gerne zur Verfügung!
Eine Besichtigung erfolgt nur nach vorheriger Terminvereinbarung
Der Zwischenverkauf und Irrtümer für dieses Angebot sind ausdrücklich vorbehalten. Die Fahrzeugbeschreibung dient lediglich der allgemeinen Identifizierung des Fahrzeuges und stellt keine Gewährleistung im kaufrechtlichen Sinne dar. Den genauen Ausstattungsumfang erhalten Sie von unserem Verkaufspersonal. Bitte kontaktieren Sie uns dazu
Wir freuen uns
Sie als Kunden begrüßen zu dürfen
envkv
parking distance control system
bluetooth
speakerphone
tuner
light sensor
daytime running lights
start stop system
rain sensor
parking assistant front sensors
parking assistant rear sensors
parking assistant camera
Important
This offer is for guidance only. Please request more precise information from the seller.
Safety tips
Seller's contacts
Germany, 32423, Minden, Schwarzer Weg 4
Seller's local time: 06:38 (CEST)
Selling machinery or vehicles?
You can do it with us!