New MERCEDES-BENZ V 300 - AMG - 4Matic - Luxury VIP Auto Design passenger van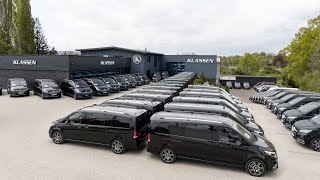 1/32
Location
Germany
Minden
Seller stock ID
MVD_90001513
Cabin
Cruise control (tempomat)
Electrically operated mirrors
Need delivery?
Calculate the cost of delivery
DIE MERCEDES-BENZ V-KLASSE
KLASSEN ® bietet individuellen Design im Luxus-Bereich Vans der High-End-Klasse
DE
Wir aktualisieren täglich unser breites Angebot an Neu- und Gebrauchtwagen. Gerne stellen wir Ihnen Ihr individuelles Traumauto zusammen
EN
We update our wide range of new and used cars daily. Please check again
or ask for further exclusive cars
* Tel.: +
show contacts
Mob.: +
show contacts
Mob.: +
show contacts
Mob.: +
show contacts
Mob.: + 49 172 857 45 03
E-Mail.:
show contacts
Deutsch
Englisch
Russisch
Lieferung weltweit möglich
Worldwide delivery possible
KLASSEN
Luxury VIP Cars and Vans
Armored and Stretched cars
We are pleased to prepare your individual dream car. Please don`t hesitate to contact us to get your customized offer at
show contacts
show contacts
show contacts
show contacts
KLASSEN Modell.: MVD_90001513
VEHICLE VIDEO
VEHICLE 3D PANORAMA
XXL Photos
VEHICLE DESCRIPTION
*
show contacts
V-Klasse VIP
Maßgeschneiderte Erweiterungen basierend auf der neuen Mercedes-Benz V-Klasse & Vito
KLASSEN® ist stolz darauf Ihnen die Jet Class
mit einer Vielzahl an Möglichkeiten
im Bereich V-Klasse und Vito
anbieten zu dürfen Durch Verwendung edelster Materialien verwandelt sich den Innenraum der V-Klasse Große Individualität wird im Fahrgastraum mit Sitzen für 2
3
4
5 oder 6 Person möglich. Im ersten Schritt wird ein doppelglas Panoramdach verbaut
welches von KLASSEN® entwickelt wurde und von Mercedes-Benz zertifiziert wurde. Im zweiten Schritt werden KLASSEN® Sitzschinen verbaut die mehr Beinfreiheit für alle Modelle ermöglichen. Durch Tausch des Mercedes-Benz Polster durch KLASSEN® Leder wird das Gesamtbild abgerundet. Durch umfassende Änderung der Isolierung mit geräuschreduzierener Materialen wird der Innerraum spührbar leiser
welches sich während der Fahrt und im Stadtverkehr bemerkbar macht. Die flexiblen Mercedes-Benz Sitze die mit edel gesteppten KLASSEN® Nappa Leder bezogen werden ermöglichen eine Vielzahl von Sitzpositionen und machen das Fahrzeug zu etwas ganz Besonderen. Auf Wunsch verbauen wir elektrische und klimatisierte KLASSEN® Sitze mit 10-Punkt Massage und Lordosestütze
die in unserem einzigartigen Bodensystem indigriert werden
GEPRÜFT UND HOMOLOGIERT MIT VOLLEM GARANTIEUMFANG
VanPartner by Mercedes
Benz
ISO 9001 2015 Zertifizierung
(WMI) World manufacturer Identifier
M1
KFZ zur Personenbeförderung
Auflastung
ECE R17
ECE R16
ECE R14
ECE R14
(§)13
(§)21
Wir geben Tipps worauf Sie achten sollten
wenn Sie einen VIP VAN kaufen und wie Sie unseriöse Händler entlarven
Eine Besichtigung erfolgt nur nach vorheriger Terminvereinbarung. Der Zwischenverkauf und Irrtümer für dieses Angebot sind ausdrücklich vorbehalten. Die Fahrzeugbeschreibung dient lediglich der allgemeinen Identifizierung des Fahrzeuges und stellt keine Gewährleistung im kaufrechtlichen Sinne dar. Den genauen Ausstattungsumfang erhalten Sie von unserem Verkaufspersonal. Bitte kontaktieren Sie uns dazu.----Luxus handgefertigter Umbau hat eine Fertigungszeit von 2-3 Monate
Sie möchten nicht so lange warten? Schauen Sie sich einfach unsere limitierten Modelle an. Diese einzigartigen Schönheiten sind direkt Versand bereit
Luxuriöse Mercedes-Benz V-Klasse VIP
die sämtlichen Ansprüchen gerecht werden
speziell für Sie ausgebaut. Machen Sie sich ein persönliches Bild unserer Arbeit! Wir haben jederzeit 20 Lagerfahrzeuge in unserem Showroom für Sie ausgestellt. Exakt auf Ihre Wünsche und Bedürfnisse angepasste Ausstattungen und Farbgestaltungen möglich. Sprechen Sie uns an unsere erfahrenen Mitarbeiter erstellen Ihnen gerne ein individuelles Angebot!
* MADE IN GERMANY
KLASSEN ist VanPartner von Mercedes Benz
für den Umbau von Mercedes-Benz V-Klassen
sowie Sprinter Fahrzeugen. Unsere Produkte
sowie Technik
sind in Deutschland zertifiziert und entsprechen dem Sicherheitsstandard ECE 10/14/16/17. Das KLASSEN Unternehmen verfügt über eine eigene Produktionsstätte
sowie allen modernen Technologien
die für die Herstellung von VIP Auto Interior benötigt werden. Die hohe Qualität unserer Arbeit und Produkte wird durch die ISO 9001-2015 und WMI Standards bestätigt. Wir verwenden ausschließlich offizielle Ersatzteile und moderne Ausrüstung und bei der Wahl unseres Personals wird auf äußerste Professionalität wert gelegt. Auch nach dem Umbau eines Fahrzeuges
bleibt die originale Werksgarantie erhalten
Important
This offer is for guidance only. Please request more precise information from the seller.
Safety tips
Seller's contacts
Germany, Nordrhein-Westfalen, 32423, Minden, Schwarzer Weg 4
Seller's local time: 23:57 (CEST)
Selling machinery or vehicles?
You can do it with us!