The ad Peugeot Partner AIRCO passenger van has been sold and is not included in the search!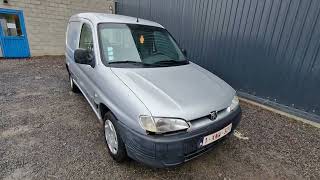 1/13
First registration
1999-11-25
Location
Belgium
GENK
Placed on
more than 1 month
Seller stock ID
SF197987+2
Number of doors: 4
Cab: single, day
General condition: very good
Technical condition: very good
Visual appearance: very good
VAT/margin: VAT qualifying
Please contact Office for more information
Türenzahl: 4
Kabine: einfach, Tag
Allgemeiner Zustand: sehr gut
Technischer Zustand: sehr gut
Optischer Zustand: sehr gut
Mehrwertsteuer/Differenzbesteuerung: Mehrwertsteuer abzugsfähig
Wenden Sie sich an Office, um weitere Informationen zu erhalten.
Antal døre: 4
Førerhus: enkeltseng, day cab
Overordnet stand: meget god
Teknisk stand: meget god
Visuelt udseende: meget god
moms/margin: Moms fradragsberettiget
Kontakt Office for yderligere oplysninger
Número de puertas: 4
Cabina: simple, día
Estado general: muy bueno
Estado técnico: muy bueno
Estado óptico: muy bueno
IVA/margen: IVA deducible
Póngase en contacto con Office para obtener más información.
Nombre de portes: 4
Cabine: simple, jour
État général: très bon
État technique: très bon
État optique: très bon
TVA/marge: TVA déductible
Veuillez contacter Office pour plus d'informations
Aantal deuren: 4
Cabine: enkel, dag
Algemene staat: zeer goed
Technische staat: zeer goed
Optische staat: zeer goed
BTW/marge: BTW verrekenbaar voor ondernemers
Neem voor meer informatie contact op met GERMAIN DAENEN of Office
Liczba drzwi: 4
Kabina: pojedynczy, dzienna
Stan ogólny: bardzo dobrze
Stan techniczny: bardzo dobrze
Stan wizualny: bardzo dobrze
VAT/marża: Możliwość odliczenia podatku VAT
Aby uzyskać więcej informacji, należy skontaktować się z Office
Número de portas: 4
Cabina: simples, dia
Estado geral: muito bom
Estado técnico: muito bom
Aspeto visual: muito bom
IVA/margem: IVA elegível
Contacte Office para obter mais informações
Количество дверей: 4
Кабина: односпальная, кабина без спального места (day)
Общее состояние: очень хорошее
Техническое состояние: очень хорошее
Внешнее состояние: очень хорошее
НДС/маржа: С вычетом НДС
Свяжитесь с Office для получения дополнительной информации