New VOLKSWAGEN T7 Multivan Style lang 2.0 TSI VIP Business VAN passenger van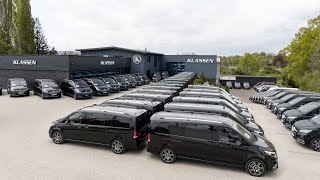 1/30
Location
Germany
Minden
Seller stock ID
VT7MH_1577_1519
Cabin
Cruise control (tempomat)
Electrically operated mirrors
Need delivery?
Calculate the cost of delivery
Volkswagen T7 Multivan VIP
KLASSEN Business Plus Interior
Herzlich Willkommen bei KLASSEN® ! Sie sind auf der Suche nach einem Luxus Van wie Volkswagen T7 Multivan Business VIP VAN
welcher geprüft
zertifiziert und die Sicherheitsstandards von VOLKSWAGEN erfüllt? Hier sind Sie richtig! KLASSEN® baut maßgeschneiderte VIP Luxus VW T7 Business VIP Van für anspruchsvolle Kunden
Designed und gebaut in Germany
Personal touch
Good products demand good service. Therefore we look forward to getting in touch with you!
Samuel KLASSEN
show contacts
English
Russian
German
Jekaterina Star
show contacts
English
Russian
German
Josias Euen
show contacts
English
German
Paul KLASSEN
show contacts
Russian
German
E-Mail.:
show contacts
GEPRÜFT UND HOMOLOGIERT MIT VOLLEM GARANTIEUMFANG
~ More XXL Photos (Videos
360°) ~ Mehr Bilder XXL (Videos
360°)
*
show contacts
WV T7 Multivan VIP Business Plus Interior
MVMH_1-1101 V Klasse Einzelsitz
gepolstert x 4
Luxussitze im Fond
Entspannen
erholen
wohlfühlen: Der Luxussitz verwöhnt Ihre Fondpassagiere mit außergewöhnlicher Behaglichkeit
Dank individuell einstellbarer Massage
Sitzklimatisierungs- und Liegefunktion sowie Ambientebeleuchtung und integrierten Ablagen bleiben praktisch keine Komfortwünsche offen
Die umfangreichen Einstellmöglichkeiten werden über ein Bedienfeld auf der Innenseite der Armlehne bequem vom Sitz aus bedient. Der Luxussitz ist mit Leder Nappa bezogen und in 2 Farben erhältlich
Weitere Merkmale und Vorteile des Luxussitzes
Konfigurationsmöglichkeiten
Sitzpolsterung in Leder Nappa
Optimierte Anordnung des Bedienfeldes für sämtliche Sitzeinstellungen
Äußere Armlehne mit Staufach und seitlicher Chromleiste
Ablage an der inneren Armlehne (z. B. für ein Smartphone) mit Ambientebeleuchtung innen
USB-Anschluss
Lehne des Sitzes kann bei Bedarf umgeklappt werden
Fußstützen inklusive
MVMH_2-1401 Bezug der Deckenkonstruktion
MVMH_2-1402 Sternenhimmel
MVMH_2-1601 Lederstreifen in den Seitenwänden gepolstert
MVMH_2-1602 Manuelle einlagige Gardinen mit Schienensystem für Seitenscheibe und Rückscheibe
MVMH_2-1701 Deckenmonitor
Verbunden mit dem Originalen Soundsystem
MVMH_2-1801 Originale Klimakanäle im VIP-Raum mit farblich angepassten Lüftungsdüsen
MVMH_2-1802 Klimabedienteil versetzt
MVMH_2-1901 Fahrer- und Beifahrersitz gepolstert x 2
MVMH_2-1902 Handgriffe an den Türen überarbeitet
Leder
MVMH_2-1903 Armablage
mit Kühlfach
MVMH_2-2201 V-Klasse Tisch mit Schienen
MVMH_2-2202 Netgear Nighthawk M2 LTE Mobiler Hotspot
MVMH_2-2203 Kopfkissen x 6
MVMH_2-2204 Rückenkissen x 2
Lieferung weltweit möglich
Eine Besichtigung erfolgt nur nach vorheriger Terminvereinbarung
Der Zwischenverkauf und Irrtümer für dieses Angebot sind ausdrücklich vorbehalten. Die Fahrzeugbeschreibung dient lediglich der allgemeinen Identifizierung des Fahrzeuges und stellt keine Gewährleistung im kaufrechtlichen Sinne dar
Den genauen Ausstattungsumfang erhalten Sie von unserem Verkaufspersonal
Bitte kontaktieren Sie uns dazu
WARUM KLASSEN VIP LUXUS VAN
Hier sind nur ein paar Gründe
warum Sie sich für KLASSEN entscheiden sollten
* KLASSEN entwickelt unvergleichbare VIP Luxus Fahrzeuge. Wir haben uns von Anfang an entschieden unsere Fahrzeuge auf höchstem Niveau zu bauen und somit eine weltweite Zulassung bekommen
KLASSEN ist ein Teil des Volkswagen Aufbauherstellerprogramms und Sie können sich sicher sein
dass jeder KLASSEN mit den höchsten Standards und Ansprüchen an die Qualität produziert worden ist
Als Volkswagen Partner liefert KLASSEN Ihnen das richtige Fahrzeug mit der entsprechenden länderspezifischen Konfiguration. Solange das Basismodel in Ihrem Land zugelassen ist
erfüllt es die Voraussetzungen für die Herstellergarantie und KLASSEN kümmert sich um alles!
KLASSEN ist der einzige VANPartner von Volkswagen
der T7 & T6.1 Multivan als VIP Fahrzeug umbauen darf
KLASSEN Fahrzeuge sind in dem gesamten Europa zugelassen
KLASSEN ist der Einzige Hersteller in diesem Segment
der das zulässige Gesamtgewicht des Fahrzeuges nicht überschreitet
KLASSEN Fahrzeuge haben die volle Herstellergarantie von Volkswagen
KLASSEN ist die einzige Firma
die Crashtests für die erweiterte Volkswagen Bodenplatte durchgeführt hat
Important
This offer is for guidance only. Please request more precise information from the seller.
Safety tips
Seller's contacts
Germany, Nordrhein-Westfalen, 32423, Minden, Schwarzer Weg 4
Seller's local time: 20:49 (CET)
Selling machinery or vehicles?
You can do it with us!