You may find interesting
Close
MERCEDES-BENZ Atego 1828
price on request
MERCEDES-BENZ Actros 1836 ACTROS 1836 LL 3x Pedalen
price on request
MERCEDES-BENZ 1625
price on request
MERCEDES-BENZ Actros 1835 4x2 | EURO3 * HYDRAULIC WINCH * APK 03-2022
€13,750
New MERCEDES-BENZ Mercedes Benz Actros 4144 8×4 Palfinger 32080 C Flatbed
price on request
MERCEDES-BENZ 2635 6x4
€19,750
MERCEDES-BENZ Antos 2540 L 6x2 - Open laadbak, Vlakke vloer, Oprijwagen, Plate platform truck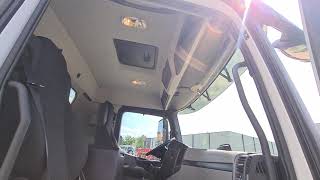 1/23
Year of manufacture
01/2018
First registration
2018-12-20
Location
Netherlands
Tilburg
Description
Overall dimensions
9.5 m × 2.55 m × 3.55 m
Truck body
Body dimensions
length - 7.3 m, width - 2.55 m
Remote inspection
Request an independent technical inspection
Cabin
Cruise control (tempomat)
Electrically operated mirrors
= More options and accessories =
- Lane departure warning
- Radio with bluetooth streaming
= Remarks =
Axles
Configuration: 6x2
View more pictures and video's at
show contacts
Or visit our YouTube channel: youtube.com/toptrucks/
** ALL PRICES ARE NET EXCLUDING 21% VAT**
Bart Spierings 0031 651102323 (NL-DE-GB-FR)
Govorim po ryccki 0031 649958194
Para información en Argentina llamar
show contacts
- E-mail
show contacts
We do our utmost to provide you with the correct information about the vehicle. Nevertheless, no rights can be derived from the information on our website.
= More information =
Max. towing weight: 40.000 kg
Height of cargo floor: 129 cm
Number of keys: 1 (1 hand transmitter)
Radiopřijímač
= Weitere Optionen und Zubehör =

- Radio mit Bluetooth-Streaming
- Spurhalteassistent

= Weitere Informationen =

Max. Zuglast: 40.000 kg
Höhe der Ladefläche: 129 cm
Anzahl der Schlüssel: 1 (1 Handsender)
= Flere valgmuligheder og mere tilbehør =

- Advarsel ved vognbaneskift
- Radio med Bluetooth-streaming

= Yderligere oplysninger =

Maks. bugseringsvægt: 40.000 kg
Gulvhøjde i lastrum: 129 cm
Antal nøgler: 1 (1 håndholdt sender)
= Más opciones y accesorios =

- Aviso de salida de carril
- Radio con transmisión Bluetooth

= Más información =

Peso máx. de remolque: 40.000 kg
Altura piso de carga: 129 cm
Número de llaves: 1 (1 telemando)
= Plus d'options et d'accessoires =

- Détection de sortie de voie
- Radio avec streaming Bluetooth

= Plus d'informations =

Poids de traction max.: 40.000 kg
Hauteur du plancher de chargement: 129 cm
Nombre de clés: 1 ( 1 télécommande)
Rádió
Autoradio
= Aanvullende opties en accessoires =
- 1 tank
- Ad blue
- Advanced Emengency Braking System
- Lane Departure Warning
- Radio Bluetooth
= Bijzonderheden =
Assen
Configuratie: 6x2
View more pictures and video's at
show contacts
Or visit our YouTube channel: youtube.com/toptrucks/
**ALLE PRIJZEN ZIJN NETTO EXCLUSIEF 21% BTW**
Bart Spierings 0031 651102323 (NL-DE-GB-FR)
Govorim po ryccki 0031 649958194
Para información en Argentina llamar
show contacts
e-mail
show contacts
We doen onze uiterste best u te voorzien van de juiste informatie van het voertuig. Ondanks dat kunnen er geen rechten ontleend worden aan de informatie op onze website.
= Meer informatie =
Max. trekgewicht: 40.000 kg
Hoogte laadvloer: 129 cm
Aantal sleutels: 1 (1 handzender)
= Więcej opcji i akcesoriów =

- Ostrzeżenie o opuszczeniu pasa ruchu
- Radio z funkcją przesyłania strumieniowego Bluetooth

= Więcej informacji =

Mak. waga uciągu: 40.000 kg
Wysokość podłogi ładowni: 129 cm
Liczba kluczyków: 1 (1 nadajnik ręczny)
Rádio
= Дополнительные опции и оборудование =

- Радиоприемник с потоковой передачей звука по Bluetooth
- Система предупреждения о покидании полосы движения

= Дополнительная информация =

Макс. буксируемый вес: 40.000 kg
Высота грузового пола: 129 cm
Количество ключей: 1 (1 портативный пульт ДУ)
Rádio
Radyo
Important
This offer is for guidance only. Please request more precise information from the seller.
Safety tips
Seller's contacts
TOP TRUCKS B.V.
Seller with Autoline for 8 years
The phone numbers have been checked
The address has been checked
Maarten van Laarhoven
Languages:
English, Dutch
Bart Spierings
Languages:
English, Spanish, German, French, Dutch
Netherlands, Noord Brabant, 5032 ML, Tilburg, Clara Zetkinweg 5
Seller's local time: 16:52 (CEST)
Selling machinery or vehicles?
You can do it with us!