You may find interesting
Close
New Özbil Tarım PHYP1400
€3,350
New Özbil Tarım PHTP1400
€5,000
New BOMET
€4,814
Avr rafale 4x75
€12,180.17
Sonstige Akpil Bulwa 1 - einreihig NEU
€1,950
Sonstige Siebkettenroder 1 Reihe NEU
€1,290
New Özbil Tarım PHYP1402 potato harvester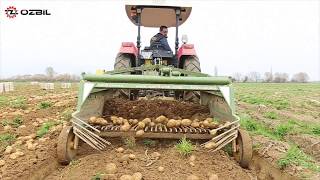 1/20
Year of manufacture
01/2021
Location
Turkey
Placed on
more than 1 month
Description
Overall dimensions
2.75 m × 1.72 m × 1.37 m
The machine is connected to a tractor through a three-point hitch mechanism. The driveshaft is connected to the power take-off a tractor. Diving distance of the front cutter discs and depth of the carriage setting wheel are adjusted according to soil conditions. Planted furrows are cut by cutter discs and taken inside the machine by the receiving blade (shovel). The soil received is scattered by the front scattering shaker mechanism and conveyed to the pallet unit. Continuing to be sifted on the rolling pallet, the soil is poured into the sifting unit after a certain height. The sifting unit uses oscillations and shaking movements to separate the soil from potatoes and drop it under the sift. Potatoes purged of soil are left on the soil surface behind the machine in a neat way.

*PHYP1402 Potato Harvester was designed for sifting and surfacing ripe potatoes in planted furrows without damaging the potatoes in the way most suitable to soil conditions.

*It harvests two planted furrows simultaneously.

*It can operate in all kinds of soil conditions (Dry, Wet, Heavy Soil).

*It is more effective in heavy soil conditions (Wet-Muddy Soil).

*Sift rod distances can be adjusted to be denser or sparser as desired.

*Receiving blade (shovel) made of a special heat-treated steel are resistant against wearing.

*It is easy to use with a low rate of breakdown.
Makine üç nokta askı düzeni ile traktöre bağlanır. Kardan mili (şaft) traktör kuyruk miline takılır. Toprak durumuna göre ön kesici disklerin dalma mesafesi ve taşıma ayar tekerleğinin derinlik ayarı yapılır. Ekili olan çiziler ağızda bulunan iki kesici disk sayesinde kesilerek makine önünde bulunan sökücü bıçak (kürek) ile makine içine alınır. Alınan toprak ön dağıtıcı sarsak mekanizması ile dağıtılarak palet ünitesine iletilir. Dönen palet üzerinde ayrışmaya devam eden toprak belli bir mesafeden eleme ünitesine dökülür. Burada eleme ünitesi ile salınım ve sarsak hareketleri gerçekleşerek toprak patatesten ayrılır ve elek altına düşürülür. Topraktan elenen patatesler taşınarak düzenli bir şekilde makinenin arkasına, toprak yüzeyine bırakılır.
PHYP1402 Model Patates Hasat Makinemiz ekili çizilerde bulunan gelişimini tamamlamış patatesleri ağır toprak koşullarında en uygun bir biçimde, patatese zarar vermeden eleyip toprak yüzeyine çıkarmak için tasarlanmıştır.


*Ekili olan iki sırayı aynı anda söker.

*Her türlü toprak şartlarında (Kuru, Yaş, Kesekli Toprak) söküm yapabilir.

*Ağır toprak koşullarında (Yaş - Çamur Toprak) daha etkilidir.

*Elek çubuk araları isteğe bağlı olarak sık ve geniş yapılabilir.

*Özel çelikten imal edilmiş ve ışıl işlem uygulanmış sökücü bıçak (kürek) aşınmaya karşı dayanıklıdır.

*Kullanımı kolay ve arıza oranı çok düşüktür.
Important
This offer is for guidance only. Please request more precise information from the seller.
Safety tips
Seller's contacts
Languages:
English, Turkish
Turkey, Sanayi Sitesi Umut Caddesi No: 39 ODEMIS / IZMIR / TURKEY Zip Code: 35750
Seller's local time: 04:21 (+03)
Selling machinery or vehicles?
You can do it with us!