New EMTECH SERIA ND, MODEL: 3.ND-S poultry semi-trailer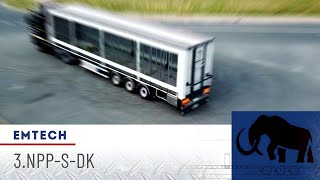 1/10
Model
SERIA ND, MODEL: 3.ND-S
Type
poultry semi-trailer
Location
Poland
Szczerców
Placed on
more than 1 month
Need delivery?
Calculate the cost of delivery
OPIS TECHNICZNY:

Podwozie
• Rama: wykonana z wysokogatunkowej stali w technologii spawanej
• Układ jezdny: 3 osie marki SAF hamulce tarczowe o nośności technicznej 9.000kg każda.
• Pierwsza oś podnoszona
• Płyta sprzęgu z 2 calowym sworzniem królewskim firmy JOST.
• W tylnej części naczepy ucho holownicze
• Dwie dwuzakresowe nogi podporowe o nośności 12 ton - każda.
• Ogumienie bezdętkowe Typu Premium 385/55 R 22,5 6 sztuk wraz z felgami stalowymi

Nadwozie
• Podłoga grubość 3mm, blacha ryflowana kwasoodporna .
• Platforma dopasowana pod skrzynki o wymiarach 860x650x260 mm
• Przednia ściana stała aluminiowa z jednym dużym otworem wentylacyjnym z możliwością zamknięcia
• Boczne ściany plandeka z otworami siatkowymi oraz możliwością przesuwania wzdłuż naczepy (firana)
• 2 plandeki w zestawie naczepy wersja zimowa i letnia
• Na bokach płaskowniki ocynkowane z możliwością demontażu rozstawione według rysunku
• Z tyłu naczepy ściana stała aluminiowa z jednym otworem wentylacyjny z możliwością zamknięcia
• Szyny na tylnej ścianie naczepy umożliwiające zsuniecie plandeki na tył pojazdu
• Dach stały pokryty płytą warstwową o grubości 40mm Z otworami wentylacyjnymi z możliwością ich zamknięcia ( rozmieszczenie pokazane na rysunku)
• System mocowania plandeki w tylnej części naczepy.

Układ hamulcowy WABCO (Tarczowy )

Zawieszenie Pneumatyczne

Układ elektryczny (oświetlenie diodowe)

Powłoka antykorozyjna
• Powierzchnie stalowe piaskowane i zabezpieczone antykorozyjnie.
• Rama lakierowana w kolorze (standard): RAL 5005; RAL 1028; RAL 3002; RAL 7016; RAL 9003; RAL 9010.
• Profile aluminiowe na balkonie anodowane.

Dodatkowe wyposażenie w cenie
• Tylny zderzak w stali nierdzewnej – połysk.
• 2 szt. klinów pod koła wraz z wspornikami.

Dokumenty i rejestracja:
• Dopuszczenie jednostkowe

Opcje i akcesoria dodatkowe za dopłatą:
OPCJE PODWOZIA
Ostatnia oś skrętna kierowana z siodła za pomocą system marki Tridec
Felgi aluminiowe [wg wyboru producenta] kpl. zewnętrznych (6 szt.)
Skrzynia z stali nierdzewnej na system pojenia

OPCJE NADWOZIA
Kompletny system pojący. 60 szt. rurek wodnych i przyłącza w dachu. Zbiornik na wodę ze stali nierdzewnej około 300 litrów
Zawory sterujące do najazdów schowane w aluminiowo / nierdzewnej skrzynce
Nogi podporowe tylne hydrauliczne (sterowane manualnie z rozdzielacza)

OPCJE PNEUMATYKI I ZAWIESZENIA
Zbiorniki powietrza aluminiowe
Tonażer (SMART BOARD, TIM TG2)
Zawory sterujące pneumatyczne schowane w aluminiowo / nierdzewnej skrzynce
Załącze / gniazdo pneumatyczne DUOMATIC

OPCJE UKŁADU ELEKTRYCZNEGO
Dodatkowe oświetlenie robocze LED kolor BIAŁY
Złącze / gniazdo elektryczne 14 polowe VBG

OPCJE WYPOSAŻENIA DODATKOWEGO
Kamera cofania bezprzewodowa SBP-770B-000- monitor 7 cali z rejestracją zdarzeń (karta 125GB)+ zestaw anten (kolor czarny)

OPCJE POWŁOKI LAKIERNICZEJ
Podkład cynkowy przed lakierowaniem
Pełna metalizacja HRM (metalizacja o wysokiej oporności). Kompletna konstrukcja stalowa śrutowana, a następnie z ZINACOR 850 (cynk 85% - aluminium 15%) wykończony na gorąco
Kolor niestandardowy z palety RAL
INNE
Mobilna opieka serwisowa przez cały okres trwania gwarancji

INNE INDYWIDUALNE USTALENIA
Important
This offer is for guidance only. Please request more precise information from the seller.
Safety tips
Seller's contacts
Jarosław Baszura
Languages:
English, Polish
Poland, Lodzinskie, 97-420, Szczerców, ul. Grudna 41a
Seller's local time: 00:58 (CET)
Selling machinery or vehicles?
You can do it with us!