You may find interesting
Close
HASTRAILER V1
€25,800
New LAMBERET SR2 Green Liner
€36,900
New SCHMITZ CARGOBULL IZOTERMA
€31,500
Schmitz-cargobull FP45, kosz paletowy, ThermoKing SLXi300
€54,300
New KASSBOHRER SRI
€30,000
KÖGEL
€59,800
New HASTRAILER V1 refrigerated semi-trailer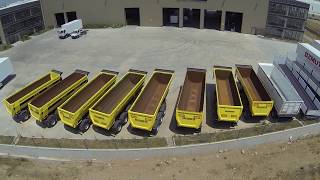 1/21
Description
Fifth wheel height
1100 mm
Overall dimensions
13610 m × 2600 m × 2870 m
Truck body
Body dimensions
13610 m × 2600 m × 4000 m
Chassis:
High-strength chassis manufactured from S700MC via submerged welding machine.

Painting:
Steel blasted according to SAE 2,5norm + High zinc epoxy-based prime-coated + organic resin-based lining + polyurethane based cover final coat in colour RAL 7021 + oven dried

Coupling:
Ø 2" (50.8 mm) coupling point according to SAE and DIN Standards

Axles:
3 axles SAF with a capacity of 9 tonnes and air suspension with 120 offset disc brake system.
Manuel lifting system on the first axle.

Landing Gears:
Telescopic landing gears with 24 tonnes capacity and two speed.
Landing gears painted in black SAF BRAND.

Brake System & Suspension:
EBS-E Plus brake system with 2 modules and 2 sensors (2S/2M).
RSS (Road Stability Support) system compliant to ECE R13.
Pneumatic brakes with double circuit.
Suspension system with manuel lowering & lifting valves WABCO BRAND.

Lighting System:
Lighting system with 24 Volt conformant to EC 76/756.
Reflectors located in front, on the sides and at rear conformant to ECE R 48.
3 pieces of inlet SUPER LED lighting mounted inside the roof.
Interior lighting with switch
LED lamps do not heat up
Side, front and rear position lamps.
Bulkhead division box with 3 sockets 2x7 pol DIN ISO 1185 and DIN ISO 3731 + 1x15 pol DIN ISO 12098

Tyres and Rims:
7 pieces steel Rims with 120 offset
7 pieces of tyres 385/65 R 22.5 conformant to 458/2011 EU ( A Brand choice of HASTRAILER )
Rims painted in silver RAL 9006

Standart Accessories of Chassis:
Side protection barriers made from anodised extruded aluminium profiles conformant to ECE R 73
Rear bumper, made of steel, conformant to ECE R 58
2 yellow wheel chocks with holder
A basket type spare wheel holder on the back of the axle.
4 pieces of mudguards conformant to EC 109/2011 EU + 2 pieces of anti-spray mud guards.
Plastic tool box mounted at the back of the semi-trailer.
1 piece fire-extinguisher with casing
1 piece food box made of powder-coated sheet metal.
1 piece 30 l water tank - CE certificated.
Robust Rear Back Frame completely covered with rubber & Turnable Stainless Steel
Folding/pull out ladder at the rear door made of galvanised steel.
2 pairs of ferry rings.
Fuel tank with a capacity of 200 liter made of PVC.

Body:
Body Panels have an integrated structure of vacuumed isolation material block between inner and outer GRP panels with a colour of RAL 9003. (MONOBLOCK)
Inner side GRP panels are three times more resistant to load slipping with their 57% more fibre content. (Inside 1.4mm High Impact - Outside 2.0mm High Gloss)

Bulk-head:
Isolated bulk-head with 85 mm thickness, reinforced for refrigerating equipment.
Isolated ventilation hatches on top left of the front wall.

Roof:
Isolated roof with 85 mm thickness with a colour of RAL 9003 white.

Side Walls:
Isolated side walls with 65 mm thickness with a colour of RAL 9003 white.

Floor:
Isolated and reinforced panel with 130 mm thickness, 24mm plywood laminated with 5086 H 244 grain pattern single layer aluminium sheet. Leak tightness and resistance due to full welding of base aluminium sheet with the aluminium plinth. This panel capable of 5460kg forklift axle load accordance with EN 283.

Rear Doors:
Isolated structure with 85 mm thickness
Sandwich construction for positive seal
2x4 Stainless steel hinges and 2x2 locking mechanisms
270 ° rotation capability
One isolated ventilation lid on the right door located below the standard ventilation hole
Back frame manufactured from (AISI 304) stainless steel.
Thermoplastic elostomer rubber profiles to be combined via corner welding methods. Slip-coating minimizes the forces encountered when opening door (user friendly door).
Anodized aluminium profile of 300 mm located inside of the doors.

Standard Accessories of Body:
Rubber protection chocks throughout the whole height
Corner buffers at the rear wall
Extra protection on the back frame under transverse seals
For rear panel protection aluminium profile located up 300 mm from bottom for impact protection
Pallet stopping stainless steel profiles on the front wall, from floor up to the air conditioning unit

Admission Plates:
ATP Sticker and Type-plate (FRC) provided by ATP Certificate, according to the quotation
Vehicle satisfies to the ECE type-test with Certificate of Conformity (COC).
Two reflector plates vertically placed on the rear wall (565x200 ECE-R70)
2 customs plates: 1 on front wall; 1 at the rear door, foldable TIR plate

Options for Brake & Electronic System:
OPTITURN: OptiTurn function increases the turning radius of the trailer by up to 0.5m, improving the driver's ability to steer his trailer through short curves and to maneuver at loading bays and in city centers.
OPTILOAD: OptiLoad functionality virtually redistributes cargo weight between the axles of the truck-trailer combination, helping to prevent axle damage due to excessive weight. OptiLoad also helps truck drivers and fleet operators comply with regulations for maximum weight per axle.
TAILGUARD: increases vehicle safety during reversing operations by detecting small, large, static and moving objects in the blind spot behind the trailer and automatically brakes the trailer.
ECAS: Automatic lifting and lowering provide automatically access gantry height.
SMARTBOARD: Trailer Info System incl. axle load display, speedometer
IMMOBILIZER: Trailer Info System with road blocker including pin code commanding

Optional Accessories for Chassis:
Pallet case for Euro ISO pallets
Holder for light and air condition on the bulk head
Plastic document box under the floor
Pallet box with/without lid
Fuel tank with a capacity of 400 or 500 litre made of Aluminium

Optional Accessories for Body:
2 pairs of attaching rail, hole-slot, RVS steel, counter-sunk in the sidewall (13400 mm)
DOUBLE DECK SYSTEM for special cargo which's need more volume capacity. It provides; economical and efficient transport, reduction of operating and labour cost, complies to food hygiene regulations. This system has 22 double rails & 2 single rails on side walls, 23 bar which's capable for 1000daN load and one release load.
Movable partition wall to provide various temperatures
Air channels through the roof for perfect circulation
Stainless steel ladder in front of the front wall.
Important
This offer is for guidance only. Please request more precise information from the seller.
Safety tips
Seller's contacts
AYFER SARI
Languages:
English, Turkish
GÖKSU DEMİRCİ
Languages:
English, Turkish
Turkey, Antalya, Antalya Organize Sanayi Bölgesi 3. Kısım 31. Cad. No:20 Döşemealtı
Seller's local time: 18:47 (+03)
Selling machinery or vehicles?
You can do it with us!