New HASTRAILER V1 refrigerated semi-trailer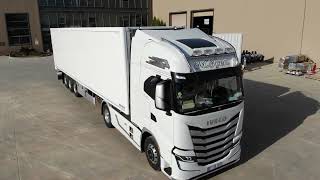 1/18
Type
refrigerated semi-trailer
Year of manufacture
06/2022
Location
Turkey
Antalya
Description
Fifth wheel height
1100 mm
Overall dimensions
13610 m × 2600 m × 2870 m
Truck body
Body dimensions
13610 m × 2650 m × 4000 m
Buy by leasing
Get an offer to buy a vehicle by leasing
Chassis
High-strength chassis manufactured from S700MC via submerged welding machine

Painting
Steelblasted according to SAE 2,5norm + High zinc epoxy-based prime-coated + organic resin-based lining + polyurethane based cover final coat in colour RAL 7021 + oven dried
Axles
"3 axles a capacity of 9 tonnes and air suspension with 120 offset disc brake system.
Automatic&manuel lifting system on the first axle. (Axle can be lifted with 3 times braking and push to button) "
Brake System & Suspension
"EBS brake system with 2 modules and 2 sensors (2S/2M) RSS (Road Stability Support) system compliant to ECE R13 Pneumatic brakes with double circuit
Suspension system with manuel lowering & lifting valves "
Lighting System Lighting system with 24 Volt conformant to EC 76/756
Reflectors located in front, on the sides and at rear conformant to ECE R 48
3 pieces of inlet SUPER LED lighting mounted inside the roof
Interior lighting with switch
Side, front and rear position lamps.
Rear marker lamps closed to the frame
Bulkhead division box with 3 sockets 2x7 pol DIN ISO 1185 and DIN ISO 3731 + 1x15 pol DIN ISO 12098
Body
Body Panels have an integrated structure of lamination method of the isolation material block between inner and outer GRP panels with a colour of RAL 9003. (MONOBLOCK) Inner side GRP panels are three times more resistant to load slipping with their 57% more fibre content (Inside High Impact-Outside High Gloss)
Floor
Isolated and reinforced panel with 130 mm thickness, 24mm plywood laminated with 5086 H 244 grain pattern single layer aluminium sheet. Leak tightness and resistance due to full welding of base aluminium sheet with the aluminium plinth. Thıs panel capable of 5460kg forklift axle load accordance with EN 283
Rear Doors Isolated structure with 85 mm thickness
Sandwich construction for positive seal
2x4 Stainless steel hinges and 2x2 locking mechanisms, 270 ° rotation capability
One isolated ventilation lid on the right door located below the standard ventilation hole
Back frame manufactured from (AISI 304) stainless steel.
Köşe kaynak yöntemleri ile birleştirilecek termoplastik elastomer kauçuk profiller
Thermoplastic elostomer rubber profiles to be combined via corner welding methods. Slip-coating minimizes the forces encountered when opening door (user friendly door)

Anodized aluminium profile of 300 mm located inside of the doors.
ŞASİ
Full otomasyon toz altı kaynak makinesinde kaynatılarak elde edilen yüksek mukavemetli çelikten lonjeron (S 700MC) imal şasi
GÖVDE PANELLERİ
RAL 9003 beyaz boyalı iç ve dış CTP paneller arasına blok izolasyon malzemesinin vakumla yapıştırılması ile oluşturulan yekpare ön-yan-tavan-arka kapı panelleri, cam takviyeli polyester levhalar %52 oranında elyaf içermekte olup, ani yük kaymalarına karşı 3 kat daha dirençli ve mukavimdir. (iç yüzey 1,4 mm himpeckt - dış yüzey 2 mm high gloss)
ARKA ÇERÇEVE
AISI 304 Kalite Paslanmaz malzemeden üretilen arka çerçeve
ARKA KAPILAR
85 mm kalınlıkta izolasyonlu panel. 2x4 paslanmaz çelik menteşe ve 2x2 kilitleme mekanizması. 270 derece açılabilir. Sağ kapıda havalandırma kapağı. TERMOPLASTİK ELOSTOMER KAUÇUK köşe kaynak yöntemli. Kaygan yüzey kaplaması kapı açma zorluğunu önler. kapı içlerinde 300mm yük. eloksallı alm profil.
TABAN
24 mm su kontrası üzerine 5086H244 grain pattern sertleştirilmiş yekpare alaşımlı ALÜMİNYUM vakum preste yapıştırılması ile oluşturulur.(Taban alüminyumu ve süpürgelik alüminyumlarının TIG kaynak ile boydan boya kaynatılması ile hem tam sızdırmazlık sağlanır, hem de araç mukavemeti artırılır.)
İZOLASYON
ATP-C / FRC ye uygun izolasyon değerleri ve belgesi
AYAKLAR
Çift hızlı - 24 ton kapasiteli - ithal teleskopik ayaklar
AKSLAR
9 ton kapasiteli 3 adet 120 offset disk frenli dingiller
FREN SİSTEMİ
AB 92/23 nolu yönetmeliğe uygun , onaylı ,2 modül - 2 sensör EBS-E Plus sistemi ile donatılmış çift devreli imdatlı pnömatik fren sistemi ve devrilmelere karşı sürüş emniyeti sağlayan RSS sistemi
LASTİK VE JANTLAR
AB 92/23 nolu yönetmeliğe uygun (6+1) 385/65 R 22.5 tek sıra lastik ve ''120 offset'' jantlar
ELEKTRİK DONANIM / AYDINLATMA
AB 76/756 nolu yönetmeliğine uygun , onaylı aydınlatma sistemi (24 V), yan-arka-ön stop lambaları ve reflektörler, 3 adet gömme iç aydınlatma lambası
BOYA PROSESİ
Boya öncesi kumlama,sonrası epoksi bazlı 1.Kat kapatıcı astar ile tüm yüzeyler kapatılarak korozyon engellenir, 2.Kat reçine bazlı organik çözücü astar ile boya yapışması sağlanır, son kat akrilik boya ile tüm yüzeyler kapatılır.
Important
This offer is for guidance only. Please request more precise information from the seller.
Safety tips
Seller's contacts
Turkey, Antalya, Antalya Organize Sanayi Bölgesi 3. Kısım 31. Cad. No:20 Döşemealtı
Seller's local time: 08:54 (+03)
Selling machinery or vehicles?
You can do it with us!