The ad Audi a6 sedan has been sold and is not included in the search!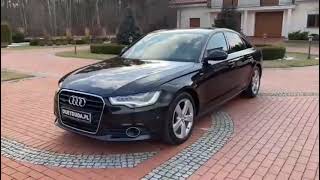 1/41
Location
Poland
Widełki
Placed on
more than 1 month
Cabin
Cruise control (tempomat)
Electrically operated mirrors
generation: gen-c7-2011
colour_type: metallic
AUDI A6 3.0TDI 245 KONI BARDZO BOGATO DOPOSAŻONA !!!
! ! ! KRAJOWA 100% BEZWYPADKOWA - ZADBANA ! ! !
! ! ! PNEUMATYKA ,ELEKTRYCZNE FOTELE ,NAWIGACJA ! ! !
! ! ! NOKTOWIZOR
HEAD-UP BANG & OLUFSEN
FUL LED ! ! !
Salon Polska
Pierwszy i Jedyny Właściciel
W PełniI Sprawna Zadbana
Bez Wkładu FINANSOWEGO !!!
*
BOGATE WYPOSAŻENIE
Esp
Koła 18" Audi
Szyby przyciemniane
Napęd stały 4x4 QUATTRO
Reflektory FULL LED
Bezkluczykowy dostęp do auta
Keyless go
Wejście SD
KIEROWNICA WIELOFUNKCYJNA
CZUJNIKI PARKOWANIA PRZÓD
CZUJNIKI PARKOWANIA TYŁ
NOKTOWIZOR Z WYKRYWANIEM OSÓB,PIESZYCH,ZWIERZĄT
WYŚWIETLACZ HEAD-UP
CZYTANIE ZNAKÓW DROGOWYCH
TELEFON AUDI MMI
FOTELE PEŁNE KOMFORTOWE
PODGRZEWANE
PAMIĘĆ FOTELI PRZEDNICH
NAGŁOŚNIENIE "BANG & OLUFSEN"
SKRZYNIA 8-BIEGOWA BEZAWARYJNA
AUTO-HOLD
TRYB SPORT W SKRZYNI BIEGÓW
PAKIET COMFORT
PAKIET INDIVIDUAL
PAKIET DYNAMIC
PNEUMATYCZNE ZAWIESZENIE
PODŁOKIETNIK ROZKŁADANY Z TYŁU
TYLNE FOTELE PODGRZEWANE
Foto chromatyczne lusterka boczne
Aktywny układ wydechowy
Wnętrze wypełnione drewnem
Popielniczki w tylnych drzwiach
Pakiet schowek
Asysta kierowcy
Komplet dokumentów
Dwa kluczyki
Pełna książka serwisowa
Pełna historia serwisowa
i wiele innych
link do filmu : https://youtu.be/gBWTs-8ZBhw
- Więcej zdjęć na DUETDUDA
Więcej informacji : tel 605440440 lub 570180180
Lokalizacja 30km od Kielc
Możliwość sprawdzenia samochodu w dowolnym serwisie ASO
Lub stacji diagnostycznej lub prywatnej wybranej przez kupującego
Zgadzam się na badania miernikiem lakieru
Przedstawione dane maja charakter informacyjny
nie stanowią oferty w rozumieniu artykułu 66 k.c
Dodatkowe informacje: liczba miejsc: 5
tapicerka: skora
tapicerka kolor: bezowy
kraj pochodzenia: Polska
Numer oferty: AKL17115X
automatic-wipers
Czujniki parkowania tylne
Wielofunkcyjna kierownica
automatic-lights
bluetooth
isofix
Gniazdo AUX
Regulowane zawieszenie
esp
system-start-stop
both-parking-sensors
park-assist
Asystent pasa ruchu
sd-socket
Gniazdo USB
shift-paddles
Światła do jazdy dziennej
Tapicerka skórzana
Faktura VAT
Zarejestrowany w Polsce
Pierwszy właściciel
Bezwypadkowy
Serwisowany w ASO
3.0TDI 245KM Salon Pl JEDEN Właściciel FULL OPCJA Bezwypadkowa !!!