You may find interesting
Close
Audi A8 4,2TDI,Q,Long,Zadbany z Niemiec,Okazja
€19,000
Audi A7 Quattro 3.0L V6 S-LINE
€27,900
Audi a4
€21,770
MERCEDES-BENZ klasa-s
€20,900
Audi A8
€1,308
RENAULT thalia
€2,484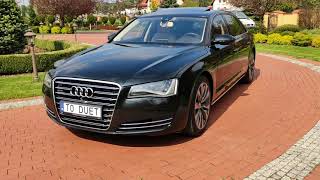 1/42
Cabin
Cruise control (tempomat)
Electrically operated mirrors
generation: gen-d4-2010
colour_type: metallic
UWAGA !!! Podana cena 99 900 PLN
jest ceną netto
AUDI A8L 4.2 TDI V8T 350 KONI - BOGATA WERSJA WYPOSAŻENIA !!!
! ! ! 100% Bezwypadkowa - PEDANTYCZNIE ZADBANA ! ! !
! ! ! 5-OSOBOWA ,MASAŻE ,ELEKTRYCZNE FOTELE PRZÓD
Kupiona JAKO NOWA W POLSKIM SALONIE
JEDEN WŁAŚCICIEL OD NOWOŚCI
SERWISOWANA na Bieżaco W ASO AUDI !!!
100% BEZWYPADKOWA
100% ORYGINALNY PRZEBIEG
AUTO PEDANTYCZNIE UTRZMANE !
BEZ WKŁADU FINANSOWEGO !
BOGATE WYPOSAŻENIE
Esp
Lakier metalik czarny PERŁA
SILNIK V8 4.2 TDI
KOŁA 20 CALI ORYGINALNE AUDI
FULL LED
Wersja 5-OSOBOWA
PŁYWAJĄCE KIERUNKI PRZÓD/TYŁ
Szyby PODWÓJNE Z IZOLACJĄ AKUSTYCZNĄ
Nagłośnienie BOSE SURROUND SOUND 14głośników + WZMACNIACZ 600W
Kamery
Bezkluczykowy dostęp do auta
OŚWIETLENIE WNĘTRZA
Jasne wnętrze
Wnętrze Wypełnione DREWNEM
System start/stop
Czujniki parkowania przód/tył
DOCIĄGANIE WSZYSTKICH DRZWI
Lusterka elektryczne
Lusterka składane
Lusterka ELEKTRYCZNIE SKŁADANE
Lusterka FOTOCHROMATYCZNE
Lusterka PODGRZEWANE
AUDI MMI SYSTEM
DRIVE SELECT
Pakiet COMFORT
TRYB Z MECHANIZMEM RÓŻNICOWYM
Napęd 4x4 Stały QUATTRO
Skrzynia 8-biegowa
Tryb sport w skrzyni biegów
Łopatki do zmiany biegów F1
Światła automatyczne
Światła przeciwmgielne
Lakier czarny metalik
Tapicerka w pełni skórzana
Pakiet skórzany
Fotele KOMFORTOWE
Fotele W PEŁNEJ ELEKTRYCE
Pamięć Foteli przednich
MASAŻE PRZEDNICH FOTELI
Przednie fotele podgrzewane
Przednie fotele wentylowane (chłodzone)
Tylne FOTELE PODGRZEWANE
Dodatkowe nawiewy dla pasażerów
INFILTRACJA POWIETRZA
Kierownica skórzana
Kierownica wielofunkcyjna
Kolumna kierownicy elektryczna
Kierownica podgrzewana
Elektryczne rolety Szyb tylnych
Roleta tylnej szyby elektryczna
Blokada szyb
Blokada drzwi
Czujnik deszczu
Czujnik zmierzchu
System BLUETOOTH
Asystent kierowcy
Wejśćia 12V
Klapa bagażnika elektryczna
Klapa bagażnika elektrycznie zamykana
Komplet Dokumentów
Dwa Kluczyki
Pełna HISTORIA SERWISOWA
wiele innych
link do filmu: https:
show contacts
- Więcej zdjęć na DUETDUDA
Więcej informacji : tel 605440440 lub 570180180
Lokalizacja 30km od Kielc
Możliwość sprawdzenia samochodu w dowolnym serwisie ASO
Lub stacji diagnostycznej lub prywatnej wybranej przez kupującego
Zgadzam się na badania miernikiem lakieru
Przedstawione dane maja charakter informacyjny
nie stanowią oferty w rozumieniu artykułu 66 k.c
Dodatkowe informacje: liczba miejsc: 5
tapicerka: skora
tapicerka kolor: bezowy
kraj pochodzenia: Polska
Numer oferty: AKL172WZJ
automatic-wipers
Czujniki parkowania tylne
Wielofunkcyjna kierownica
automatic-lights
bluetooth
isofix
head-display
Gniazdo AUX
Podgrzewana przednia szyba
Regulowane zawieszenie
leds
esp
system-start-stop
both-parking-sensors
park-assist
Asystent pasa ruchu
Czujnik martwego pola
Gniazdo USB
shift-paddles
Światła do jazdy dziennej
Tapicerka skórzana
Faktura VAT
Zarejestrowany w Polsce
Pierwszy właściciel
Bezwypadkowy
Serwisowany w ASO
4.2 TDI 350KM (V8T) LONG Salon PL Bogato wyposażona Pełny Serwis ASO
Important
This offer is for guidance only. Please request more precise information from the seller.
Safety tips
Seller's contacts
GRZEGORZ DUDA
Languages:
English, Polish
Languages:
English, Russian, Polish
Poland, Swietokrzyskie, 26-021, Widełki, Widełki 37
Seller's local time: 21:37 (CEST)
Selling machinery or vehicles?
You can do it with us!