You may find interesting
Close
MERCEDES-BENZ S-klasse S 600
€25,900
MERCEDES-BENZ S-Class 320 CDI AMG Navi TV Luchtvering
€14,750
MERCEDES-BENZ 200 E 124 type automaat 157000km
€7,750
MERCEDES-BENZ S600
price on request
MERCEDES-BENZ S 350 autom
€9,750
MERCEDES-BENZ S320 Petrol Engine Full Option
€3,400
MERCEDES-BENZ 190 E 1.8 EVO 1 replica 2.5 16V sedan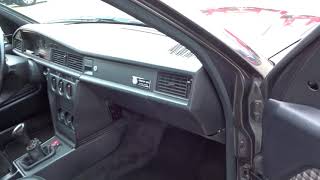 1/21
Model
190 E 1.8 EVO 1 replica 2.5 16V
First registration
1992-02-20
Location
Netherlands
Tilburg
Description
Overall dimensions
4.45 m × 1.57 m × 1.33 m
Cabin
Electrically operated mirrors
= More options and accessories =
- Disc brakes
- Sliding roof
= Remarks =
View more pictures and video's at
show contacts
Or visit our YouTube channel: youtube.com/toptrucks/
** ALL PRICES ARE NET EXCLUDING 21% VAT**
Bart Spierings 0031 651102323 (NL-DE-GB-FR)
Govorim po ryccki 0031 649958194
Para información en Argentina llamar
show contacts
- E-mail
show contacts
We do our utmost to provide you with the correct information about the vehicle. Nevertheless, no rights can be derived from the information on our website.
= More information =
Number of keys: 2
VAT/margin: VAT not deductable (margin scheme)
Kotoučové brzdy
- Posuvná střecha
= Weitere Optionen und Zubehör =

- Scheibenbremsen
- Schiebedach

= Weitere Informationen =

Anzahl der Schlüssel: 2
Mehrwertsteuer/Differenzbesteuerung: Mehrwertsteuer nicht abzugsfähig (Margenregelung)
= Flere valgmuligheder og mere tilbehør =

- Skivebremser
- Skydetag

= Yderligere oplysninger =

Antal nøgler: 2
moms/margin: Moms ikke-fradragsberettiget (marginordning)
= Más opciones y accesorios =

- Frenos de disco
- Techo corredizo

= Más información =

Número de llaves: 2
IVA/margen: IVA no deducible (margen)
= Plus d'options et d'accessoires =

- Freins à disque
- Toit ouvrant

= Plus d'informations =

Nombre de clés: 2
TVA/marge: TVA non déductible (régime de la marge bénéficiaire)
Csúszótető
- Tárcsafékek
Freni a disco
- Tetto scorrevole
= Aanvullende opties en accessoires =
- 1 tank
- Schijfremmen
- Schuifdak
- Spoilerset
= Bijzonderheden =
Marge regeling van toepassing Bijzonder gedetailleerde replica van een icoon. Homologatiemodel 190E 2.5 16V EVO 1. Originele 16V bodykit, EVO kit gemaakt met mallen van een originele EVO. Originele EVO velgen met nieuwe banden. 3 jaar geleden professioneel omgebouwd en compleet gespoten (foto's aanwezig) incl. 16V karo interieur en instrumenten. Origineel in de kleur 199 Blauwzwart, zoals de originele EVO. Prachtige auto, nagenoeg geen gebruikssporen en een echte eyecatcher. Origineel Belgische auto met kloppende km.historie en waar goed voor is gezorgd, met de juiste fabrieksopties, onder andere: ABS, schuifdak, groen getint glas en vier hoofdsteunen. Voor info over dit voertuig bel of whatsapp
show contacts
Nol Spierings
View more pictures and video's at
show contacts
Or visit our YouTube channel: youtube.com/toptrucks/
**ALLE PRIJZEN ZIJN NETTO EXCLUSIEF 21% BTW**
Bart Spierings 0031 651102323 (NL-DE-GB-FR)
Govorim po ryccki 0031 649958194
Para información en Argentina llamar
show contacts
e-mail
show contacts
We doen onze uiterste best u te voorzien van de juiste informatie van het voertuig. Ondanks dat kunnen er geen rechten ontleend worden aan de informatie op onze website.
= Meer informatie =
Aantal sleutels: 2
BTW/marge: BTW niet verrekenbaar voor ondernemers (margeregeling)
= Więcej opcji i akcesoriów =

- Hamulce tarczowe
- Rozsuwany dach

= Więcej informacji =

Liczba kluczyków: 2
VAT/marża: Brak możliwości odliczenia podatku VAT (procedura marży)
Travão de discos
= Дополнительные опции и оборудование =

- Дисковые тормоза
- Сдвижная крыша

= Дополнительная информация =

Количество ключей: 2
НДС/маржа: Без вычета НДС (схема маржи)
Kotúčové brzdy
- Posuvná strecha
Disk frenler
- Sürgülü tavan
Important
This offer is for guidance only. Please request more precise information from the seller.
Safety tips
Seller's contacts
TOP TRUCKS B.V.
Seller with Autoline for 8 years
The phone numbers have been checked
The address has been checked
Maarten van Laarhoven
Languages:
English, Dutch
Bart Spierings
Languages:
English, Spanish, German, French, Dutch
Netherlands, Noord Brabant, 5032 ML, Tilburg, Clara Zetkinweg 5
Seller's local time: 21:37 (CEST)
Selling machinery or vehicles?
You can do it with us!