You may find interesting
Close
SKODA octavia
€10,030
VOLKSWAGEN passat
€20,300
New SKODA SUPERB
$19,900
New SKODA SUPERB
$19,900
SKODA SUPERB
€16,950
SKODA SUPERB
€16,950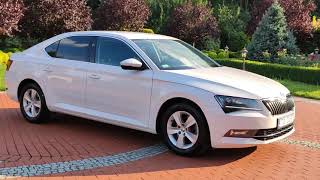 1/42
Cabin
Electrically operated mirrors
generation: gen-iii-2015
colour_type: metallic
UWAGA !!! Podana cena 79 000 PLN
jest ceną netto
! ! ! SKODA SUPERB 1.8 TSI 180KM DSG ! ! !
! ! ! 100% ORYGINALNA - SERWISOWANA ! ! !
! ! ! SKRZYNIA DSG ORAZ SILNIK 180KM KONI ! ! !
! ! ! DYNMICZNY I ZARAZEM EKONOMICZNY ! ! !
KUPIONY JAKO NOWY W POLSKIM SALONIE
JEDEN WŁAŚCICIEL OD NOWOŚCI
100% BEZWYPADKOWA !!!
ŻADEN ELEMENT AUTA NIE BYŁ LAKIEROWANY POWTÓRNIE ! ! !
ZADBANA 100 % SPRAWNA
WYPOSAŻENIE
FULL LED przednie reflektory
NAWIGACJA 3D
Rozbudowana dotykowa nawigacja
z możliwością podłączenia internetu i wykonania zrzutu ekranu smartfona
Podgrzewane przednie fotele
Profilowane przednie fotele COMFORTY
Czujnik deszczu
Kierownica multifunkcyjna
Lusterka z podświetleniem okolicy auta
podświetlenie również w drzwiach
Lusterka boczne elektrycznie składane
Automatyczny hamulec ręczny
System Start-Stop
Otwieranie i domykanie szyb z kluczyka
Czujniki parkowania przód+tył
Pakiet chromy
Elektrycznie otwierana i zamykana tylna klapa
KOMPLET DOKUMENTÓW
DWA KLUCZYKI
PEŁNA HISTORIA SERWISOWA
TYLNA KLAPA OTWIERANA NA GUZIK
KOMPLET DOKUMENTÓW
DWA KLUCZYKI
PEŁNA HISTORIA SERWISOWA
KSIĄŻKA SERWISOWA
SAMOCHÓD JAK FABRYCZNIE NOWY BEZ ŻADNEGO WKŁADU FINANSOWEGO!
link do filmu:
show contacts
Więcej zdjęć na DUETDUDA
Więcej informacji : tel 605440440 lub 570180180
Lokalizacja 30km od Kielc
Możliwość sprawdzenia samochodu w dowolnym serwisie ASO
Lub stacji diagnostycznej lub prywatnej wybranej przez kupującego
Zgadzam się na badania miernikiem lakieru
Przedstawione dane maja charakter informacyjny
nie stanowią oferty w rozumieniu artykułu 66 k.c
Dodatkowe informacje: liczba poduszek powietrznych: 6
liczba miejsc: 5
tapicerka: welur
tapicerka kolor: czarny
kraj pochodzenia: Polska
Numer oferty: AKL1757A7
automatic-wipers
Czujniki parkowania tylne
Wielofunkcyjna kierownica
bluetooth
isofix
Gniazdo AUX
leds
esp
system-start-stop
both-parking-sensors
park-assist
Asystent pasa ruchu
Czujnik martwego pola
sd-socket
Gniazdo USB
Światła do jazdy dziennej
velour-interior
Faktura VAT
Zarejestrowany w Polsce
Pierwszy właściciel
Bezwypadkowy
Serwisowany w ASO
1.8 TSI 180KM DSG Salon PL 100% Bezwypadkowa Zadbana IGŁA
Important
This offer is for guidance only. Please request more precise information from the seller.
Safety tips
Seller's contacts
GRZEGORZ DUDA
Languages:
English, Polish
Languages:
English, Russian, Polish
Poland, Swietokrzyskie, 26-021, Widełki, Widełki 37
Seller's local time: 01:00 (CEST)
Selling machinery or vehicles?
You can do it with us!