New Reis Treyler 2023 tilt semi-trailer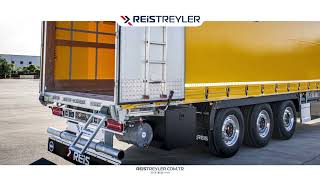 1/8
Year of manufacture
02/2023
First registration
2023-02
Location
Turkey
Selçuklu / KONYA
Description
Fifth wheel height
1200 mm
Overall dimensions
13.6 m × 2.55 m × 4.05 m
Need delivery?
Calculate the cost of delivery
Documents
TECHNICAL SPECIFITACIONS OF CURTAINSIDER OPTIMA SEMI-TRAILER
Truck Tractor Type
— 4x2 Truck Tractor

Chassis
— ST 52 Material "I" profile it is produced with gas welding, it has high quality strength, Standard Chassis Type, produced according to the 98/91 EEC standards

Inner Lenght Dimension
— Length 13.600 mm mm x Width 2480 mm x Height 2820 mm

Over All Lenght Dimension
— Length 13.600 mm mm x Width 2550 mm x Height 4050 mm

Platform
— Phenolic waterproof plywood plate (30 mm) with rings and iron plate

Container twist lock
— Without Container Locks

King Pin
— 2" or 3 ½" king pin according to the 94/20 EEC
—Pin detachable from below made by SAE standards 8 bolt type.

Axles
— 3 x 9.000 kg carrying capacity SAF brand Disc Brake Type
— First axle is lifting
— Third axle is steering

Distance Between Axles
— 1320 mm

Brakes & Suspension
— Air Suspension
— EBS Brake System KNORR or WABCO brand, 4S3M RSS Stability system RSS according to 71/320 EEC and 2002/78
EC standards
— Automatic Slack Adjuster

Landing gear
— Double Speed,
— 24000 kg carrying capacity OMS Brand
— Mechanical Landing Gears

Rear Bumper
— Suitable 70/221 / AT-version of the rear bumper

Tire Chock
— Carriers with 2 unit wheel chock

Tires and Rimes
— 6 PCS 385 65 R 22,5 Single tire type
—Goodyear, Bridgestone, Pirelli or Equivalent brand
— 120 offset 22,5 x 11,75 Rim, 280,8 x 335 x 10 wheel stud M 22 x 1,5

Mud Cover
— 6 Units full plastic mudguards fited with galvanized steel holders.

Spear Wheel Carrier
— 1 piece tire carrier Reducer type

Tool Box
— 1 pcs Metal Tool Box 150cm

Paint
— Steel Material surface are cleaned by grit metal and send, which is shot blasted on the surfaces of the metal.
— 2 Floor Epoxy primers are made and final paint with BLACK, GRAY or GALVANIZED Color

Electrical System and Lightening System
— 3 unit's amber-colored lights placed on the both sides
— Park lamps at the rear side of the vehicle (with a protective grill)
— License plate lamps,
— Reflector triangles,
— Flame proof electrical system
— 2 X 7-pin and 1 x 15-pin electrical socket.

Equipment (Tools)
— Tool box keys
— Ro-Ro Lashing Rings
— Document holder
— Fire Extinguisher Box, Rear Ladder, Forklift barriers, Rear Bumper,

Optional Accessories
— According to the demand optional accsesories will be added in the proposal

CURTAIN SUPERSTRUCTURE
Roof System
— Aluminum rail profile roof system suitable for Custom Clearance
— Lifting roof
— Sliding roof

Curtain System
— Provided with a tarpaulin woven at 9x9 grade, weighing 680 g/m2, having fracture strength of 3500 N/S and 350 N tearing resistance.
— Code XL

Rear Door
— Two side rear doors with recessed locks

Side Protectors
— Side preventive protectors made from high strength material complied with 70/156 EEC standards
Important
This offer is for guidance only. Please request more precise information from the seller.
Seller's contacts
Cemal Nurkoviç
Languages:
Turkish, Serbian, Italian, German, French, Bosnian
Turkey, Selçuklu / KONYA, 3.Organize Sanayi Bölgesi 3 Nolu Sokak No:10 Selçuklu / KONYA
Seller's local time: 18:46 (+03)
Selling machinery or vehicles?
You can do it with us!