You may find interesting
Close
New HASTRAILER 32 m3
€25,250
New CANGÜLLER TREYLER (3in1) TIPPER- ROLL and CONTAINER CARRIER
€25,000
New LIDER 2021 MODEL NEW 35 Mt3 DUMPER ( BENNE )
€23,000
New LIDER 2021 YEAR NEW (MANUFACTURER COMPANY LIDER TRAILER & TANKER )
€26,000
New EMIRSAN 4 Axle Scrap Type // Grain Type , Custom Made , Tipper Trailer
€25,500
New LIDER 2021 NEW DIRECTLY FROM MANUFACTURER STOCKS READY IN STOCKS
€26,500
New HASTRAILER 2021 tipper semi-trailer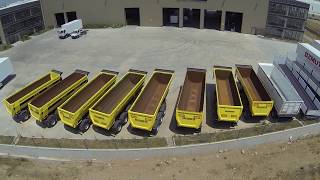 1/12
Description
Fifth wheel height
1170 mm
Truck body
Body dimensions
7.6 m × 2.5 m × 1.65 m
Condition
Technical inspection valid till
2022-12-31
* Made of 450 HB steel.

* Floor and front wall ... 5 mm, side wall and rear cover application 4 mm are resistant to abrasion and impact.

* In addition, rubber wedges provide protection against noise and wear.

* Protection TILT system to protect the vehicle from rear loads, integrated solution in the front wall to close the tarpaulin from left to right

* 24 ton capacity telescopic mechanical legs and black painted two-speed mechanical legs

* 3 axles with 9 ton capacity and air suspension with 120mm or 0mm offset disc brake

* 4-stage hydraulic system HYVA BRAND with hose equipment resistant to 190 bar and 170 bar operating test

* EBS-E plus 2 modules and 2 sensors (2S / 2M) brake system. RSS (road stability support) system according to ECE R13, dual-circuit and 2-sensor (2S / 2M) pneumatic brakes.

* Lowering and lifting lift suspension system

* 120 or 0 offset (6 + 1) 385/65 R 22.5 Suitable for 458/2011 EU. Steel rim. Silver RAL 9006 painted wheels.

* 24 volt lighting system front, side and rear reflectors, reflective LED side, front and rear marking according to EC 76/756 "ECE R 48. Frame covered rear sign. 2x7 pol DIN ISO 1185 and din iso 3731 or 1x15 pol DIN ISO 12098

* The rear bumper is made of steel conforming to ECE R 58 and can also be folded to finish the job.

* 2 pairs of awning rings for pulling out the chassis in field conditions,

* Single spare wheel carrier place behind the axle

* 1 fire extinguisher cabinet

* 1 piece of 30 lt water tank with CE certificate

* 1 plastic cabinet

* The vehicle conforms to the EC final test conformity certificate (COC).

* Automatic stop feature is available when the damper is fully opened.

* Hidromas brand Piston

* When the damper is lifted, the bellows have air evacuation feature to discharge the load easily.
* 450 HB çelikten üretilmiştir.

* Zemin ve ön duvar kalınlığı 5 mm, yan duvar ve arka kapak kalınlığı 4 mm aşınmaya ve darbeye dayanıklıdır.

* Ayrıca kauçuk takozlar gürültü ve aşınmaya karşı koruma sağlar.

* Aracı arkadaki yüklerden korumak için barınak TİLT sistemi, soldan sağa branda örtmek için ön duvarda entegre çözüm

* 24 ton kapasiteli teleskopik mekanik ayaklar ve siyah boyalı iki hızlı mekanik ayaklar

* 9 ton kapasiteli ve 120 mm veya 0 mm ofset disk frenli havalı süspansiyonlu 3 aks

* 190 bar basınca dayanıklı hortum ekipmanı ile 170 bar çalışma basıncına sahip 4 kademeli hidrolik sistem HYVA MARKA

* 2 modüllü ve 2 sensörlü (2S/2M) EBS-E plus fren sistemi.RSS (yol istikrar desteği)sistemi ECE R13'e uygun çift devreli ve 2 sensörlü (2S/2M) pnömatik frenler.

* İndirme ve kaldırma valflerine sahip süspansiyon sistemi

*120 veya 0 offsetli (6+1) 385/65 R 22,5 458/2011 EU'ya uygundur. Çelik jant. Gümüş RAL 9006 boyalı jantlar.

* EC 76/756 uyarınca 24 volt aydınlatma sistemi ECE R 48'e göre ön,yan ve arka reflektörler, reflektörlü LED yan,ön ve arka işaret lambaları.Çerçeve ile kaplı arka işaret lambaları. 2x7 pol DIN ISO 1185 ve dın ıso 3731 veya 1x15 pol DIN ISO 12098

* Arka tampon çelikten yapılmış, ECE R 58'e uygun ve aynı zamanda son işlem çalışması için katlanabilir.

* Arazi koşulları için şasi yi dışarı çekmek için 2 çift tente halkası,

* Aksın arkasında tek stepne taşıyıcı yeri

* 1 adet yangın söndürme dolabı

* 1 adet 30 lt su deposu CE belgeli

* 1 adet plastik doküman dolabı

* Araç EC tip testine uygunluk sertifikası (COC) ile uygundur.

* Damper tam açıldığında otomatik stoplama özelliği de mevcuttur.

* Hidromas marka Piston

* Damper Kalktığında yük rahat boşaltılması için körükler hava boşaltma özelliği mevcuttur.
Important
This offer is for guidance only. Please request more precise information from the seller.
Safety tips
Seller's contacts
AYFER SARI
Languages:
English, Turkish
GÖKSU DEMİRCİ
Languages:
English, Turkish
Turkey, Antalya, Antalya Organize Sanayi Bölgesi 3. Kısım 31. Cad. No:20 Döşemealtı
Seller's local time: 17:08 (+03)
Selling machinery or vehicles?
You can do it with us!