New MEGA 26/ 28 m³ MEGA Trailers Half-Pipe tipper HARDOX 450 READY TO GO tipper semi-trailer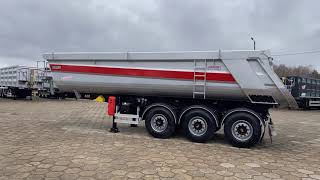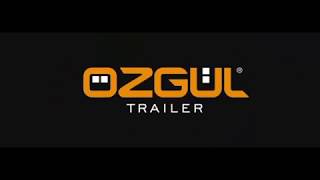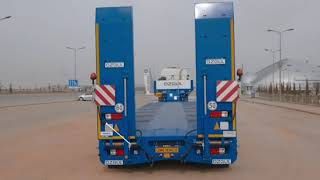 1/72
Model
26/ 28 m³ MEGA Trailers Half-Pipe tipper HARDOX 450 READY TO GO
Location
Poland
Bełchatów
Placed on
more than 1 month
Description
Model
FOZ - 26/28 Hx "LIGHT"
Fifth wheel height
1200 mm
Overall dimensions
9.3 m × 2.55 m × 2.95 m
Truck body
Body dimensions
7.8 m × 2.35 m × 1.58 m
Buy by leasing
Get an offer to buy a vehicle by leasing
Need delivery?
Calculate the cost of delivery
More details
Colour
metallic, metallic
Dealer form Bełchatów city as a Vehicle Plant and Steel Structures Seller MEGA Trailers Sp. z o.o. in 2019, join a net of the company OZGUL Treiler, the world leader in the construction of semi-trailers with steel frame and box.
In production they use the highest quality systems, like below:

SAF/BPW/TRAX axles, with integrated suspension and Air system - 5 years GUARANTEE !!!
large ventilated disc brakes 430 mm,
the latest generation hydraulic cylinder HIDROmas GOLD - 2 years GUARANTEE !!
tires 385/55/R22,5 PREMIUM class
the latest generation ADR systemme for all EU countries !!
pneumatic system from WABCO, with 1st and 2nd lifted axle, EBS and ASR.
lighting Europoint III with additional halogen LED backlight.
high-grade steel HARDOX 450 supplied by the company SSAB / RUUKKI
resisting steel sheets and profiles.

All vehicles are covered by factory approval in accordance with European Union standards, which guarantees trouble-free registration in the territory of the Member States - Certicate Of Conformity (COC).
Our company maintains a stock of 10 to 20 pcs. of semi-trailers, what guarantees delivery of each vehicle in a very short time (up to 7 days).

We also provide a "door to door" service, which allows you to purchase a delivery directly to your company.

Price offer, please contact the sales department, because prices of vehicles may be different and depend on the equipment.
Take advantage !!After all, the motto of our company is:

With MEGA Trailers - .... always better !!!
KIPPAUFLIEGER MIT PENDEL KLAPPE UND Asphalt Eingießen !
DEICKE - BODEN 5,0 MM - WAND 3,0 MM !!!
3 Achsen Fahrstemme, mit Mulden Volumen 26/28 m3,
Konstrukzion Gemacht aus: Stahl - HARDOX 450 / SSAB
R e i c h e S t a n d a r d A u s s t a t t u n g
3 Achse TRAX (Wie MEGA) - 3 Jahre Garantie !!
HIDROmass wie (HYVA) Hydraulik,
Knorr-Bremse / Wabco Luft System.
2 St. Radkeile.
Hakenschlüssel fur Rad
großer Werkzeugkasten
Reflexstreifen 3M
Wassertank mit einem Stufenschalter und Seifenschale
Manometer
Anhängerkupplung mit Zapfen (verzinkt).
Korb für 2. Ersatzräder (verzinkt).
Hydraulikschlauche mit Reduzierstück fur 1 - ¾ Inch.
Stick an Rollplane am Rahmen befestigt.
2 Stück Gummi-Expander.
Konstrukzion Gemacht aus: Chassis Stahl - STRENX 700 / Mulde Stahl HARDOX 450 _ _ _ My govorim po Russkij !!! _ _ _ _ _ We speak English !!! _ _ Wir sprechen deutch !!!_ _ _ Mobile phone: 0048 / 507 083 707
Jede Preise sind im PLN - Euro Nur Info !!!
Std. Variante am MEGA Achsen mit Trommel Bremse:
V = 28 - 99.900 PLN Netto (VAT UE-0,00% / PL - 23%)
Информация в русском языке:
+
show contacts
, Е-мейл:
show contacts
, skype:<
show contacts
/>
Informations in English laguage:
+
show contacts
, mail:
show contacts
, skype:<
show contacts
/>
Informationen im Deutche Sprache:
+
show contacts
, Mail:
show contacts
, skype:
+ NOWE NACZEPY MEGA Trailers objęte są 5-LETNIĄ GWARANCJĄ KONSTRUKCYJNĄ !!
= waga homologacyjna od 5.990 kg !!!

Oferujemy Państwu naczepę wywrotkę do odbioru ze stock'u fabrycznego o następujących parametrach i kubaturze:

V = 26, 28 i 30 m³, podłoga 5,0 mm, ściany 3,0 m, grubości,
Skrzynia dł. 8.52 x 2,30 x 1.54 / 1.64 / 1.74 m,
Nowy model Half-Pipe - lżejsza i bardziej wytrzymała konstrukcja
TRANSPORT kruszyw, zwałki, gruzu i pospółki !!!
Klapa na "hokeju" blokowana na 2 haki do głazów,
Rama wykonana ze stali STRENX 700 dł. 7.700 mm.
Podłoga z z 1 arkusza blachy w konstrukcji bez szwowej.
3 osie TRAX (9 tonowe), 2 osie podnoszone - 3 lata GWARANCJI !!!
Siłownik HIDROmas - seria GOLD - kat wywrotu minimum 45⁰.
Hamulce tarczowe fi. 430 mm, ET - 120 z zaciskami KNORR SK-7,
Opony 385/65/R22,5 - PIRELLI INTENERIS, 4-ro rowkowe,
Duża skrzynka narzędziowe 120 l, gaśnica, eletryka pod ADR 2,
Układ elektr. ASPOCK, światła zespolone i obrysowe LED, dodatkowy reflektor doświtlający.
Pneumatyka WABCO z układem EBS, RSS - Roll Stability System

BARDZO BOGATA WERSJA cena w Niemczech 29.900,- € (w tym wyposażeniu) u nas specjalna WIOSENNA CENA !!!

Formalności związane z finansowaniem sprzedaży oraz rejestracją nie trwają dłużej niż 48H !
TYP: FOZ - 26/28HX "LIGHT" (naczepa wywrotka stalowa z klapą)

Mulda stalowa wykonana jest z arkuszy blach HARDOX 450, grubości 3/5 mm. Wymiary wewnętrzne dł. 8.520 x szer. 2.300 mm x wys. do 1.750 mm (zależy o kubatury).

Podłoga zbudowana z arkuszy jednolitcie spawanych od wewnątrz na całej długości blachy gr. 5,0 mm o podwyższonej ścieralności przeznaczona do transportu złomu, gruzu i zwałki.

Rama ze stali STRENX 700, przystosowana do pracy z ciągnikami 3-osiowymi, pod siodło 1.150 / 1.250 mm, bardzo wytrzymała konstrukcja. Markowe podzespoły:

3 osiowy agregat jezdny objęty 3 letnią gwarancją !
1-sza oś podnoszona
hamulce bębnowe lub tarczowe
pneumatyk KNORR
siłownik HIDROmass GOLD - 2 lata gwarancji !

W ofercie również osie SAF-Holland / BPW.

ZAMÓWIENIA przyjmujemy na GOTOWE naczepy z placu !!!

W przypadku braku pojazdu spełniającego Państwa oczekiwania GWARANTOWANY Szybki termin dostawy do 3 tygodni.

W ofercie pełna gama wywrotek ze skrzynią stalową i aluminiową, klapą - klapo drzwiami, objętości od 25 do 60 m³ .

Zachęcamy do kontaktu z naszymi handlowcami by uzgodnić warunki dostawy i najkorzystniejsze raty leasingu oraz interesującą Cię wpłatę własną.

SPRZEDAŻ W CENIE BRUTTO PRZY WDT !!!
«МЕГА Трейлерc ООО» Продавец из города Белхатув коммерческих транспортных средств и стальных конструкций представляет коммерчески-техническое предложение на новый полуприцеп-самосвал
+ МЭГА Трейлерc ТИП: FOZ - 26/28Hx LIGHT кcc - ЖЁЛОБ клапан со сссыпкой +
1. ШАССИ С ДЛ. РАМЫ 8400 ММ.
- Вариант исполнения – с возможностью присоединения к 3-х осному тягачу;
- Высота ССУ – 1200 мм;
- Полосы на раме толщины 12 мм
- Цвет рамы – графитовый RAL 7016;
- Оси TRAX (MEGA), первая ось подъемная;
- Тормоза барабанного типа с системой EBS, тормозная система KNORR;
- Кран уровня пола;
- Стальные диски с шинами PIRELLI (6 штук + 1 запасное колесо);
- Поддерживающие домкраты (двухскоростные);
- Сцепной шкворень 2";
- Корзина для запасного колеса;
- Клин-башмак – 2 шт.;
- Ключ к колесам с рычагом;
- Боковая защита от наезда;
- Пластиковый ящик для инструментов;
- Пластиковые крылья для каждого колеса;
- Емкость для воды с краном
- Манометр
2. Кузов стальной грузовместимостью 26/28 куб.м с КЛАПАНОМ.
- Кузов из стали HARDOX 450 / SSAB,
- клапан с лотком, пол- с подогревом,
- обработан дробью, покрыт грунтом цвет – cерый RAL 7040,
- 5 дополнительных поперечин под ящиком,
- усиление крепления сервомотор,
- пол толщины 5 мм, стенки толщины 3/4 мм
- Комплектация:
- Замок фиксации кузова HYFIX,
- кронштейны крепления кузова к шасси,
- рабочая площадка,
- труба для скручивания тента с ручкой,
- внутренние перекладины кузова,
- опознавательные знаки для транспортных средств большой длины и
грузоподъемности,
- светоотражающая маркировка,
- Зерновая заслонка;
- фирменные наклейки.
3. Гидравлический цилиндр в выбор HIDROmass кaк БИНОТТО.
- MFC 6150 с комплектующими,
- Гидравлический цилиндр,
- нижняя консоль – 2 шт.,
- верхняя консоль -2 шт.,
- гидравлические шланги с адаптером 1".
Поизводимыe транспортные средства обнятые международнoй гарантию производителей отдельных подузелoв:
1. Ходовая система - 3 годa !
2. тормозная система - 2 годa !
3. Стальная конструкция рамы и кузова - 1 год !
Информация в русском языке:
+
show contacts
, Е-мейл:
show contacts
, skype:<
show contacts
/>
Informations in English laguage:
+
show contacts
, mail:
show contacts
, skype:<
show contacts
/>
Informationen im Deutche Sprache:
+
show contacts
, Mail:
show contacts
, skype:
Important
This offer is for guidance only. Please request more precise information from the seller.
Safety tips
Seller's contacts
Seweryn Kruczyński
Languages:
English, Russian, Polish, German
Poland, Lodzinskie, 97-400, Bełchatów, ul. Lipowa 155 (Trasa 74 Warszawa - Wrocław)
Seller's local time: 02:29 (CEST)
Selling machinery or vehicles?
You can do it with us!