New MEGA Trailers 33/35 m³ Stahl Kipper mit Klappe fur Gerole & Stei tipper semi-trailer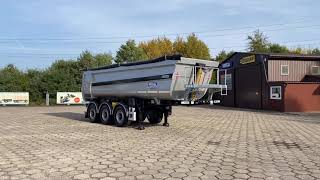 1/86
Model
Trailers 33/35 m³ Stahl Kipper mit Klappe fur Gerole & Stei
Location
Poland
Bełchatów
Placed on
more than 1 month
Description
Model
Ready / Fertige / Gotov !!
Fifth wheel height
11500000 mm
Truck body
Body dimensions
8.7 m × 2.3 m × 1.75 m
Buy by leasing
Get an offer to buy a vehicle by leasing
Need delivery?
Calculate the cost of delivery
+ NOWE NACZEPY MEGA Trailers objęte są 5-LETNIĄ GWARANCJĄ KONSTRUKCYJNĄ !!
= waga homologacyjna od 6.990 kg !!!

Oferujemy Państwu naczepę wywrotkę do odbioru ze stock'u fabrycznego o następujących parametrach i kubaturze:

V = 30-35 m³, podłoga 5,0 mm, ściany 3,0 m, grubości,
Skrzynia dł. 8.52 x 2,30 x 1.54 / 1.64 / 1.74 m,
Nowy model Half-Pipe - lżejsza i bardziej wytrzymała konstrukcja
TRANSPORT kruszyw, zwałki, gruzu i pospółki !!!
Klapa na "hokeju" blokowana na 2 haki do głazów,
Rama wykonana ze stali STRENX 700 dł. 7.700 mm.
Podłoga z z 1 arkusza blachy w konstrukcji bez szwowej.
3 osie TRAX (9 tonowe), 2 osie podnoszone - 3 lata GWARANCJI !!!
Siłownik HIDROmas - seria GOLD - kat wywrotu minimum 45⁰.
Hamulce tarczowe fi. 430 mm, ET - 120 z zaciskami KNORR SK-7,
Opony 385/65/R22,5 - PIRELLI INTENERIS, 4-ro rowkowe,
Duża skrzynka narzędziowe 120 l, gaśnica, eletryka pod ADR 2,
Układ elektr. ASPOCK, światła zespolone i obrysowe LED, dodatkowy reflektor doświtlający.
Pneumatyka WABCO z układem EBS, RSS - Roll Stability System

BARDZO BOGATA WERSJA cena w Niemczech 29.900,- € (w tym wyposażeniu) u nas specjalna WIOSENNA CENA !!!

Formalności związane z finansowaniem sprzedaży oraz rejestracją nie trwają dłużej niż 48H !
TYP: FOZ - 33/35HX "LIGHT" (naczepa wywrotka stalowa z klapą)

Mulda stalowa wykonana jest z arkuszy blach HARDOX 450, grubości 3/5 mm. Wymiary wewnętrzne dł. 8.520 x szer. 2.300 mm x wys. do 1.750 mm (zależy o kubatury).

Podłoga zbudowana z arkuszy jednolitcie spawanych od wewnątrz na całej długości blachy gr. 5,0 mm o podwyższonej ścieralności przeznaczona do transportu złomu, gruzu i zwałki.

Rama ze stali STRENX 700, przystosowana do pracy z ciągnikami 3-osiowymi, pod siodło 1.150 / 1.250 mm, bardzo wytrzymała konstrukcja. Markowe podzespoły:

3 osiowy agregat jezdny objęty 3 letnią gwarancją !
1-sza oś podnoszona
hamulce bębnowe lub tarczowe
pneumatyk KNORR
siłownik HIDROmass GOLD - 2 lata gwarancji !

W ofercie również osie SAF-Holland / BPW.

ZAMÓWIENIA przyjmujemy na GOTOWE naczepy z placu !!!

W przypadku braku pojazdu spełniającego Państwa oczekiwania GWARANTOWANY Szybki termin dostawy do 3 tygodni.

W ofercie pełna gama wywrotek ze skrzynią stalową i aluminiową, klapą - klapo drzwiami, objętości od 25 do 60 m³ .

Zachęcamy do kontaktu z naszymi handlowcami by uzgodnić warunki dostawy i najkorzystniejsze raty leasingu oraz interesującą Cię wpłatę własną.

SPRZEDAŻ W CENIE BRUTTO PRZY WDT !!!
Important
This offer is for guidance only. Please request more precise information from the seller.
Safety tips
Seller's contacts
Seweryn Kruczyński
Languages:
English, Russian, Polish, German
Poland, Lodzinskie, 97-400, Bełchatów, ul. Lipowa 155 (Trasa 74 Warszawa - Wrocław)
Seller's local time: 10:24 (CEST)
Selling machinery or vehicles?
You can do it with us!