The ad New REISCH Wywrotka stalowa HARDOX HB450 tipper semi-trailer has been sold and is not included in the search!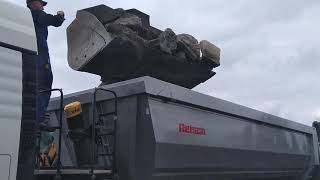 1/11
Model
Wywrotka stalowa HARDOX HB450
Location
Poland
Byków
Placed on
more than 1 month
Masa własna: TYLKO 5.980 kg
Wymiary: 7.300 x 2.340 x 1.650mm
Kubatura: 25,6m3 - CAŁA MULDA WYKONANA Z HARDOX HB450
Wyposażenie
nogi zrzutowe stalowe lub nogi podporowe dwubiegowe SAF - obie wersje dostępne od ręki
osie 3 x SAF 9-tonowe (ET 120 mm) dla opon 22,5" INTRADISC z dużymi tarczami AIRVENT
przełączane elektrycznie z kabiny kierowcy
Zawór podnoszenia i opuszczania z automatycznym powrotem do wysokości jazdy od 10 km/h (reset do ride)
Zawór automatycznego wypuszczania powietrza z poduszek podczas wyładunku
możliwość deaktywacji
ogumienie 385/65 R 22,5 TL 160 K według wyboru ( profil regionalny) obecnie Bridgestone Duravis
siłownik hydrauliczny HYVA
podłoga Hardox HB 450 - grubość 5 mm
ściany półokrągłe Hardox HB 450 - grubość 4 mm
ŚCIANA PRZEDNIA I KLAPA - również wykonana z HARDOX HB 450!!
plandeka zwijana z materiału o wysokiej jakości ok. 900 gr/m²
podwozie w kolorze Reisch-Grau
felgi stalowe w kolorze srebrnym ewentualnie aluminiowe nielakierowane
Na wszystkie nasze naczepy zapewniamy finansowanie w formie leasingu w wysokim wykupem/ najmu na okres 3 lat i gwarancją odkupu z naszej strony. Pozwala to na minimalne zaangażowanie środków klienta w rozruch pojazdu i zmniejszenie raty do minimum
W CELU OBEJRZENIA SPRZĘTU – ZAPRASZAMY DO BYKOWA KOŁO WROCŁAWIA
PRACUJEMY
Pn-pt: 8:30 – 16:30
ZAPRASZAMY DO KONTAKTU
Maciek +48600236900
Dominik +48604274974
Daniel +48600236789
Cezary +48600236796
Niniejsze ogłoszenie jest wyłącznie informacją handlową i nie stanowi oferty w myśl art. 66
paragraf 1.Kodeksu Cywilnego. Sprzedający/ogłaszający nie odpowiada za ewentualne błędy lub nieaktualność ogłoszenia
Faktura VAT
Bezwypadkowy
ROCZNIK 2023 // HARDOX HB450 // WAGA 5980!!