You may find interesting
Close
New MERCEDES-BENZ Mercedes-Benz Sprinter 319 *LED* Navi 10,25" Alu 17" S O F O R
€59,900
New MERCEDES-BENZ Mercedes-Benz Sprinter 319 V6 LUFTFEDERUNG AB WERK Schlafkabine
€60,900
New MERCEDES-BENZ Sprinter 519 V6 5,5T NAVI LED LUFTFEDERUNG NUTZLAST CA. *** 280
€66,800
New MERCEDES-BENZ Autotranspotrer SPRINTER 319 Automatik BFZ PLATEAU Luftfederung
€55,300
New MERCEDES-BENZ ATEGO 1224 LNR
price on request
New MERCEDES-BENZ pomoc drogowa-nowa zabudowa- platforma hydrauliczna-producent
€13,100
New MERCEDES-BENZ Sprinter 316 LED NAVI Autotransporter BFZ PLATEAU tow truck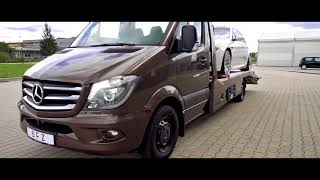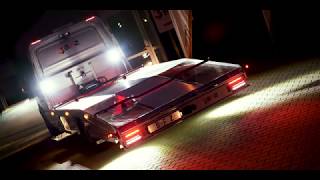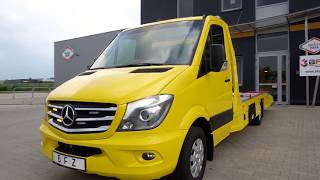 1/33
Model
Sprinter 316 LED NAVI Autotransporter BFZ PLATEAU
Location
Poland
Bolesławiec
Placed on
more than 1 month
Description
Overall dimensions
length - 5.25 m, width - 2.05 m
Engine
Brand
Mercedes Benz OM 651 DE 22 LA
Cabin
Electrically operated mirrors
Fahrzeugbeschreibung
Die Firma BFZ Sp. o.o. ist Produzent von Aluminium-Aufbauten für den Fahrzeugtransport.
Ihr Ansprechpartner ist Herr Josef (Deutsch)
show contacts
.82.08.95
------------------------------------------------------------------------------------------------
Mercedes Sprinter 316 CDI Schwarz Metalik
Motor OM 651 DE 22 LA 120 kW (163 KM) 3800/min Euro 6d
Fahrzeug Sonderausstattung:
(G42) 7G-TRONIC PLUS
(LG7) LED High Performance-Scheinwerfer
(L13) Nebelscheinwerfer mit Abbiegelicht
(L22) Heckleuchten in Teil-LED-Technik
(MS1) TEMPOMAT
(E4M) MBUX Multimediasystem mit 10,25 Zoll Touchscreen
(EX9) 3 Jahre kostenfreie Kartendaten-Updates
(E1G) Live Traffic Befähigung
(EJ9) COMAND ONLINE
(E1I) Smartphone-Halterung
(E30) Batterie¬Hauptschalter einpolig
(C6L) Multifunktionslenkrad Sport mit Schaltwippen
(CL1) Lenkrad in Höhe und Neigung verstellbar
(CL3) Lederlenkrad
(CN2) Kühlergrillrahmen in Wagenfarbe
(F68) Außenspiegel heizbar und elektrisch verstellbar
(F61) Innenspiegel
(F35) Rückwandfenster
(F64) Außenspiegel elektrisch heranklappbar
(FG8) 2 x Cupholder vorn
(FF5) Ablage über Frontscheibe
(FJ4) Ablagefach unter Cockpit
(FK3) Kühlergrill verchromt
(S23) Beifahrersitz Zweisitzer
(S22) Armlehne für Fahrersitz
(S28) Armauflage, Fahrer- und Beifahrertür
(SB3) Schwingsitz Komfortausführung, Fahrersitz
(SK0) Komfortkopfstütze
(HH9) Klimaanlage geregelt, TEMPMATIC
(H16) Sitzheizung für Fahrer
(H21) Wärmed. Glas mit Bandfilter an der Frontscheibe
(JD2) Tachograf digital EG mit Downloadfähigkeit
(JK5) Kombiinstrument mit Farbdisplay
(JF1) Regensensor
(A50) Vorderachse mit erhöhter Traglast
(AR3) Achsübersetzung i = 3,923
(BA3) Aktiver Brems-Assistent
(FEU) Feuerlöscher
(E07) Berganfahrhilfe
Alu-Vollplateau:
Aufbau 5250 x 2050
Geschlossener Boden
Ausziehbare Verladerampen mit redundanter Sicherung, verschiebbar
Anhängerelektrik 13 PIN
Kupplung mit Kupplungstraverse 3,5t
Verladen
2 x Sperrstange ROT
Rolle aus rostfreiem Stahl
4 x Radsicherungsgurt 10KN  
Beleuchtung:
LED - Warnbalken 1.600mm
Beleuchtung mit Funktionsüberwachung
8 Umriss Markierungsleuchten
2 x Arbeitsscheinwerfer LED 1500 Lumen  
Winde:
Elektroseilwinde Superwinch 4,5t
Fernbedienung 2 Kanal
Kunstfaserseil  
Fahrwerk  und Zusatz:
Lackierung des Aufbaus farbgleich zum Fahrgestell
Seitenverkleidung lackiert in Wagenfarbe
Fremdstartsteckdose 2 - Polig
2 x Werkzeugkasten mit Einzelschloss (750x360x350)
Zusätzliche Auffahrrampen ( 2 Stück)
Luftfederung mit Kompressor  
Fahrzeug Weitere Ausstattung:
Airbag Fahrerseite, Anzeige für Waschwasserstand, Bremssystem mit ABS+ASR, , Handschuhfach abschließbar, Leuchtweitenregelung, LKW-Zulassung, Modellpflege, Motor 2.2 Ltr. - 120 kW CDI KAT Euro 6, Radstand 4325 mm, Zul. Gesamtgewicht 3,5 t , Sicherheitsgurt-System mit Warnanlage, Sitzbezug / Polsterung: Stoff Lima, Fahrersitz mit Armlehne, Wartungsintervall-Anzeige Assyst....
ALLE AUSRÜSTUNG IM PREIS !!! 
Deutscher TÜV/GTÜ / Deutsche Fahrzeugpapiere
(einfache Fahrzeugregistrierung in Deutschland)
2 Jahre Europäische Mercedes Garantie  
5 Jahre BFZ Garantie für den Aufbau
-------------------------------------------------------------------------------------------
Ihr Ansprechpartner ist Herr Josef (Deutsch)
show contacts
.82.08.95
show contacts
email:
show contacts
Important
This offer is for guidance only. Please request more precise information from the seller.
Safety tips
Seller's contacts
BFZ Sp. z o.o.
Seller with Autoline for 4 years
The phone numbers have been checked
Josef Smutek
Languages:
English, Polish, German
Languages:
English, Polish, German
Poland, Lower Silesian, Bolesławiec, Przemysłowa, 59-700
Seller's local time: 07:44 (CEST)
Selling machinery or vehicles?
You can do it with us!