DAF 95-430XF SPACECAB (EURO 3 / ZF16 MANUAL GEARBOX / ZF-INTARDER tractor unit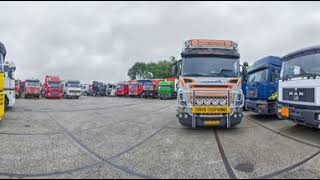 1/14
First registration
2001-05-05
Location
Netherlands
Meerkerk
Placed on
more than 1 month
Seller stock ID
SN 52388076 Z
Cabin
Cruise control (tempomat)
Electrically operated mirrors
Remote inspection
Request an independent technical inspection
Need delivery?
Calculate the cost of delivery
= Additional options and accessories =

- 2 Beds
- 870 Liter Fueltank
- Air horn
- Aluminium fuel tank
- ASR
- Luxery driversseat
- Radio/CD player
- Roof spoiler
- Sleeper cab
- Speed limiter
- Visor
- ZF-intarder
- ZF16 gears manual

= More information =

Bodywork: Standard tractor
Transmission: ZF ZF16 MANUAL GEARBOX, 16 gears, Manual gearbox
Model year: 2001
Cab: XF SPACECAB, sleep
General condition: very good
Technical condition: very good
Visual appearance: very good
Clona
- Hliníková palivová nádrž
- Omezovač rychlosti
- Regulace trakce
- Rádio/CD přehrávač
- Sleeper Cab (spací kabina)
- Střešní spoiler
- Vzduchová houkačka
- Řízení stability
= Weitere Optionen und Zubehör =

- 2 Liege
- 870 Liter Kraftstoftank
- Aluminium-Kraftstofftank
- ASR
- Comfortsitze Fahrer
- Dachspoiler
- Geschwindigkeitsbegrenzer
- Lufthorn
- Radio/CD-Spieler
- Schlafkabine
- Sonnenschutzklappe
- ZF-intarder
- ZF16 Getriebe Handgeschalter

= Weitere Informationen =

Aufbau: Standard-SZM
Getriebe: ZF ZF16 MANUAL GEARBOX, 16 Gänge, Schaltgetriebe
Modelljahr: 2001
Kabine: XF SPACECAB, Schlafkabine
Allgemeiner Zustand: sehr gut
Technischer Zustand: sehr gut
Optischer Zustand: sehr gut
= Flere valgmuligheder og mere tilbehør =

- Aluminiumsbrændstoftank
- Hastighedsbegrænser
- Radio/cd-afspiller
- Sleeper Cab
- Solskærm
- Stabilitetskontrol
- Tagspoiler
- Tryklufthorn
- Trækstyring

= Yderligere oplysninger =

Karosseri: Standardtrækker
Transmission: ZF ZF16 MANUAL GEARBOX, 16 gear, Manuel gearkasse
Modelår: 2001
Førerhus: XF SPACECAB, sleeper cab
Overordnet stand: meget god
Teknisk stand: meget god
Visuelt udseende: meget god
= Más opciones y accesorios =

- Bocina de aire
- Cabina litera
- Control de estabilidad
- Depósito de combustible de aluminio
- Limitador de velocidad
- Radio/reproductor de CD
- Sistema antipatinaje
- Spoiler de techo
- Visera parasol

= Más información =

Carrocería: Tractor estándar
Transmisión: ZF ZF16 MANUAL GEARBOX, 16 marchas, Cambio manual
Año del modelo: 2001
Cabina: XF SPACECAB, litera
Estado general: muy bueno
Estado técnico: muy bueno
Estado óptico: muy bueno
= Plus d'options et d'accessoires =

- Béquet de toit
- Cabine couchette
- Contrôle de la stabilité
- Corne à air
- Limiteur de vitesse
- Pare-soleil
- Radio/Lecteur CD
- Réglage antidérapant
- Réservoir de carburant en aluminium

= Plus d'informations =

Construction: Tracteur standard
Transmission: ZF ZF16 MANUAL GEARBOX, 16 vitesses, Commande manuelle
Année du modèle: 2001
Cabine: XF SPACECAB, couché
État général: très bon
État technique: très bon
État optique: très bon
Alumínium üzemanyagtartály
- ASR
- CD-rádió
- Légkürt
- Napellenző
- Sebességhatároló
- Sleeper Cab
- Stabilitásvezérlés
- Tetőlégterelő
ASR
- Autoradio/CD
- Avvisatore acustico pneumatico
- Controllo stabilità
- Limitatore di velocità
- Parasole
- Serbatoio del carburante in alluminio
- Sleeper Cab
- Spoiler per il tetto
= Aanvullende opties en accessoires =
- 2x Bed
- 16 versnellingen handgeschakeld
- 870 Liter brandstoftank
- Aluminium brandstoftank
- ASR
- Combi-lights
- Dakspoiler
- Luchthoorn
- Luxe chauffeurstoel
- Radio/CD speler
- Slaapcabine
- Snelheidsbegrenzer
- ZF-intarder
- ZF16 handgeschakeld
- Zijfenders achter cabine
- Zonneklep
= Bijzonderheden =
NICE CONDITION DAF FT95-430XF SPACECAB (EURO 3) 4x2 TRACTOR UNIT WITH ZF16 MANUAL GEARBOX & ZF-INTARDER!!
430HP, EURO 3!!
ZF16 MANUAL GEARBOX!!
ZF-INTARDER!!
AIRCONDITIONING!!
870 LITER DIESELTANK!!
COMPLETE SPOILERSET ON CABIN!!
ETC.!!
TRUCK IS IN NICE AND CLEAN CONDITION, READY FOR THE HEAVY JOBS!!
MORE DAF CF/XF EURO 2/3/4/5 IN STOCK FOR SALE!!
SHIPMENT, LOADING, STACKING, TRANSPORT OR TRANSIT REGISTRATION ?
NO PROBLEM FOR US, WE ARE AN "ONE STOP SHOP" COMPANY!!
YOU CAN CHECK OUR COMPANY MOVIE ON YOUTUBE FOR THE FIRST IMPRESSION!!
YOU CAN ALSO VISIT OUR WEBSITE;
show contacts
ENGEL TRUCKS; "YOUR GLOBAL TRADING PARTNER"
= Bedrijfsinformatie =
ENGEL TRUCKS B.V. the "One Stop Shop" trading partner in Holland. We are selling vehicles over more than 75 countries in the world!
We can offer you the total package for the truck business like;
Sales of new-/used trucks/trailers/vans (more than 70 vehicles in stock!!).
Sales of all kind of trucks parts (new or used).
Loading/stacking for shipment or transport.
Shipment, all over the world.
Transport of your vehicles inside Europe.
Custom-/export documents.
Repair of all vehicles in our Workshop.
Etc.
That's why ENGEL TRUCKS B.V. is your real "GLOBAL TRADING PARTNER".
Please contact us for all our possibilities or check our website
show contacts
Looking forward doing business with you!!
show contacts
= Meer informatie =
Opbouw: Standaard trekker
Transmissie: ZF ZF16 MANUAL GEARBOX, 16 versnellingen, Handgeschakeld
Modeljaar: 2001
Cabine: XF SPACECAB, slaap
Algemene staat: zeer goed
Technische staat: zeer goed
Optische staat: zeer goed
= Więcej opcji i akcesoriów =

- Aluminiowy zbiornik na paliwo
- Kabina sypialna
- Kontrola stabilności
- Ogranicznik prędkości
- Osłony przeciwsłoneczne
- Radio / odtwarzacz CD
- Spoiler dachowy
- Sygnał dźwiękowy trąbkowy
- System antypoślizgowy

= Więcej informacji =

Budowa: Standardowy ciągnik
Pędnia: ZF ZF16 MANUAL GEARBOX, 16 biegi, Manualna skrzynia biegów
Rok modelu: 2001
Kabina: XF SPACECAB, sypialna
Stan ogólny: bardzo dobrze
Stan techniczny: bardzo dobrze
Stan wizualny: bardzo dobrze
ASR
- Cabina c/cama
- Jogo aerodinâmico
- Limitador de velocidade
- Rádio
- Visor
ASR
= Дополнительные опции и оборудование =

- Алюминиевый топливный бак
- Кабина со спальным местом Sleeper Cab
- Ограничитель скорости
- Пневматический звуковой сигнал
- Радиоприемник/проигрыватель компакт-дисков
- Система курсовой устойчивости
- Система противоскольжения
- Солнцезащитный козырек
- Спойлер на крыше

= Дополнительная информация =

Кузов: Стандартный тягач
Трансмиссия: ZF ZF16 MANUAL GEARBOX, 16 передачи, Механическая коробка передач
Модельный год: 2001
Кабина: XF SPACECAB, кабина со спальным местом (sleep)
Общее состояние: очень хорошее
Техническое состояние: очень хорошее
Внешнее состояние: очень хорошее
Clona
- Hliníková palivová nádrž
- Kabína na spanie
- Kontrola stability
- Kontrola trakcie
- Obmedzovač rýchlosti
- Rádio/prehrávač diskov CD
- Strešný spojler
- Vzduchová húkačka
Alüminyum yakıt deposu
- Güneşlik
- Havalı korna
- Hız sınırlayıcı
- Radyo/CD çalar
- Sleeper cab
- Stabilite kontrolü
- Tavan spoyleri
- Çekiş kontrolü
Important
This offer is for guidance only. Please request more precise information from the seller.
Safety tips
Seller's contacts
Erik Engel
Languages:
English, Dutch
Netherlands, Zuid-Holland, 4231 DP, Meerkerk, Ambachtstraat 3
Seller's local time: 19:53 (CEST)
Selling machinery or vehicles?
You can do it with us!