You may find interesting
Close
DAF XF 105.410 Automatic
€10,900
DAF XF 105 460 retarder airco euro 5
€10,500
DAF XF 105 410
€10,850
DAF XF105.460 Steel/air - Manual - Hydraulics
€10,200
DAF XF 105.410 Manual Euro 5
€10,900
DAF CF 85.410 - 2007 - Euro 5 - Manual ZF - PTO/Hydraulic kit - 5306
€10,500
DAF XF 105.460 tractor unit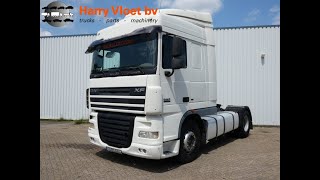 1/20
Year of manufacture
01/2008
First registration
2008-01-01
Location
Netherlands
Mook
Placed on
more than 1 month
Cabin
Cruise control (tempomat)
Remote inspection
Request an independent technical inspection
= More options and accessories =

- Roof spoiler
- Visor

= Remarks =

Description:
- Sleeper cabin
- Steel suspension front
- Air suspension rear
- Automatic transmission 2 PEDALS
- Mileage: 1610968km (read tachograph)

Feature sets:
- Parking coolers
- Air-conditioning
- Cruisecontrol
- Refrigerator
- Tipper hydraulic
- Retarder
- Diff. Lock
- Spoiler
- Auxilary heating

= More information =

Bodywork: Standard tractor
Transmission: 2 Pedals, Automatic
Cab: sleep
Clona
- Střešní spoiler
= Weitere Optionen und Zubehör =

- Dachspoiler
- Sonnenschutzklappe

= Anmerkungen =

Beschreibung:
- Fernverkehr Fahrerhaus
- Blattfederung vorne
- Luftfederung hinten
- Automatik Getriebe 2 PEDALS
- Kilometerstand: 1610968km (Tachograph stand)

Ausstattung:
- Dachklimaanlage
- Klima anlage
- Tempomat
- Kühlschrank
- Kipphydraulik
- Retarder
- Differenzial Sperre
- Spoiler
- Standheizung

= Weitere Informationen =

Aufbau: Standard-SZM
Getriebe: 2 Pedals, Automatik
Kabine: Schlafkabine
= Flere valgmuligheder og mere tilbehør =

- Solskærm
- Tagspoiler

= Yderligere oplysninger =

Karosseri: Standardtrækker
Transmission: 2 Pedals, Automatisk
Førerhus: sleeper cab
= Más opciones y accesorios =

- Parasol
- Spoiler para el techo

= Comentarios =

Descripción:
- Cabina con litera
- Suspension delantera ballesta
- Suspension trasera neumatica
- Cambio automático 2 PEDALS
- Kilómetros: 1610968km (según tacógrafo)

Conjunto de funciones:
- Enfriadores de estacionamiento
- Aire acondicionado
- Limitador automático de velocidad
- Refrigerador
- Hidráulica
- Retardador
- Bloqueo diferencial
- Spoiler
- Calefacción independiente

= Más información =

Carrocería: Tractor estándar
Transmisión: 2 Pedals, Automático
Cabina: litera
= Plus d'options et d'accessoires =

- Pare-soleil
- Spoiler de toit

= Plus d'informations =

Construction: Tracteur standard
Transmission: 2 Pedals, Automatique
Cabine: couché
Napellenző
- Tetőlégterelő
Parasole
- Spoiler per il tetto
= Aanvullende opties en accessoires =

- Dakspoiler
- Zonneklep

= Bijzonderheden =

Omschrijving:
- Slaap cabine
- Bladvering vóór
- Luchtvering achter
- Vol-automatiche transmissie 2 PEDALS
- Kilometerstand: 1610968km (tacho stand)

Opties:
- Standairco
- Air-conditioning
- Cruisecontrol
- Koelkast
- Hydrauliek
- Retarder
- Sper
- Spoilers
- Standkachel

= Meer informatie =

Opbouw: Standaard trekker
Transmissie: 2 Pedals, Automaat
Cabine: slaap
= Więcej opcji i akcesoriów =

- Osłony przeciwsłoneczne
- Spoiler dachowy

= Więcej informacji =

Budowa: Standardowy ciągnik
Pędnia: 2 Pedals, Automat
Kabina: sypialna
Jogo aerodinâmico
- Visor
= Дополнительные опции и оборудование =

- Солнцезащитный козырек
- Спойлер на крыше

= Дополнительная информация =

Кузов: Стандартный тягач
Трансмиссия: 2 Pedals, Автоматическая
Кабина: кабина со спальным местом (sleep)
Clona
- Strešný spojler
Güneşlik
- Tavan spoyleri
Important
This offer is for guidance only. Please request more precise information from the seller.
Safety tips
Seller's contacts
Harry Vloet b.v.
Seller with Autoline for 1 year
The phone numbers have been checked
The address has been checked
Harry van den Berk
Languages:
English, German, Dutch
Netherlands, Limburg, 6585 KB, Mook, Bovensteweg 63
Seller's local time: 21:11 (CEST)
Selling machinery or vehicles?
You can do it with us!