The ad DAF XF 460 FT VIDEO tractor unit has been sold and is not included in the search!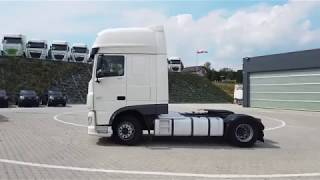 1/23
Location
Poland
Mogilany
Placed on
more than 1 month
Cabin
Cruise control (tempomat)
Electrically operated mirrors
DAF FT 460 XF

EURO 6

Super Space Cab

ROK PRODUKCJI: 2017
MOC w KM: 460
NORMA EMISJI SPALIN: Euro 6
SKRZYNIA BIEGÓW: Automatyczna
PRZEBIEG: 255 000 km
ZWALNIACZ: MX
KOLOR: Biały
KABINA: Super Space Cab
ROZMIAR OPON: Przód 315/70/R22,5
Tył 315/70/22,5

GDZIE GO MOŻNA OGLĄDNĄĆ: Mogilany koło Krakowa.

WYPOSAŻENIE:

- Spoilery zakabinowe
- Spoiler dachowy
- Klimatyzacja
- Lodówka
- Szuflada pod leżanką
- Leżanka Extra Comfort
- Dwa zbiorniki paliwa 1 275 l.
- ASR, ABS, EBS
- Mechaniczna blokada mechanizmu różnicowego
- Świata do jazdy dziennej LED
- Podłokietnik fotela kierowcy oraz pasażera
- Fotel kierowcy Luxury Air
- Monitorowanie obciążenia osi
- Przygotowanie dla Maut
- Aktywny tempomat
- Lusterka malowane w kolorze nadwozia

Samochód po kontrakcie serwisowym.
Bardzo zadbany.
Jeden kierowca.
Opony NOWE.
Na samochód możliwa gwarancja na całą Europę.