New MERCEDES-BENZ Sprinter 519 SATTELZUGGESPANN BFZ XL-Liner tractor unit + car transporter semi-trailer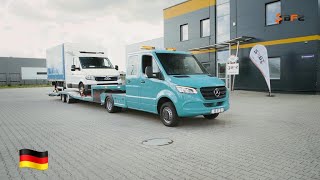 1/24
Model
Sprinter 519 SATTELZUGGESPANN BFZ XL-Liner
Year of manufacture
05/2022
Location
Poland
Bolesławiec
Placed on
more than 1 month
MERCEDES-BENZ Sprinter 519 SATTELZUGGESPANN BFZ XL-Liner tractor unit
Model
Sprinter 519 SATTELZUGGESPANN BFZ XL-Liner
Description
Overall dimensions
10 m × 2.2 m × 3.2 m
Need delivery?
Calculate the cost of delivery
Cabin
Cruise control (tempomat)
Electrically operated mirrors
Additional equipment
BFZ- 49/95 Aluminium Aufliger car transporter semi-trailer
Type
car transporter semi-trailer
Description
Model
BFZ XL-Liner AUFLIGER ALUMINIUM
Mercedes Sprinter 907 519 CDI
Motor 140 kW (190 KM) Euro 6
Fahrzeug wird abgelastet auf 7490KG, dementsprechend Mautfrei,
Optional ist eine Zulassung auch mit 8600KG möglich
Fahrzeugdaten:
Leermasse: 2780kg Gesamtmasse: 3500kg
BFZ Umbau (des Fahrgestells) zur Sattelzugmaschine:
Sattelkupplung
Druckluftbremsanlage mit Elektrokompressor im geschützten Gehäuse
* Voll-Seiten-Schutzleisten in Fahrzeugfarbe mit 1 x Alu Werkzeugkasten
Schutzabdeckung auf Heckrahmen (Riffelblech mit Antikorrosionslackierung)
Halterungsrahmen an der Fahrerkabine, inkl:
- Anschlusskabel: Beleuchtung, Luft, ABS/EBS/LSV (ALB)
- Reserveradhalter mit 2 Räder (1 x f. Fahrzeug + 1 x f. Anhänger)
- Arbeits-Scheinwerfer 2 Stück (LED)
Fahrzeug Sonderausstattung:
VOLL LUFTFEDERUNG AUF DER HINTERACHSE !
(AR2) Hinterachsübersetzung 3,923
(A50) Vorderachse mit erhöhter Traglast
(BA3) Aktiver Brems-Assistent
(C6L) Multifunktionslenkrad mit Reiserechner und Kombiinstrument
(CL1) Lenkrad in Höhe und Neigung verstellbar
(CL3) Lederlenkrad
(CN2) Kühlergrillrahmen in Wagenfarbe
(E07) Berganfahrhilfe
(E4M) MBUX Multimediasystem mit 10,25 Zoll Touchscreen
(EJ9) COMAND Online
(EX9) 3 Jahre kostenfreie Kartendaten-Updates
(F35) Rückwandfenster
(F61) Innenspiegel
(F68) Außenspiegel heizbar und elektrisch verstellbar
(FJ1) Klappdeckel für Ablagefach
(H16) Sitzheizung für Fahrer
(H21) Wärmed. Glas mit Bandfilter an der Frontscheibe
(HH4) Klimatisierungsautomatik THERMOTRONIC
(JD2) Tachograf 1 Tag/2 Fahrer Automatik (EG)
(JF1) Regensensor
(JK5) Kombiinstrument mit Farbdisplay
(KB7) Haupttank 93 Liter
(L13) Nebelscheinwerfer mit Abbiegelicht
(L22) Heckleuchten in Teil-LED-Technik
(LG7) LED High Performance-Scheinwerfer
(MS1) Tempomat
(P47) Schmutzfänger vorn
(QA3) Fahrzeug- Vorrüstung für AH-Last bis 3500 kg
(S22) Armlehne für Fahrersitz
(S23) Schwingsitz Komfortausführung,Beifahrersitz
(S28) Armauflage, Fahrer und Beifahrertür
(SB3) Schwingsitz Komfortausführung, Fahrersitz
(SK0) Komfortkopfstütze Fahrer
(V07) Verkleidung Rückwand
(Y43) Hydraulik - Wagenheber
(R87) Reserverad
(R65) Reserveradhalter unter Rahmenende
(LB9) Ausstiegsleuchten
(H04) Wärmeisolierung Fahrerraum
(ET4) Distronik PLUS
Aufliger:
BFZ Aufbau, 1-2 Fahrzeuge XL-Liner: Aluminium Sattelauflieger BFZ- XL50/95
Sonderplattform: Muldenprofil für Ladehöhe bis 3,5m
Geeignet für Wohnmobil o. Kastenwagen / Absenkbar
Technische Daten:
Ladeflächenlänge: 9.500 mm (Möglichkeit der Produktion zu 10.500 mm)
Ladeflächenbreite: 2.200 mm (Möglichkeit der Produktion zu 2.500 mm)
Leermasse: 1420kg Gesamtmasse: 4710 kg Zulassung
Bereifung: 195/65 R15C
Auffahrwinkel: ca. 7°
Serienausstattung:
Bremse:
Prozesssichere Druckluftbremsanlage
Automatische Bremsnachstellung
Lastabhängige Bremskraftregleung "ALB"
ABS / EBS
Fahrwerk:
Zwei-Achser der Firma KNOTT (je 3 Tonnen)
Zwillingsräder (insgesamt 8 Räder)
Vollluftfederung
Pneumatisch absenkbarer Sattelauflieger zum besseren Be - und Entladen
Auflieger / Beleuchtung:
Auflieger mit verstärktem Doppelaluminiumrahmen mit BFZ-Patent
Boden mit Vollaluminiumplatten
Seitenprofile mit Zurrpunkten auf der gesamten Länge für Rad-Sicherungsgurte
Hauptauffahrrampen (Aluminium / Länge 2000mm / Breite 520mm)
Abstand der Ladefläche zum Boden: 500mm
LED-Elektroinstallation (12 Begrenzungsleuchten / Rückleuchten mit dynamischer Fahrtrichtungsanzeige)
Wir geben das Auto mit Deutsche TÜV (einfache Fahrzeugregistrierung in Deutschland)
Ihr Ansprechpartner ist Herr Josef Smutek
Tel.:
show contacts
/ E-Mail:
show contacts
Sprachen: Deutsch
Ihr Ansprechpartner ist Herr Florian Urbanski
Tel.:
show contacts
/ E-Mail:
show contacts
Sprachen: English
Internet:
show contacts
Important
This offer is for guidance only. Please request more precise information from the seller.
Safety tips
Seller's contacts
Josef Smutek
Languages:
English, Polish, German
Languages:
English, Polish, German
Poland, Lower Silesian, 59-700, Bolesławiec, Przemysłowa 9A
Seller's local time: 21:46 (CEST)
Selling machinery or vehicles?
You can do it with us!