MERCEDES-BENZ Actros 3348 6x4 / GROS PONTS-BIG AXLES/ SCHALT-MANUEL/LAMMES-BLA tractor unit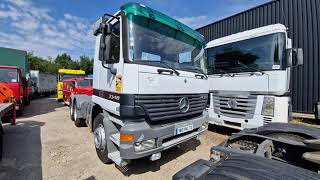 1/16
Year of manufacture
01/2001
First registration
2001-01-18
Location
Belgium
GENK
Placed on
more than 1 month
Seller stock ID
SFH116463
Remote inspection
Request an independent technical inspection
Need delivery?
Calculate the cost of delivery
= Additional options and accessories =

- Aluminium fuel tank
- Heavy duty engine brake
- Radio/cassette player
- Speed limiter
- Spotlights
- Visor

= More information =

Bodywork: Heavy load
Transmission: Mercedes, Manual gearbox
Cab: day
General condition: very good
Technical condition: very good
Visual appearance: very good
Bodové reflektory
- Clona
- Hliníková palivová nádrž
- Omezovač rychlosti
- Robustní motorová brzda
- Rádio/přehrávač kazet
= Weitere Optionen und Zubehör =

- Aluminium-Kraftstofftank
- Bremskraftverstärker
- Fernlicht
- Geschwindigkeitsbegrenzer
- Radio/Kassettenspieler
- Sonnenschutzklappe

= Weitere Informationen =

Aufbau: Schwerlast
Getriebe: Mercedes, Schaltgetriebe
Kabine: Tag
Allgemeiner Zustand: sehr gut
Technischer Zustand: sehr gut
Optischer Zustand: sehr gut
= Flere valgmuligheder og mere tilbehør =

- Aluminiumsbrændstoftank
- Hastighedsbegrænser
- Kraftig motorbremse
- Projektører
- Radio/båndafspiller
- Solskærm

= Yderligere oplysninger =

Karosseri: Tungt læs
Transmission: Mercedes, Manuel gearkasse
Førerhus: day cab
Overordnet stand: meget god
Teknisk stand: meget god
Visuelt udseende: meget god
= Más opciones y accesorios =

- Freno de motor reforzado
- Limitador de velocidad
- Luces brillantes
- Parasol
- Radio / reproductor de casetes
- Tanque de combustible de aluminio

= Más información =

Carrocería: Carga pesada
Transmisión: Mercedes, Cambio manual
Cabina: día
Estado general: muy bueno
Estado técnico: muy bueno
Estado óptico: muy bueno
= Plus d'options et d'accessoires =

- Frein moteur renforcé
- Lecteur radio / cassette
- Limiteur de vitesse
- Lumières vives
- Pare-soleil
- Réservoir de carburant en aluminium

= Plus d'informations =

Construction: Charge lourde
Transmission: Mercedes, Commande manuelle
Cabine: jour
État général: très bon
État technique: très bon
État optique: très bon
Alumínium üzemanyagtartály
- Nagy teljesítményű motorfék
- Napellenző
- Rádiómagnó
- Sebességhatároló
- Spotlámpák
Autoradio/mangianastri
- Fari di profondità
- Freno motore per impieghi gravosi
- Limitatore di velocità
- Parasole
- Serbatoio del carburante in alluminio
= Aanvullende opties en accessoires =

- Aluminium brandstoftank
- Radio/Cassette speler
- Snelheidsbegrenzer
- Versterkte motorrem
- Verstralers
- Zonneklep

= Meer informatie =

Opbouw: Zware last
Transmissie: Mercedes, Handgeschakeld
Cabine: dag
Algemene staat: zeer goed
Technische staat: zeer goed
Optische staat: zeer goed
= Więcej opcji i akcesoriów =

- Aluminiowy zbiornik na paliwo
- Ogranicznik prędkości
- Osłony przeciwsłoneczne
- Radio / odtwarzacz kasetowy
- Reflektory
- Wzmocnione hamowanie silnikiem

= Więcej informacji =

Budowa: Duże obciążenia
Pędnia: Mercedes, Manualna skrzynia biegów
Kabina: dzienna
Stan ogólny: bardzo dobrze
Stan techniczny: bardzo dobrze
Stan wizualny: bardzo dobrze
Limitador de velocidade
- Rádio
- Visor
= Дополнительные опции и оборудование =

- Алюминиевый топливный бак
- Моторный тормоз для тяжелых условий работы
- Ограничитель скорости
- Радиоприемник/кассетный магнитофон
- Солнцезащитный козырек
- Точечные лампы

= Дополнительная информация =

Кузов: Тяжелый груз
Трансмиссия: Mercedes, Механическая коробка передач
Кабина: кабина без спального места (day)
Общее состояние: очень хорошее
Техническое состояние: очень хорошее
Внешнее состояние: очень хорошее
Clona
- Hliníková palivová nádrž
- Obmedzovač rýchlosti
- Reflektory
- Rádio/kazetový prehrávač
- Vysokovýkonná motorová brzda
Alüminyum yakıt deposu
- Ağır hizmet tipi motor freni
- Güneşlik
- Hız sınırlayıcı
- Radyo/kaset çalar
- Spot lambaları
Important
This offer is for guidance only. Please request more precise information from the seller.
Safety tips
Seller's contacts
Germain Daenen
Languages:
English, French, Polish, Dutch, German, Italian, Spanish
Luk Schoefs
Languages:
English, French, Dutch, German
Languages:
English, French, Romanian, Polish, Dutch, German, Italian, Spanish
Belgium, Limbourg, 3600, GENK, Eikelaarstraat 23
Seller's local time: 17:42 (CEST)
Selling machinery or vehicles?
You can do it with us!