New AIRSTREAM Catering Trailer | Food Truck| IN STOCK vending trailer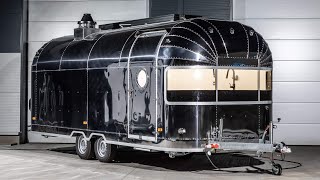 1/46
Model
Catering Trailer | Food Truck| IN STOCK
Location
Poland
Bytom
Description
Overall dimensions
6.4 m × 2.3 m × 2.15 m
Need delivery?
Calculate the cost of delivery
Airstream Mirage Trailer
Available! New! Equipped!

Internal dimensions: L: 6400mm x W: 2300mm x H: 2150mm

Trailer Specifications:
- Frame: solid galvanized steel
- Axles Brand: 2 axles - KNOTT- 1350kg x 2
- Total permissible weight 2700kg
- Tire size: R14C
- Brakes: disc

MIRAGE trailer Characteristics:
- External acid resistant polished sheet metal
- Inside anodized aluminum
- Electrical system, 400V standby, 10 double sockets 230V
- Sales window 3600mm
- Side door or
- Porthole in door

Additional options on this trailer:
- External polished acid resistant sheet metal (instead of aluminium)
- THULE entrance step
- Large polycarbonate window at the front of the trailer
- Illuminated, electrically operated advertising panel, dimensions: 3000mm x 750mm
- Complete water installation (water pump, 2 x 120l bottles, boiler)
- Countertop in front and countertop in the back
- Cooker hood 2450mm, with exhaust 1800m/h
- Box on the drawbar for gas cylinders or under tools


THE TRAILER IS ON DIFFERENT AUCTIONS AND THE ONLY WAY TO CONFIRM THE PURCHASE IS TO SIGN THE CONTRACT AT OUR DEALERSHIP. THIS AD SERVES ONLY TO ILLUSTRATE OUR WIDE OFFER

This announcement is commercial information only and does not constitute an offer within the meaning of art. 66, § 1. of the Civil Code. Seller shall not be liable for any errors and / or outdated ads.

We invite you to contact us:
Poland, 41-902 Bytom, 70 Mickiewicza Street
Airstream Mirage Trailer
Beschikbaar! Nieuw! Uitgerust!

Inwendige afmetingen: L: 6400mm x B: 2300mm x H: 2150mm

Specificatie aanhangwagen:
- Frame: massief gegalvaniseerd staal
- Assen Merk: 2 assen - KNOTT- 1350kg x 2
- Totaal toelaatbaar gewicht 2700kg
- Bandenmaat: R14C
- Remmen: schijf

MIRAGE trailer Kenmerken:
- Uitwendig zuurbestendig gepolijst plaatstaal
- Binnenzijde geanodiseerd aluminium
- Elektrisch systeem, 400V klaar, 10 dubbele stopcontacten 230V
- Verkoopraam 3600mm
- Zijdeur of
- Patrijspoort in deur

Extra opties op deze trailer:
- Uitwendig gepolijst zuurbestendig plaatstaal (in plaats van aluminium)
- THULE instaptrede
- Groot polycarbonaat venster aan de voorzijde van de aanhangwagen
- Verlicht, elektrisch bediend reclamepaneel, afmetingen: 3000mm x 750mm
- Complete waterinstallatie (waterpomp, 2 x 120l flessen, boiler)
- Aanrecht vooraan en aanrecht achteraan
- Afzuigkap 2450mm, met afzuiging 1800m/h
- Vak op de dissel voor gasflessen of gereedschap


DE AANHANGWAGEN STAAT OP VERSCHILLENDE VEILINGEN EN DE ENIGE MANIER OM DE AANKOOP TE BEVESTIGEN IS DOOR HET CONTRACT TE ONDERTEKENEN BIJ ONS VERKOOPPUNT. DEZE ADVERTENTIE DIENT ENKEL OM U EEN IDEE TE GEVEN VAN ONS UITGEBREID GAMMA

Deze aankondiging is louter commerciële informatie en vormt geen aanbod in de zin van artikel 66, § 1 van het Burgerlijk Wetboek. De verkoper is niet aansprakelijk voor eventuele fouten en/of verouderde aankondigingen.

Wij nodigen u uit contact met ons op te nemen:
Polen, 41-902 Bytom, 70 Mickiewicza Street
Remorque Airstream Mirage
Disponible ! Nouveau ! Équipé !

Dimensions internes : L : 6400mm x L : 2300mm x H : 2150mm

Spécifications de la remorque :
- Cadre : acier galvanisé massif
- Marque des essieux : 2 essieux - KNOTT- 1350kg x 2
- Poids total autorisé 2700kg
- Taille du pneu : R14C
- Freins : à disque

Caractéristiques de la remorque MIRAGE :
- Tôle extérieure polie résistant à l'acide
- Intérieur en aluminium anodisé
- Système électrique, 400V prêt, 10 prises doubles 230V
- Fenêtre de vente 3600mm
- Porte latérale ou
- Hublot dans la porte

Options supplémentaires sur cette remorque :
- Tôle extérieure polie résistant aux acides (au lieu de l'aluminium)
- Marche d'entrée de la THULE
- Grande fenêtre en polycarbonate à l'avant de la remorque
- Panneau publicitaire éclairé, à commande électrique, dimensions : 3000mm x 750mm
- Installation d'eau complète (pompe à eau, 2 bouteilles de 120l, chaudière)
- Comptoir à l'avant et comptoir à l'arrière
- Hotte de cuisine 2450mm, avec aspiration 1800m/h
- Boîte sur le timon pour les bouteilles de gaz ou les outils


LA REMORQUE EST SUR DIFFÉRENTES ENCHÈRES ET LA SEULE FAÇON DE CONFIRMER L'ACHAT EST DE SIGNER LE CONTRAT À NOTRE POINT DE VENTE. CETTE ANNONCE NE SERT QU'À VOUS DONNER UNE IDÉE DE NOTRE LARGE GAMME

Cette annonce est une information commerciale uniquement et ne constitue pas une offre au sens de l'article 66, § 1 du Code civil. Le vendeur n'est pas responsable des éventuelles erreurs et/ou annonces périmées.

Nous vous invitons à nous contacter :
Pologne, 41-902 Bytom, 70 rue Mickiewicza
Przyczepa Airstream Mirage
Dostępna! Nowa! Wyposażona!

Wymiary wewnętrzne: L: 6400mm x W: 2300mm x H: 2150mm

Specyfikacja przyczepy:
- Rama: pełna stal ocynkowana
- Osie Marka: 2 osie - KNOTT- 1350kg x 2
- Dopuszczalna masa całkowita 2700 kg
- Rozmiar opon: R14C
- Hamulce: tarczowe

Przyczepa MIRAGE Charakterystyka:
- Z zewnątrz blacha kwasoodporna polerowana
- Wewnątrz aluminium anodowane
- Instalacja elektryczna, gotowość 400V, 10 gniazd podwójnych 230V
- Okno sprzedażowe 3600mm
- Drzwi boczne lub
- Bulaj w drzwiach

Opcje dodatkowe w tej przyczepie:
- Zewnętrzna, polerowana blacha kwasoodporna (zamiast aluminiowej)
- Stopień wejściowy THULE
- Duże okno z przodu przyczepy z poliwęglanu
- Podświetlany, elektrycznie sterowany panel reklamowy, wymiary: 3000mm x 750mm
- Kompletna instalacja wodna (pompa wodna, 2 x Butle po 120l, bojler)
- Blat z przodu i blat z tyłu
- Okap kuchenny 2450mm, z wyciągiem 1800m/h
- Skrzynka na dyszlu na butle z gazem lub pod narzędzia


PRZYCZEPA ZNAJDUJE SIĘ NA RÓŻNYCH AUKCJACH I JEDYNYM POTWIERDZENIEM JEJ ZAKUPU JEST PODPISANIE UMOWY W NASZYM PUNKCIE HANDLOWYM. ZAMIESZCZONE OGŁOSZENIE SŁUŻY JEDYNIE DO PRZYBLIŻENIA NASZEJ SZEROKIEJ OFERTY

Niniejsze ogłoszenie jest wyłącznie informacją handlową i nie stanowi oferty w myśl art. 66, § 1. Kodeksu Cywilnego. Sprzedający nie odpowiada za ewentualne błędy i/lub nieaktualność ogłoszenia.

Zapraszamy do kontaktu:
Polska, 41-902 Bytom, ul. Mickiewicza 70
Important
This offer is for guidance only. Please request more precise information from the seller.
Safety tips
Seller's contacts
Denis Kharlamov
Languages:
English, Ukrainian, Russian, Polish
Poland, Silesian, Bytom, Mickiewicza, 70
Seller's local time: 10:37 (CET)
Selling machinery or vehicles?
You can do it with us!