You may find interesting
Close
New BANNERT NA ZAMÓWIENIE Przyczepa gastronomiczna do sprzedaży kurczaków z
price on request
New BANNERT IMBISS, Food Truck, Handlowa, Gastronomiczna
€20,698
New BANNERT Przyczepa gastronomiczna, Trailer, Anhänger
€9,860
New BANNERT IMBISS, Handlowa, Przyczepa Burger Trailer
€20,698
New BANNERT NA ZAMÓWIENIE Przyczepa gastronomiczna 4,5 M
price on request
New BANNERT NA ZAMÓWIENIE 3,7 / 2,2 / 2,3, jednoosiowa pusta, Ha
price on request
New BANNERT EVENTOWA, SZKOLENIOWA Trailer 6m vending trailer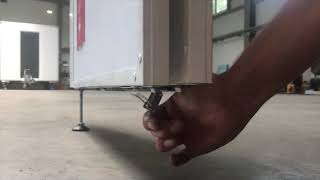 1/18
Description
Overall dimensions
6 m × 2.2 m × 2.3 m
Witam,
Oferujemy Państwu przyczepę EVENTOWĄ
Przyczepa dwuosiowa 6,0m z hamulcem najazdowym, zabudową oraz wyposażeniem DMC 3500kg
Długość: 6000mm Szerokość: 2200mm Wysokość: 2300mm
Charakterystyka przyczepy:
⦁ podwozie wykonane z profili stalowych i zabezpieczone przed korozją cynkiem ogniowym
⦁ podwozie wyposażone w 4 podpory, zaczep, 2 osie, hamulec najazdowy oraz ręczny
⦁ ściany i dach wykonane z płyty warstwowej, w której skład wchodzi laminat biały jako warstwa zewnętrzna i wewnętrzna oraz rdzeń XPS - materiał odporny na wilgoć
⦁ wzmocnienie ścian
⦁ podłoga stanowiąca integralną część kontenera – wykładzina Forbo – szara 177 592 [ ]; czarna 177 992 [ ]; inna ..............................
⦁ ściany i dach okute profilami aluminiowymi lakierowanymi białymi
⦁ przyczepa wyposażona w kompletne oświetlenie drogowe zgodne z przepisami Kodeksu Drogowego
⦁ wymiary klapy pod indywidualne zamówienie klienta - według rysunków
⦁ drzwi wejściowe do przyczepy ( na końcu przyczepy)
⦁ dopłata za DMC
⦁ demontowalny dyszel
⦁ zamek i klucze drzwi wejściowych
⦁ równa podłoga
⦁ koła 10 - wzmocnione
⦁ instalacja elektryczno - oświetleniowa 400V - (obwody elektryczne, oświetlenie LED, 8 podwójnych
gniazd, licznik, gniazdo 3 fazowe)
⦁ oświetlenie sufitowe plafonowe, punktowe UL - 230V - barwa zimna
⦁ plafon reklamowy biały na dachu przyczepy podnoszona ręcznie z montażem ( 4 strony) oraz na klapie ( 3
strony)
⦁ podświetlenie reklamy na dachu - pasek Led - barwa zimna
⦁ schody wejściowe z blachy ryflowanej
⦁ Oświetlenie schodów - pasek Led - barwa zimna
⦁ poręcze z aluminium na schodach składane ręcznie
⦁ oklejenie przyczepy, plafonów reklamowych na dachu i klapie oraz oklejanie zabudowy na dyszlu
⦁ projekt graficzny
⦁ oświetlenie klapy - pasek Led - barwa zimna
⦁ zabudowa dyszla - wysoki kufer z drzwiami wejściowymi zewnętrznymi i półkami wewnętrznymi - bez możliwości wejścia do środka
WYKOŃCZENIE ŚRODKA NIE JEST WLICZONE W CENĘ !!!
Zapraszamy do kontaktu:
Bannert Winicjusz
show contacts
(Język: polski, angielski)
Denis Karlamov
show contacts
(Język: rosyjski, ukraiński)
Marcos Gajewski
show contacts
(Język: polski, francuski, angielski, hiszpański)
Ewelina Lewandowska
show contacts
(Język: polski)
Important
This offer is for guidance only. Please request more precise information from the seller.
Safety tips
Seller's contacts
BANNERT Sp. Z O.O.
Seller with Autoline for 5 years
The phone numbers have been checked
The address has been checked
Winicjusz
Languages:
English, Polish
Poland, Silesian, 41-902, Bytom, ul. Adama Mickiewicza 70
Seller's local time: 23:47 (CEST)
Selling machinery or vehicles?
You can do it with us!