You may find interesting
Close
New BANNERT Przyczepa gastronomiczna do sprzedaży kurczaków z rożna
€22,000
New BANNERT EVENTOWA, SZKOLENIOWA
€19,980
New BANNERT Przyczepa gastronomiczna, Trailer, Anhänger
€7,750
New BANNERT Przyczepa gastronomiczna 3,0 M, Trailer, Anhänger
€5,157
New BANNERT witryna lodowa
€16,972
New BANNERT NA ZAMÓWIENIE Przyczepa 3,7/ 2,2/ 2,2m FOOD TRUCK, Imbiss
€9,880
New BANNERT IMBISS, Food Truck, Handlowa, Gastronomiczna vending trailer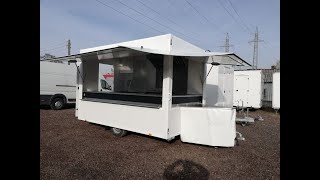 1/23
Description
Overall dimensions
3.7 m × 2.2 m × 2.3 m
Trailer characteristics:
· Chassis made of steel profiles and protected against corrosion by hot zinc
· Chassis equipped with 4 supports, hitch, KNOT axle, overrun brake, hand brake
· Walls and roof made of sandwich panels, which includes laminate with gloss as a layer
outer and matt laminate as an inner layer and XPS core - moisture resistant material
· Floor made of waterproof plywood and covered with PVC lining with increased abrasion
· Walls and roof with aluminum profiles
· Trailer equipped with complete road lighting in accordance with the provisions of the Highway Code
· Fixed drawbar
· Entrance door locks and keys
· Outer handles that open the flaps
· Additional sales window
· Trailer maneuvering handles
· White corners
Trailer equipment:
· 230V electrical lighting installation (electrical circuits, LED lighting, double sockets,
counter, phase switch)
· Gas installation on stainless pipes, container for 3 gas cylinders x 11 kg, cylinder mounting
gas, doors in the wall for the cylinder tray, automatic regulator 50 mbar, ventilation system
· White Ultra Light rear furniture paneling closed with INOX 2.90m top
· White Ultra Light furniture front with open INOX 3.70m top
· White Ultra Light furniture cabinet, side open with INOX 1.0m top
· Sanitary module with an Ultra Light Line wardrobe (two-chamber sink, battery, 2 x 20L tanks, boiler,
container for soap and paper towels)
· High wall separating the sanitary module from the rear worktop
· Hood with roof fan and oil condenser - 1.40m
· Rear wall heat shield behind the Ada Gastrogaz 2x8l fryer
· Refrigeration cabinet ventilation system
· Cash drawer - standard
· Ceiling lighting - two plafonds - neutral color
· Additional lighting on the flaps - LED strip - cold color
· Lighting of the sanitary module LED strip - cold color
· LED hood lighting (spot) - cold color
· External folding top - stainless steel with chalk board
· Table with INOX worktop - folding
· Shelf above sales windows with LED spotlight - cold color
· Tilting roof window
· Corner tarpaulin
· Toughened glass with fittings
Devices:
- Gas deep fryer 2x8l - ADA GASTRO GAZ
- Varnished HR 200 REDFOX refrigerated cabinet
- Bartsher TB1000PF gas frying pan
- Bartsher TB1000R table gas frying pan

Pictures may not reflect the actual image, equipment of the trailer and its technical conditions and should not be suggested when making a purchase decision.
Charakterystyka przyczepy:
· podwozie wykonane z profili stalowych i zabezpieczone przed korozją cynkiem ogniowym
· podwozie wyposażone w 4 podpory, zaczep, oś firmy KNOT, hamulec najazdowy, hamulec ręczny
· ściany i dach wykonane z płyty warstwowej, w której skład wchodzi laminat z połyskiem jako warstwa
zewnętrzna i laminat matowy jako warstwa wewnętrzna oraz rdzeń XPS - materiał odporny na wilgoć
· podłoga wykonana ze sklejki wodoodpornej i pokryta wykładziną PCV o podwyższonej ścieralności
· ściany i dach okute profilami aluminiowymi
· przyczepa wyposażona w kompletne oświetlenie drogowe zgodne z przepisami Kodeksu Drogowego
· stały dyszel
· zamki i klucze drzwi wejściowych
· uchwyty zewnętrzne otwierające klapy
· dodatkowe okno sprzedażowe
· uchwyty manewrowe przyczepy
· narożniki w kolorze białym

Wyposażenie przyczepy:
· instalacja elektryczno-oświetleniowa 230V (obwody elektryczne, oświetlenie LED, podwójne gniazda,
licznik, przełącznik fazy)
· instalacja gazowa na rurkach nierdzewnych , kontener na 3 butle gazowe x 11 kg , mocowanie na butle
gazowe, drzwi w ścianie do zasobnika na butle, reduktor automatyczny 50 mbar , system wentylacji
· zabudowa meblowa biała Linii Ultra Light tylna zamknięta z blatem INOX 2,90m
· zabudowa meblowa biała Linii Ultra Light przednia otwarta z blatem INOX 3,70m
· zabudowa meblowa biała Linii Ultra Light boczna otwarta z blatem INOX 1,0m
· moduł sanitarny z szafą odzieżową Linii Ultra Light (zlew dwukomorowy, bateria, 2 zbiorniki x 20L, bojler,
pojemnik na mydło i ręczniki papierowe)
· ścianka wysoka oddzielająca moduł sanitarny od blatu roboczego tylnego
· okap z wentylatorem dachowym i skraplaczem oleju – 1,40m
· osłona termiczna ściany tylnej za frytownicą Ada Gastrogaz 2x8l
· system wentylacji szafy chłodniczej
· szuflada na pieniądze - standard
· oświetlenie sufitowe - dwa plafony - barwa neutralna
· dodatkowe oświetlenie na klapach – pasek LED – barwa zimna
· oświetlenie modułu sanitarnego pasek LED – kolor zimny
· oświetlenie okapu LED ( punktowe) – barwa zimna
· blat zewnętrzny składany - wykonanie nierdzewne z tablica kredową
· stolik z blatem INOX - składany
· półka nad oknami sprzedażowymi z oświetleniem punktowym LED – kolor zimny
· okno uchylne, dachowe
· plandeka narożna
· szyba hartowana z mocowaniami

Urządzenia:
- Frytkownica gazowa 2x8l – ADA GASTRO GAZ
- Szafa chłodnicza HR 200 REDFOX lakierowana
- Stołowa patelnia gazowa Bartsher TB1000PF
- Stołowa patelnia gazowa Bartsher TB1000R

Zdjęcia mogą nie odzwierciedlać rzeczywistego wizerunku, wyposażenia przyczepy oraz jej warunków technicznych i nie należy się nimi sugerować podejmując decyzję o zakupie.
Important
This offer is for guidance only. Please request more precise information from the seller.
Safety tips
Seller's contacts
IDEX Sp.z o.o.
Seller with Autoline for 2 years
The phone numbers have been checked
PL, RU
Languages:
English, Russian, Polish
Poland, Silesian, 41-902, Bytom, Mickiewicza 70
Seller's local time: 23:56 (CEST)
Selling machinery or vehicles?
You can do it with us!