You may find interesting
Close
New STILER RĘBAK TARCZOWY BX 42S, WOOD CHIPPER
€1,354
New STILER RĘBAK TARCZOWY BX 62R, WOOD CHIPPER
€3,735
New STILER RĘBAK SPALINOWY TARCZOWY 25HP, GASOLINE WOODCHIPPER
€7,295
New STILER MŁYN DO PLASTIKU 11 KW, PLASTIC CRUSHER SHREDDER
€6,072
New STILER ROZDRABNIACZ SPR-150, WOOD CHIPPER
€2,075
New STILER BX 92R, WOOD CHIPPER
€5,045
New STILER RĘBAK SPR070, GASOLINE WOOD CHIPPER wood chipper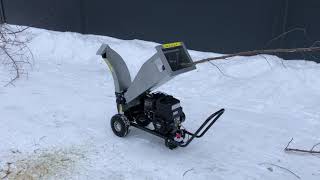 1/12
€862.60
Gross price, VAT – 23%
Model
RĘBAK SPR070, GASOLINE WOOD CHIPPER
Year of manufacture
01/2020
Location
Poland
Sokołów Podlaski
Placed on
more than 1 month
Description
Overall dimensions
123 m × 51.5 m × 106 m
STILER SPR 070 massive wood chIpper with a reliable BRIGGS & STRATTON engine with 6.5 horsepower.
The machine is ideal for working on a farm, orchard and garden.
The machine is designed for grinding branches up to a maximum diameter of 6 cm. Thanks to the mechanism drum chipper, it gets the material itself and crushes it.
The crusher is equipped with the latest model of the internal combustion engine of the BRIGGS & STRATTON brand.
Technical data:
    ENGINE: BRIGGS & STRATTON, 4-STROKE, 208 CM3, 6.5 HP
    SPEED: 3600 OBR / MIN
    FUEL: GASOLINE
    CUTTING SYSTEM: 2 KNIFE BADGEED SHOULDER + 1 ANTI-BLADE KNIFE.
    DISTANCE DISTANCE OF BLADES AGAINST ANTI-BLADE: 1 MM
    MAX. DIAMETER OF MADE MATERIAL: 60 MM
    DRIVE TRANSMISSION: STEERING BELTS WORKING PARALLEL
    DIMENSIONS LONG X HIGH X WID .: 123 X 106 X 51.5 CM
    WEIGHT: 79 KG
Included:
    Tools
    Earmuffs
    Goggles
    User manual
    CE certificate
Specification:
    The STILER strong and powerful wood chipper is an indispensable device for your garden.
    It shreds branches up to 60 mm without any problems, as well as garden waste leaves, conifers' bark. It can also be used for grinding other materials such as plastic, etc.
    The cutting mechanism is a rotating drum with 2 cutting knives driven by a BRIGGS & STARTTON 4-stroke internal combustion engine with a capacity of 208 cm3 and a power of 6.5 km, by means of two parallel drive belts.
    Wood chips are ejected through the discharge chimney thanks to the centrifugal force produced by the drum. The right angle of inclination of the drum knives and counter-blades ensures that the material is automatically picked up into the cutting chamber.
    Sturdy steel structure resistant to vibrations.
    Easy transport thanks to large rubber 10 "pumped wheels and used handle for free movement of the machine
    Foldable handle for convenient storage of the machine.
The crusher was equipped with a powerful BRIGGS & STARTTON engine with a capacity of 208 cm3 and a power of 6.5 km. This unit handles without problem the crushing of even the hardest branches.
The cutting head has 2 blades made of very hard tool steel. Each blade is sharpened on both sides.
Wood chips are thrown from the wood chipper by means of a hopper using the centrifugal force created during the rotation of the drum.
Movie from the work of the machine:
show contacts
Masywny rębak do drewna STILER SPR 070 z niezawodnym silnikiem B&S o mocy 6,5 konia mechanicznego.
Maszyna idealna do prac w gospodarstwie rolnym, sadzie oraz ogrodzie.
Maszyna przeznaczona jest do rozdrabniania gałęzi do maks. średnicy 6 cm. Dzięki mechanizmowy bębnowemu rębak sam pobiera materiał i go rozdrabnia.
Rozdrabniacz wyposażony został w najnowszy model silnika spalinowego renomowanej marki BRIGGS & STRATTON.
Dane techniczne:
SILNIK: BRIGGS & STRATTON, 4-SUWOWY, 208 CM3, 6,5 KM
PRĘDKOŚĆ OBROTOWA: 3600 OBR/MIN
PALIWO: BENZYNA BEZOŁOWIOWA
UKŁAD TNĄCY: 2 NOŻE OBUSTRONNIE OSTRZONE NA BĘBNIE + 1 PRZECIW-OSTRZE.
ODLEGŁOŚĆ NOŻY TARCZY OD PRZECIW-OSTRZA: 1 MM
MAKS. ŚREDNICA OBRABIANEGO MATERIAŁU: 60 MM
UKŁAD PRZENIESIENIA NAPĘDU: PASKI NAPĘDOWE PRACUJĄCE RÓWNOLEGLE
WYMIARY DŁ. X WYS. X SZER.: 123 X 106 X 51,5 CM
WAGA: 79 KG
W zestawie:
Rozdrabniacz
Narzędzia
Nauszniki
Okulary ochronne
Instrukcja obsługi
Certyfikat CE
Specyfikacja:
Silny i mocny rębak STILER jest w państwa ogrodzie niezbędnym urządzeniem o wielokrotnym zastosowaniu.
Rozdrabnia on bez problemu gałęzie do średnicy 60 mm, jak również odpady ogrodowe liście, korę pod iglaki. Może służyć także do rozdrabniania innych materiałów takich jak plastik itp.
Mechanizm tnący stanowi bęben obrotowy z 2 nożami tnącymi napędzany jest on przez 4-suwowy silnik spalinowy BRIGGS & STARTTON o pojemności 208 cm3 i mocy 6,5 km, za pomocą dwóch równolegle pracujących pasków napędowych.
Zrębka wyrzucana jest przez komin wyrzutowy dzięki sile odśrodkowej wytwarzanej przez bęben. Odpowiedni kąt nachylenia noży bębna oraz przeciw-ostrza zapewnia automatyczne pobieranie materiału do komory tnącej.
Stabilna, stalowa konstrukcja odporna na wibracje.
Obudowa odporna na zarysowania dzięki lakierowaniu proszkowemu
Łatwy transport dzięki dużym gumowym 13" pompowanym kołom i zastosowanej rękojeści do swobodnego przemieszczania maszyny
Składana rączka do wygodnego przechowywania maszyny.
Rozdrabniacz został wyposażony w mocny silnik BRIGGS & STARTTON o pojemności 208 cm3 oraz mocy 6,5 km. Jednostka ta radzi sobie bez problemu z rozdrabnianiem nawet najtwardszych gałęzi.
Głowica tnąca posiada 2 ostrza z bardzo twardej stali narzędziowej. Każde ostrze jest obustronnie ostrzone.
Zrębka wyrzucana jest z rębaka za pomocą leja wyrzutowego przy użyciu siły odśrodkowej powstałej podczas obrotów bębna.
Duże pompowane koła 13" oraz uchwyt pozwalają na łatwy transport maszyny nawet po nie utwardzonych i nie równych nawierzchniach.
Film z pracy maszyny:
show contacts
Important
This offer is for guidance only. Please request more precise information from the seller.
Safety tips
Seller's contacts
Kamil
Languages:
English, Polish
Artur
Languages:
English, Polish
Poland, Mazoweckie, 08-300, Sokołów Podlaski, ul. Tartaczna 4
Seller's local time: 05:39 (CEST)
Selling machinery or vehicles?
You can do it with us!