New IVECO Daily 50C18 skip loader truck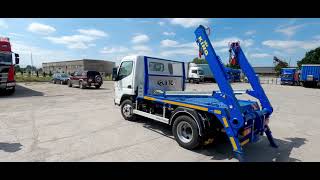 1/9
Location
Poland
Słupsk
Cabin
Cruise control (tempomat)
Need delivery?
Calculate the cost of delivery
Samochód nowy.

Prezentowany egzemplarz to nowy model Daily 50C18 rok produkcji 2022
z 3 litrowym silnikiem diesla o mocy 180 KM i manualną skrzynią biegów.
Rozstaw osi: 3750mm


Kolor: Biały
Bramowiec pod mulda 3m3

WYPOSAŻENIE
-Typ przedniego zawieszenia: Drążki skrętne QUAD-TOR
-Typ tylnego zawieszenia: Zawieszenie mechaniczne
-Fotel kierowcy amortyzowany, pełna regulacja (kąt oparcia, odsuniecie, wysokość i pochylenie siedziska - 4 stopnie), podparcie lędźwiowe, podłokietnik
-Zbiorniki paliwa profilowany z tworzywa sztucznego 100 l, wlew w słupku B (strona lewa)
-Pełne światła LED (dzienne, mijania, drogowe)
-Oznakowanie boczne modelu Daily.
-Ławka pasażerów stała 2-osobowa z rozkładanym stolikiem, pasy bezpieczeństwa 3-punktowe
-Alternator o stałym prądzie ładowania
-Opony szosowe letnie 195/75R16, jednakowe na wszystkich osiach

WYPOSAŻENIE DODATKOWE BUSINESS:
- klimatyzacja manualna
- kierownica regulowana w 2 płaszczyznach
- radio mp3, bluetooth, aux, usb
- kierownica wielofunkcyjna
- tempomat
- światła przednie przeciwmgielne

WYPOSAŻENIE DODATKOWE CONSTRUCTION:
- Resory tylne wielopiórowe (półeliptyczne) dwustopniowe (z resorem pomocniczym)
- Koło zapasowe
- Uchwyty wejściowe na słupku A po obu stronach kabiny
- Półka nad przednią szybą
- Osłona stalowa chłodnicy i miski olejowej

Urządzenie bramowe KING BR-4:
Rok zabudowy: 2022
• Nominalna moc załadunkowa - 4000 kg
• Wychylne ramiona główne
• Teleskopwane ramiona
• Masa własna urządzenia - 600 kg
• Ciśnienie max – 20 Mpa
• Obsługa kontenerów typu mulda
• Zalecany rozstaw osi – 3750mm
• Rama zabudowy hakowej wykonana z wysoko gatunkowej stali z otworami wycinanymi laserowo
• Sterowanie urządzenia na zewnątrz z lewej strony
• Konstrukcja stalowa śrutowana, następnie malowana farbą podkładową epoksydową oraz malowana nawierzchniowo farbą poliuretanową w systemie kolorystycznym RAL,
• Hydrauliczna blokada kontenera
• Regulowana długość zawiesi
• Zbiornik oleju hydraulicznego ze wskaźnikiem poziomu oleju
• Osłona tylnej ściany kabiny
• Podpory wysuwane hydraulicznie
• Pompa hydrauliczna
• Boczne osłony antynajazdowe
• Nadkola tylnych kół
• Przeprowadzenie procedury UDT w imieniu klienta

Możliwość dołożenia za dodatkową opłatą:
• sterowanie radiowe
• kosz na siatkę
• oświetlenie robocze

Zapraszamy do kontaktu i zapoznania się z naszą ofertą.

Niniejsze ogłoszenia są wyłącznie informacją handlową i nie stanowią oferty w myśl art.66,
§ 1. Kodeksu Cywilnego. Sprzedający nie odpowiada za ewentualne błędy lub nieaktualność ogłoszenia.
Przedstawiane wyposażenie, ceny pojazdów, tak jak i aktualność ogłoszeń mają jedynie charakter poglądowy
W celu uzyskania szczegółowych informacji dotyczących samochodu prosimy o kontakt mailowy lub telefoniczny

Zapraszamy!
-

Dodatkowe informacje: liczba miejsc: 3
Important
This offer is for guidance only. Please request more precise information from the seller.
Safety tips
Seller's contacts
Piotr Pacyniak
Languages:
English, Polish
Filip Gac
Languages:
English, Polish
Marcin Sommer
Languages:
English, Polish
Poland, Pomorskie, 76-200, Słupsk, Poznańska 39
Seller's local time: 09:24 (CET)
Selling machinery or vehicles?
You can do it with us!